The Bureau of Labor statistics has just released the employment figures for December, but also a comparative table for the past year.
Of course, liberals will only talk about the "good" performance of unemployment, which sits at 5 percent for both sexes over age 20, a -0.6 percentage point variation since last year. We can see this significant decrease for all races except Asians, whose rate stagnates around 4 percent, and Latinos, who stagnate around 6 percent.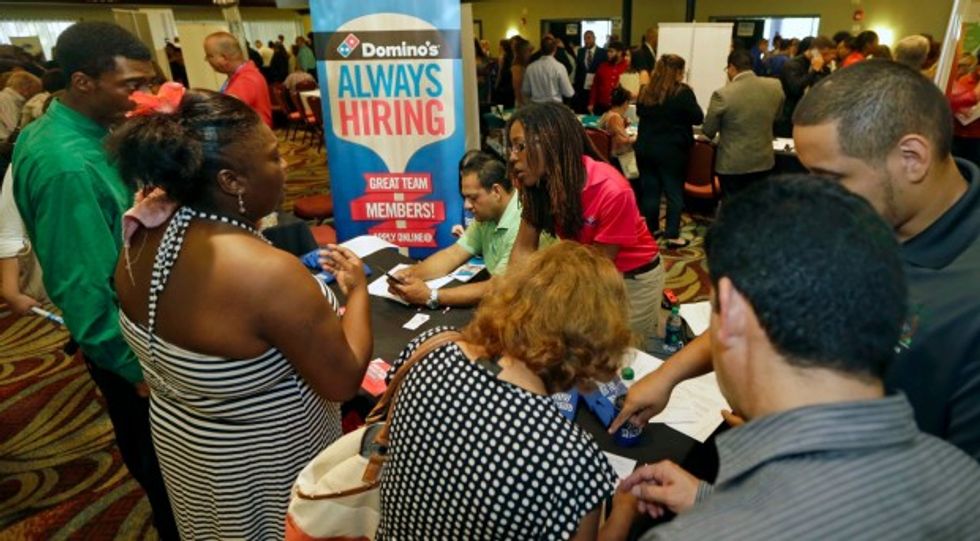 In this photo taken Wednesday, July 15, 2015, job seekers listen as Kaysara Mandry, center, talks about job opportunities at the Domino's booth during a job fair in Miami Lakes, Fla. (AP Photo/Alan Diaz)
Liberals will forget about youth unemployment (age 16-19), which suffers among others from the constant forcing up of minimum wage. Overall unemployment for both sexes is at 16.1 percent, a 0.5 percentage point increase from November but a 0.7 percentage point decrease from last year. African Americans, despite a 7 percentage point decrease in their youth unemployment, still see a 23 percent unemployment rate. And Latinos' rate has stagnated around 16.5 percent.
Liberals will also ignore the participation rate. The overall rate is still hovering around a 38-year low of 62.6 percent. Only African Americans have seen improvements since last year by gaining 0.5 percent (now at 61.5 percent). Latinos have lost that same percentage, and now have a 65.5 percent participation rate.
This lower participation can still be seen in the U6 measure, which includes discouraged unemployed workers and those working part time for economic reasons. Despite a 1.3 percentage point decrease this "real" unemployment rate is still at 9.9 percent, nearly twice the "official" rate.
In addition, liberals will fail to mention where jobs were created and lost and just focus on the overall figure – there are 2.5 million more jobs since December 2014. The parasitic … er, government sector contributed to nearly one-third of this job increase, despite a 260,000 job decrease since November. Part-time jobs also contributed to 6 percent of the increase over the year, while there are 150,000 fewer self-employed workers. Governments usually love to say they favor these latter workers but create regulations that are detrimental to them. Finally there are over 500,000 more multiple-job holders (up 300,000 since November), showing that job "creation" is mitigated.
The only statistics that may bring some joy for 2015 is the decrease in duration of unemployment. The average duration is now nearly five weeks shorter (from 32.5 to 27.6) while its median duration is two weeks shorter. Nevertheless, 42 percent of all unemployment lasts at least 15 weeks. This is still higher than January 2009, George W. Bush's last month in power.
In short be very wary of media pundits defending President Barack Obama's employment track record. Unemployment figures are irrelevant unless one takes a look at participation rates, which have never been this low since President Jimmy Carter's second term. Keep that in mind during this election season.
–
TheBlaze contributor channel supports an open discourse on a range of views. The opinions expressed in this channel are solely those of each individual author.