If I had to sum up the Obama administration in a single word, I think that word would be "arrogance."
The president has always regarded himself as the smartest guy in the room, with an ego that has been relentlessly stroked by the press and the people he surrounds himself with. He has refused to work with Congress, preferring instead to dictate his agenda to them and expect absolute compliance, or else.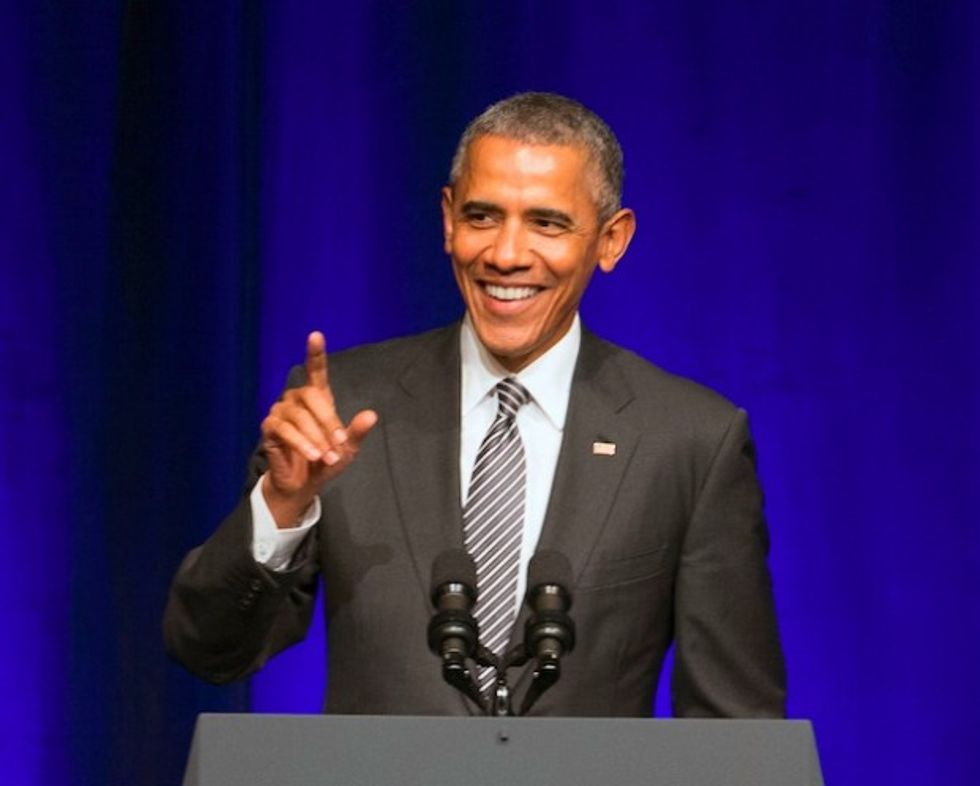 President Barack Obama speaks at a Democratic National Committee LGBT fundraising gala, Sunday, Sept. 27, 2015, held at Gotham Hall in New York. (AP Photo/Andrew Harnik) 
He opines about national news before knowing the facts. He expects foreign leaders to bend to the force of his personality in lieu of actual negotiations. He even promised to roll back the tides and heal the planet, as though Mother Nature herself would bow to his raw charisma and mighty intellect.
This arrogance is also displayed in President Obama's attitude towards the people who elected him. The American public, in his mind, are little more than sheep, to be herded in whatever direction he deems appropriate. It's the mindset behind all big-government progressives, but it's been particularly evident under this president.
The latest example is an executive order issued by Obama that asks various government agencies to start using behavioral data in the way they market and implement government services.
Behavioral economics has become fashionable of late, with the core idea being that you can use psychology and data to influence people's behavior. It's a sinister twist on marketing, with the idea basically being that people must be tricked into making the "right decision."
These techniques have been heavily encouraged by Obama's former regulatory czar, Cass Sunstein, who argued in his book "Nudge" that government should paternalistically push people into making better choices.
First of all, what a "better" choice is depends entirely on individuals and their priorities. It's not government's place to tell us that we are living our lives wrongly, that we eat too much, that we exercise too little, or that products we like and want to buy just aren't good enough.
Second, the instructions to use data in promoting federal programs lead to the obvious question of where this data is going to come from. Reading the White House statement, it appears that they plan to draw largely from existing behavioral science research, but the order also creates a social and behavioral sciences team of experts to help advance these tactics.
One line from the statement is particularly worrisome:
In addition to these federal actions, universities, nonprofits and researchers are announcing expanded efforts to work together to use insights from the social and behavioral sciences to improve programs.
This sounds suspiciously like the White House recruiting private researchers to spy on us and "nudge" us into government programs. We already know that the government collects all kinds of data on innocent citizens, claiming national security as a justification. What happens when they start collecting it to actively influence our decision making?
Freedom-loving economist Murray Rothbard once referred to statistics as the Achilles' heel of government. "Surely, the absence of statistics," he writes, "would absolutely and immediately wreck any attempt at socialistic planning.
It is difficult to see what, for example, the central planners at the Kremlin could do to plan the lives of Soviet citizens if the planners were deprived of all information, of all statistical data, about these citizens. The government would not even know to whom to give orders, much less how to try to plan an intricate economy."
Of course, the Soviet Union no longer exists, but this fact has not tempered any of the Obama administration's zeal for central planning of American lives.
The collection and utilization of behavioral data en masse to manipulate the citizenry is one of the most frightening developments of an increasingly Orwellian state.
Logan Albright is a research analyst at FreedomWorks.
–
TheBlaze contributor channel supports an open discourse on a range of views. The opinions expressed in this channel are solely those of each individual author.