May 26 will mark the one-year anniversary of the funeral for police officer Kerrie Orozco here in Omaha. Officer Orozco was shot and killed while serving an arrest warrant to suspect Marcus Wheeler, a gang member who was known to be violent and dangerous. The shot that took her life hit her in the chest a mere inch above her protective vest. Wheeler,26, was also killed during the shootout.
The death of Officer Orozco was a tragedy that shook the community of Omaha. One local writer called it a somber day, and it indeed it was. I specifically remember turning on the radio that afternoon and hearing the radio host saying "Geez, this is a crappy day. This is just a really crappy day." A young life was taken too soon, a family wasleft in mourning and a community in shock.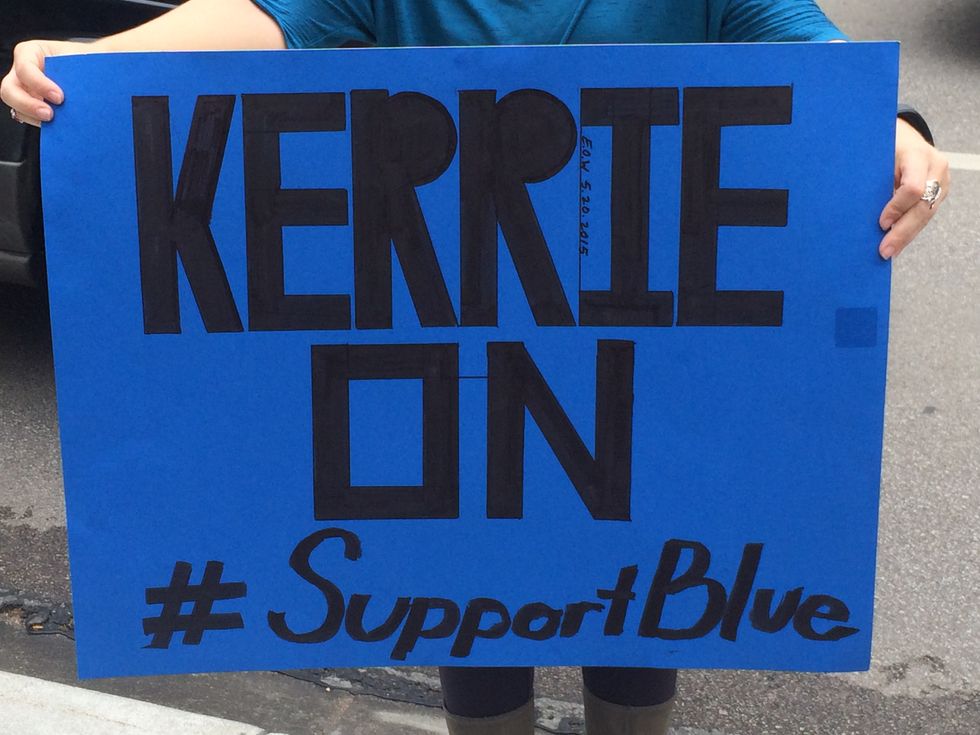 A supporter holds a sign during the funeral procession for Officer Kerrie Orozco on May 26, 2015. (Cullen Herout)
Perhaps the most tragic part of this was the fact that Officer Orozco was a young wife and mother. About three months prior to her death, she had given birth to a premature little girl, and she was working her last day on the job before she would bring her baby home from the hospital and begin her maternity leave. Unfortunately, that never happened.
The reactions poured in. The hashtag #kerrieon quickly began trending on Twitter. The funeral packed the Catholic Church of St. John on the campus of Creighton University to the brim. There were so many attendees that overflow seating was available at a large arena a few miles away. The funeral procession was unlike anything I have ever seen. People lined the streets for miles, waving flags and paying tribute to a fallen officer whom the world had learned was one of the city's great peacemakers.
She was, by all accounts, a tremendous officer and a tremendous human being.
Officer Orozco's death spurred countless tributes and served as an inspiration to many. This race car driver paid tribute with his car. This artist honored her life by helping with the "Horses of Honor" exhibit, in which 8 fallen officers, including Officer Orozco, will be honored at a local park. This community named a baseball field after her. Also related to baseball, the University of Virginia's baseball team honored her during their trip to Omaha for the College World Series.
This woman was so moved by the heroic service of Officer Orozco that she changed her career to join the police force. The police department erected a beautiful tree outside the station to serve as a memorial. The list goes on and on.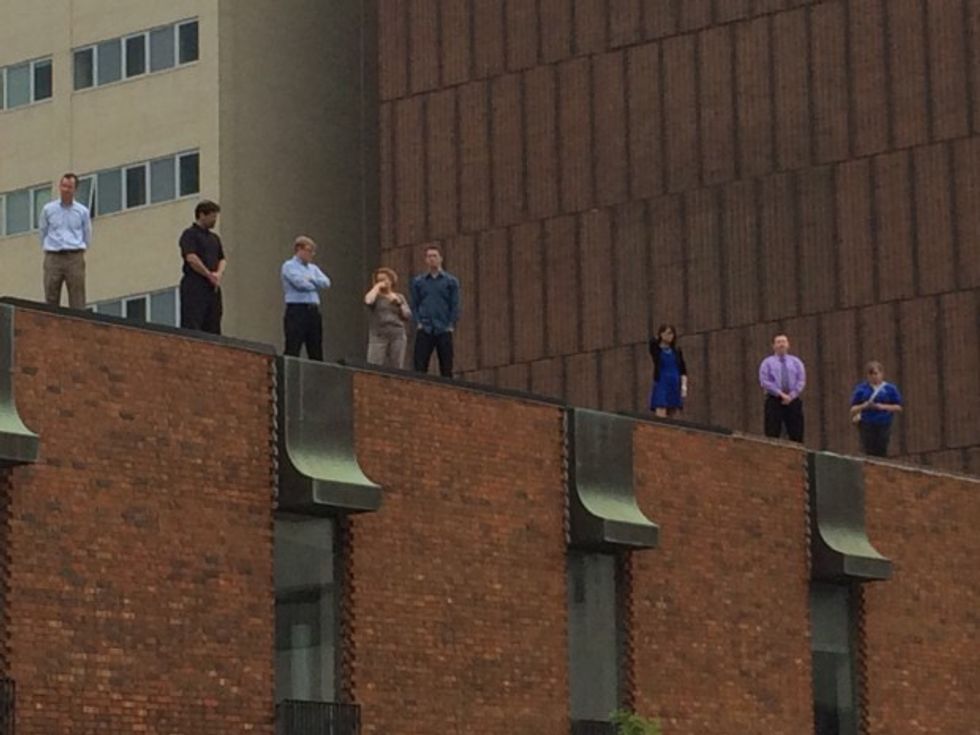 Supporters gather on top of a building to pay last respects to Officer Kerrie Orozco during her funeral procession on May 26, 2015. (Cullen Herout)
Perhaps the most heart-wrenching tribute of all was a poem written by Officer Chad Schroeder entitled "3 Minute Ride." The poem describes his ride alongside Officer Orozco in the ambulance as he realizes that she is dying. He wrote:
I stepped into the ambulance in total disbelief

It would be a 3 minute ride full of heartache and grief

I'd taken this ride before, but never with one of our own

This ride was different, and it sent a chill to the bone …
And later...
I got as close as I could and whispered in her ear

We love you Kerrie, and you have nothing to fear
To be clear, I did not know Officer Orozco. I did not attend the funeral. I was among the thousands who paid tribute as she was escorted through downtown Omaha on her way to her final resting place. I was merely a bystander, inspired through the stories of her life and the support poured out on a humid, drizzly May morning.
It so happens that sometimes a person can inspire as many people through their death as they did during their lives, and Officer Orozco certainly did that. Anyone who heard about her ability to connect with kids, to care for the troubled, and to smile through dark times was immediately uplifted.
Through her sacrifice, she touched the lives of those who, like me, never met her. Through her courage, bravery, and service, she made a mark on her community that will live forever.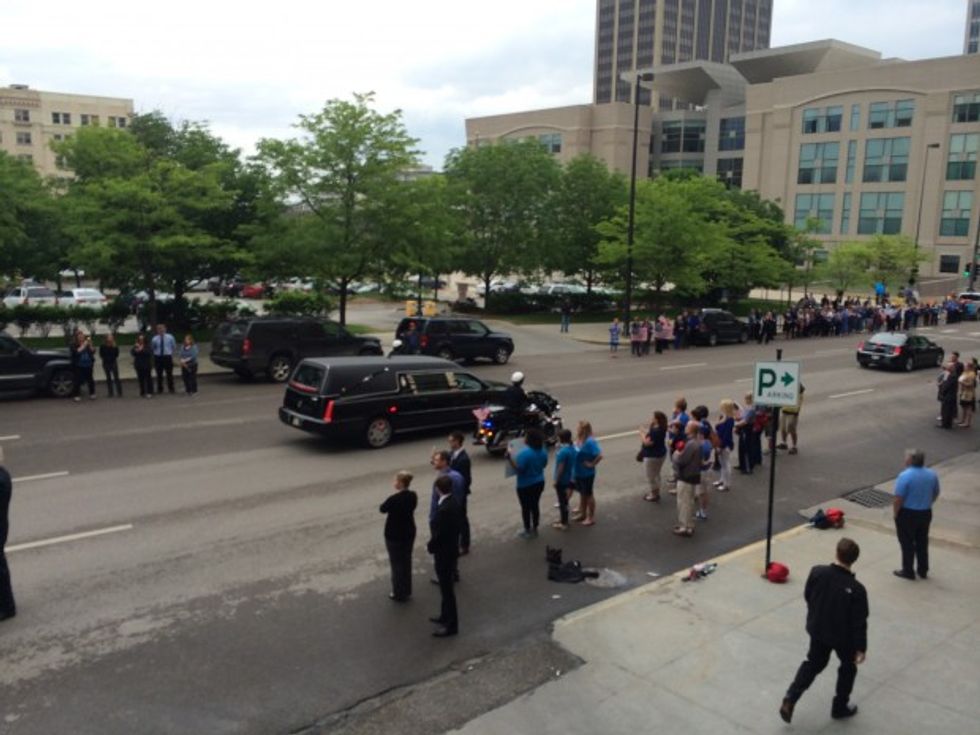 The hearse carrying Officer Kerrie Orozco during her funeral procession on May 26, 2015. (Cullen Herout)
There are words that are oftentimes reserved for men and women who give their lives in the service of others. Words such as courageous, brave, and heroic are just a few examples of this, and it is clear that all of these words can effectively be applied to Officer Orozco.
This coming Monday is Memorial Day, a day to remember all who have given their lives in service to our communities and our country. The call to spend one's own life in service of one's community is the highest and noblest of all callings, and it is a calling that sometimes requires the highest price.
On this Memorial Day, let's remember Officer Kerrie Orozco, as well as all the other courageous men and women who have died in the service of others and in the service of the United States of America. We will never get a chance to thank them in person, but there are a few things that we can do.
For one, we can pray for their souls.
Then, when we have done that, we can make sure that we never forget the sacrifice they made.
–
TheBlaze contributor channel supports an open discourse on a range of views. The opinions expressed in this channel are solely those of each individual author.