There are three reasons why a wall should be built along our southern border and Mexico should pay for it - and none of them have to do with the bloviations of an orange billionaire.
First, Mexico owes us for letting them keep the majority of their country after we conquered them.
There's a forgotten fact that the majority of Americans either ignore or never learned—the latter is probably more likely—Mexico exists because we, the United States, didn't want it.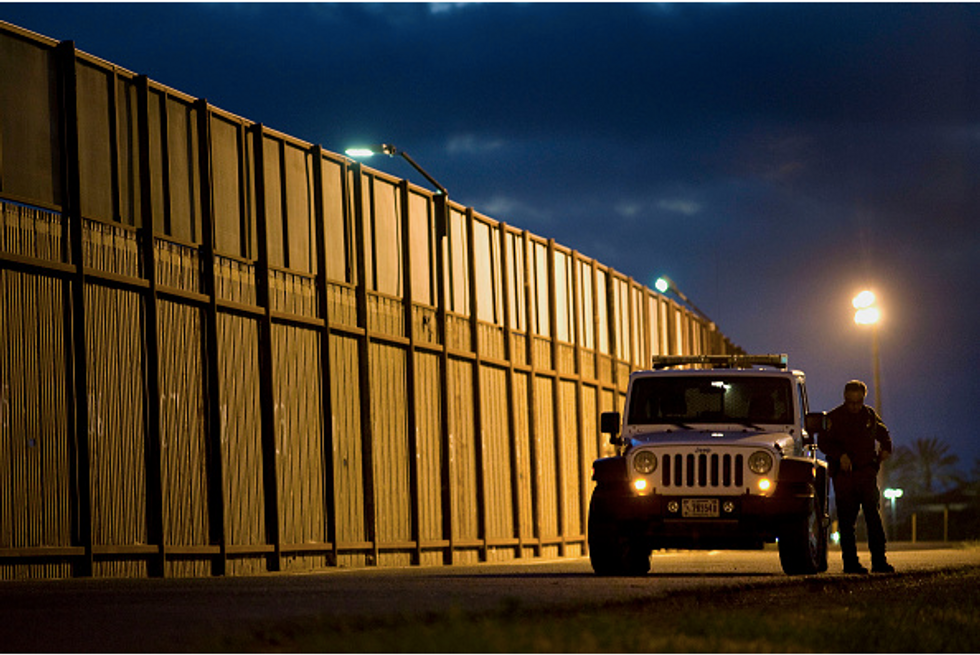 A U.S. Border Patrol agents stands outside his vehicle next to the U.S.-Mexico border fence in San Diego, California, U.S., on Thursday, Feb. 26, 2015. Photographer: David Maung/Bloomberg via Getty Images 
Many people are mildly aware that a large section of the southwest used to belong to Mexico. Few can probably recite a "telephone" version of Texas history and the battle of the Alamo, but knowledge of the military conflict that ensued after the Alamo—aka The Mexican-American War—is unknown to many.
This election cycle has focused a lot of attention, at least initially, on illegal immigration, building a wall, and rapists and murders. Still, the conversation has only gone as far back as the 1954 Immigration and Naturalization Service's "Operation Wetback."
Although I think Operation Wetback is an excellent case study that debunks the idea that "self-deportation" is a farce; as well as a perfect example of the naming conventions that existed in a pre-politically correct world, beginning a discussion on border security at 1954 is dishonest at best.
The Mexican-American War, more specifically the Treaty of Guadalupe Hidalgo, changed both the current territorial and ethnic landscape of the country and recognized the Rio Grande as America's southern boundary.
Prior to treaty negotiations in 1848, President James Polk had made it clear to Congress that he rejected the total annexation of Mexico for three reasons. First, the U.S. military was too small to control the country. Second, it was too expensive to maintain an army in Mexico. Third, many Anglo-Americans were against the influx of millions of Hispanics into American society—not much has changed on this last point.
Second, Mexico owes us for forcibly establishing the first Mexican-American foothold in the United States.
There is one undeniable fact about the southern border with Mexico: No one North of it is trying to sneak into Mexico. There are several reasons for this, but all of them can be summed up by saying that the United States is a better country.
One of the unintended consequences of the Treaty of Guadalupe Hidalgo was Article VIII, which explained that Mexicans living in the newly acquired territories had one year to emigrate to Mexico, or subsequently became citizens of the United States by conquest. The Article stated:
"Mexicans now established in territories previously belonging to Mexico...shall be free to continue where they now reside, or to remove at any time to the Mexican republic...Those who shall prefer to remain in the [US] may either retain the title and rights of Mexican citizens, or acquire those of citizens of the United States...after expiration of [a] year...Mexicans shall be considered to have elected to become citizens of the United States."
The U.S. was likely unaware that the "leave or be assimilated" ultimatum would result in 75,000 Hispanics choosing to stay—or more likely not leaving. These Mexicans would now serve as a beacon for future Mexican immigration.
Third, Mexico owes us for taking in people fleeing the Mexican Revolution.
In the decade of the Mexican civil war, from 1910 to 1920, the Mexican-American population continued to increase—especially in the southwest. The United States initially welcomed this influx of immigrants for several reasons. First, the U.S. increased the unskilled labor force that was lacking as a result of the Chinese Exclusion Act of 1882 and the Immigration Act of 1917. Second, it filled jobs in growing sectors such as agriculture and industry.
Of course, the great depression resulted in the reversal of a pro-immigration policy with the Mexican Repatriation Act and later the aptly named Operation Wetback (this is probably a good time to admit that I am a first generation Mexican-American).
For all of our faults, however, the United States has always taken in our fair share of immigrants and asylum seekers. Although our relationship with Mexico and its immigrants has vacillated throughout history, the fact is 11 percent of the U.S. population are Hispanics of Mexican origin; which equates to about 33.7 million people.
Unlike Mexico, the United States goes beyond what many consider reasonable treatment of immigrants that are here illegally.
According to a 2015 report by the Center for Immigration Studies, over 60 percent of illegal immigrant households use some form of welfare. In his book, "The New Case Against Immigration: Both Legal and Illegal," author Mark Kirkorian references a study by the Department of Education which revealed that "education of illegal-alien students cost the states $12 billion a year, and when U.S.-born children of illegal aliens are added, the cost more than doubles to $28.6 billion."
When the study was conducted, California was estimated to have spent nearly 13 percent of the state's total education budget on educating the children of illegal aliens.
Suffice to say, the U.S. has a rich history of accommodating illegal immigration from Mexico, and currently provide opportunities to illegal Mexicans that Mexico doesn't even offer its citizens.
Is it too much to expect some kickbacks from the Mexican government for the generosity and humanitarianism we have provided to Mexicans fleeing their third-world homeland?
¡Oye México! pagan por nuestro pared.
Anthony DeChristopher holds a M.A. in Strategic Security Studies from National Defense University's College of International Security Affairs. He blogs at exceptionism.com
–
TheBlaze contributor channel supports an open discourse on a range of views. The opinions expressed in this channel are solely those of each individual author.