© 2023 Blaze Media LLC. All rights reserved.
Resist the temptation to believe unless you provide constant programmed activities and stimulation for your children you're not being a good parent.
If you're a mom of school-age kids, I'm sure your mailbox and inbox look a lot like mine – full of summer camp and summer activity options. Feasibly, I could sign my kids up for camps or activities all day, every day to keep them busy, productive and occupied every blazing minute of summer.
While we will participate in some of these camps and activities, our calendar is already full of an activity I am fiercely guarding: Downtime.
Yep, that's right, there are sacred spaces on our calendar that we dare not litter with busyness. That means we will have to say no to some good, fun things, but I believe an unhurried summer is worth it.
As parents there are two big lies we need to stop believing:
Downtime is wasted time and should be avoided at all costs;
Unless we are entertaining and stimulating our kids every moment, we are bad parents.
Neither is true, but believing these lies is what keeps families on the never-ending race from one activity to another.
What is true is that we were built for more than busy.
[sharequote align="center"]No hovering. No detailed instructions. No figuring it out for them.[/sharequote]
I love the way my mother-in-law approached summer. She wouldn't schedule anything at all in June because the Texas heat wasn't yet unbearable and her kids could play outside all day. And I mean, ALL. DAY.
Every June morning my mother-in-law would send her three oldest kids outside with these instructions: "Go play and don't come back until you hear the bell. Go figure out what you're going to do, build, destroy or reconstruct. Stay together and watch out for snakes."
Around noon she would drop lunches off the balcony. The kids would have a picnic and then resume their adventures. There was a water-filled cooler with a spigot on the back deck if they got thirsty. I'm pretty sure there was no sunscreen or bug repellant involved, either.
That's it. No hovering. No detailed instructions. No figuring it out for them.
The goal was to provide her kids with unhurried, unstructured time for part of the summer. In July and August she allowed for some programmed activities or sports, but June was a reserved wide open space of exploration.
Of all the memories my husband relives from his childhood, these all-day adventures – including just lying under a tree and looking up at the sky – are what he talks about most. They truly shaped him into the risk-taking, problem-solving, creative, adventure-seeking, peaceful man that he is today.
While we don't live in an area that makes that kind of parenting optional and there are real threats to "free-range parenting," I do try to incorporate the idea of an uncluttered, unstructured summer schedule.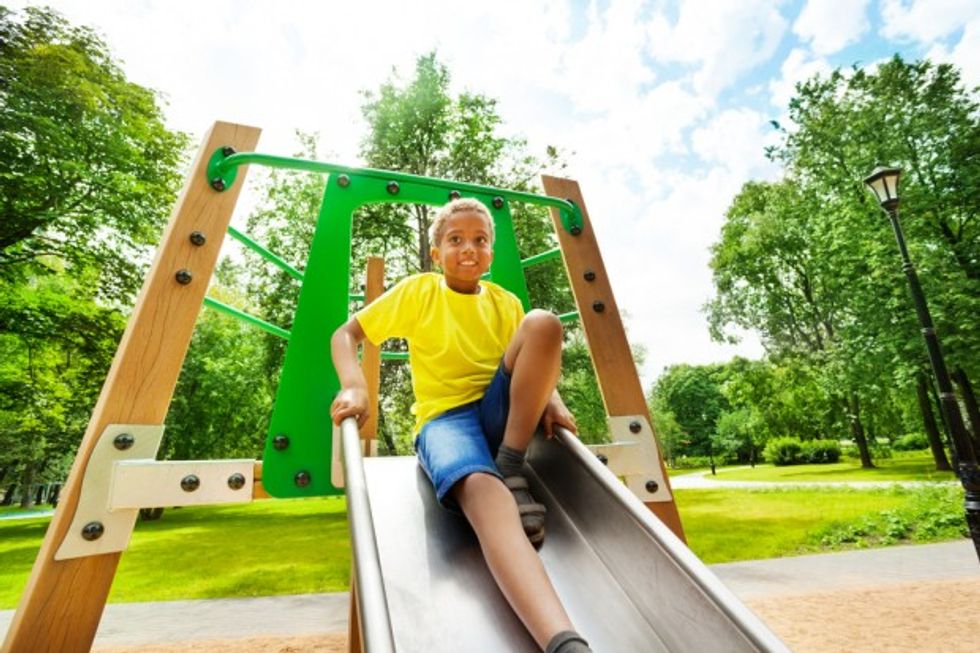 Photo Credit: Shutterstock 
For us that looks like providing intentional margin in our summer calendar by capping our programmed activities. With the downtime we gain, we will be doing art projects at home, chores (if that chore chart you keep launching never flies, summer is the great time for consistency), a reading challenge and MYOF (Make Your Own Fun – my answer to "I'm booooorrrred.").
Family therapist Michael Ungar, Ph.D., states in an article for PsychologyToday,
Children who experience a lack of programmed activity are given an opportunity to demonstrate creativity, problem solving, and to develop motivational skills that may help them later in life. Are we really doing our children a service by removing quiet, unstructured time from their lives? When we endlessly program them with activities… have we overlooked the amazing opportunities for psychological growth right there in the quiet of our own homes?
I spoke with nationally sought-after speaker, educator and author, Jody Capehart, about creating intentional summers. She says she tried to keep her children's summers full: "Fulfilling, meaningful and peaceful."
"Parents need more confidence in themselves. They don't need to farm out fun to the so-called 'experts'. What kids need are relationships, good art, good music, good books and the gift of time. These are all things parents can provide," she added
Downtime allows the mind to wander, ponder and ruminate on ideas that are waiting to be explored. Providing purposeful downtime helps kids discover new things about themselves, new things they like, new passions and outlets for creativity.
I shudder to think what would have happened if Beethoven, Shakespeare or C.S. Lewis would have grown up with an over-stimulated, over-programmed childhood and no opportunity for downtime. Even Steve Jobs famously said, "All the technology stuff is wonderful, but having nothing to do can be wonderful, too."
Experts agree that downtime benefits kids academically, physically and emotionally. But there is also a spiritual advantage to promoting downtime for your kids. Renowned author, professor, and pastor, Henri Nouwen, said, "Without solitude it is almost impossible to have a spiritual life."
Kids (and adults) cannot be still and know God if they are never still (Psalm 46:10). Our children cannot meditate on God's unfailing love if they never are left alone with just their thoughts (Psalm 48:9). Over-programming and over-stimulating our kids – with activities or electronics – will have a detrimental effect on nearly every aspect of their lives.
Resist the temptation to believe unless you provide constant programmed activities and stimulation for your children you're not being a good parent.
Parents who need programs throughout the summer due to work schedules can provide downtime while their kids are home. Evenings and weekends can also be a haven from the constant buzz of activities and electronics.
Downtime is not popular in our culture. You must seek it, guard it and be disciplined enough to maintain it for your family. But it's worth it. And an added benefit? You get downtime, too.
Please visit Julie's new website at www.juliehildebrand.com.
–
TheBlaze contributor channel supports an open discourse on a range of views. The opinions expressed in this channel are solely those of each individual author.

Want to leave a tip?
We answer to you. Help keep our content free of advertisers and big tech censorship by leaving a tip today.
more stories
Sign up for the Blaze newsletter
By signing up, you agree to our
Privacy Policy
and
Terms of Use
, and agree to receive content that may sometimes include advertisements. You may opt out at any time.