From the hawkish democratic stance against the Soviets, to the support of U.S. military build-ups; to the unwavering stance on the war on terror, and finally to the broad use and projection of U.S. military powers as a leading tool of U.S. foreign policy -- the politics of fear have always been placed by liberals squarely at conservatives' feet.
These are all fundamental positions criticized over the decades and defined by liberals as fear-based politics: i.e., "all sticks; no carrots," or as in 19th Century terms, "gunboat diplomacy."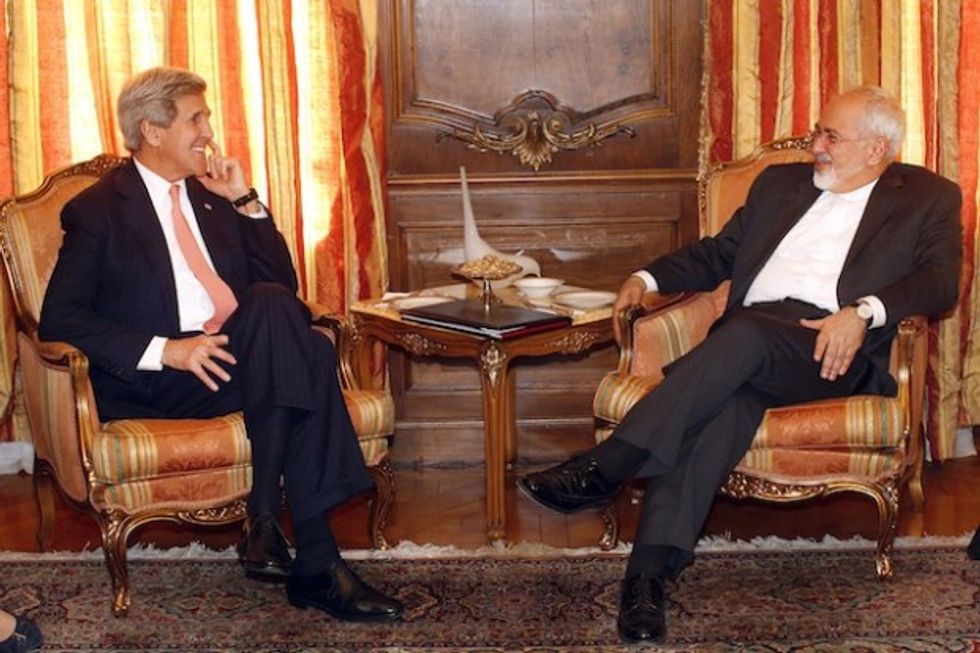 U.S. Secretary of State John Kerry (L) meets with Iranian Foreign Minister Mohammad Javad Zarif at the United Nations April 27, 2015, in New York City. The two were meeting at the opening of a UN conference on a global anti-nuclear weapons treaty, attempting to make progress in talks on a long-term nuclear deal. (Jason DeCrow-Pool/Getty Images)
With the exception of the Iraq invasion, the republican school of thought that puts forth the idea of uncompromising steadfastness and the concept of "fighting them over there before they come to us over here" has proved over the decades to be fundamentally correct in debunking criticism from the democrats.
Today, we are challenged with a situation that is of considerable economic and social consequence, not only to the United States, but to the entire Middle East as a whole – and perhaps arguably to the world: The Iran nuclear deal.
The fundamental difference between what we have today with the Democratic-led initiative with Iran and the way traditionally it would've been handled by a Republican administration, is that liberals fundamentally misunderstand that religious-led intentions, ill or otherwise, cannot be changed through inclusion, compromise, appeasement, or caving in.
To bolster its position, the Obama administration has put forth the premise that if we don't support this deal we will have yet another war – attempting to scare the American public into supporting the nuclear deal with Iran in order to ostensibly avert another war in the Middle East.
What this well-intentioned liberal administration fails to understand, is that in today's Islamic-based politics – moderate or radical – compromise and reason fuels, instead of tempers, radical political Islam.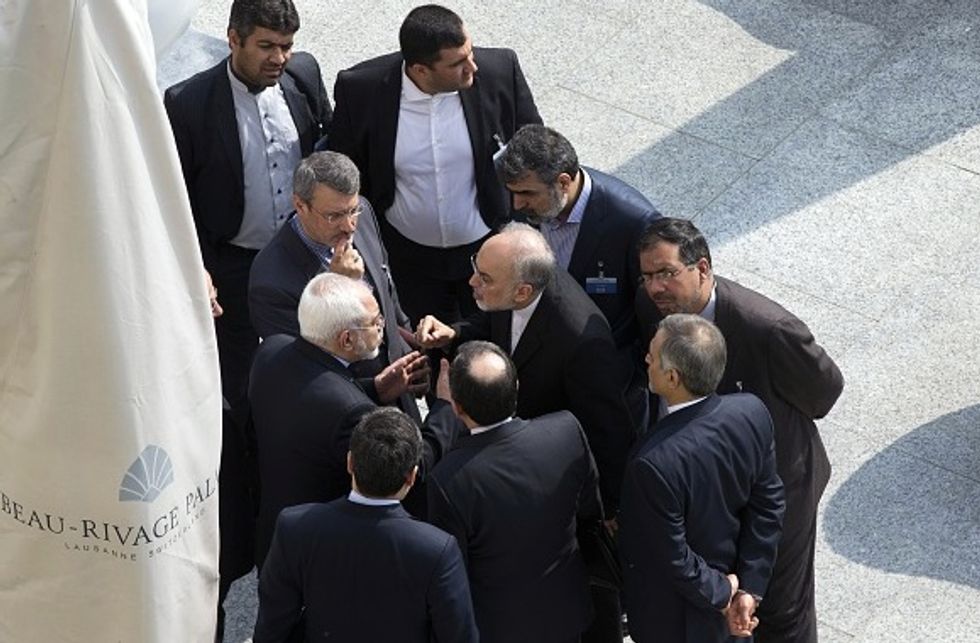 Iran's Foreign Minister Mohammad Javad Zarif (C on left) and head of the Atomic Energy Organization of Iran Ali Akbar Salehi (C on right) talk outside with aides after a morning negotiation session with U.S. Secretary of State John Kerry over Iran's nuclear programme in Lausanne March 19, 2015.  BRIAN SNYDER/AFP/Getty Images)
Giving political Islam (be it Shiite or Sunni) space in today's world community will bolster the hardliners in both communities whose apparent steadfast opposition to the "Great Satan" has produced a windfall with either the uninformed or ill-informed masses at their feet. They now have space to trade and develop their economy and country. Allahu Akbar and al hamdulilah (God is great and thanks be to Him) is a chant that is ringing throughout Iran and its proxies across the Middle East.
"The Great Satan has caved in. We have all we want. Nuclear power will come sooner or later. But now when it comes we will be emboldened, prosperous, and strong," is what it means
Unfortunately, and tragically for the U.S. and western interests in general, liberal Democrats led by the ever-intellectual and professorial Barack Obama have bought into the notion that more inclusion will elicit more moderation. In the world of academia, it is known as the Inclusion Moderation Hypothesis.
However, that theory or hypothesis is not conducive to the one-size-fits-all concept. It does not make the cross-cultural transition into the radical Islamic arena. It falls flat on its face when it's subjected to the test under either Sunni or Shiite radical political Islam.
If Democrats will not pay heed to analysts who have devoted most of their professional lives studying, living, and working in the Middle East – nor to the indigenous leaders who are confronted with these issues on a daily basis, then let them remain complacent with their own liberal agenda.
In his book, "Temptations of Power: Islamists and Illiberal Democracy in a New Middle East", author Shadi Hamid documents that confrontation – although he elects to use the word "repression," produced moderation with the Muslim brotherhood in both Egypt and Jordan. Inclusion, or giving the Islamists space in the democratic process, moves them to the right, thus radicalizing them. A recent and distinctive example of such a consequence would be the election of the Muslim Brotherhood party in Egypt and their prompt application of radical jurisprudence.
As we examine Obama's track record in dealing with the rise of political Islam throughout the Middle East, a pattern of appeasement, inclusion, and the provision of political space that has been afforded to groups such as the Muslim Brotherhood, Hamas, and now Iran are abundant proof that Obama has bought into the Inclusion Moderation Hypotheses, and is trying to insert this failed concept into an environment where it will simply not work.
Just ask the Russians about Chechnya. On the contrary, it will backfire in all of our faces as it has with the Russians. But, this time, it will backfire with a wealthy Iran and a striving economy that is non-exclusively hydrocarbon-based, and sooner or later capable of producing nuclear weapons.
The Middle East is not some sort of a sociopolitical laboratory to try out theories.
In 1919, the western powers carved up in the region -- in what was the partitioning of the Ottoman Empire -- into the geographic divisions that we now recognize as the modern Middle East.
Today, the Obama administration is essentially doing the same by empowering a motley crowd of global anarchists and Islamists to build a bastion of incivility, and instability across the region. First, the Muslim Brotherhood in Egypt, which is a principal source of political inspiration, and now the Islamic Republic of Iran – all in the hope of creating a more democratic Middle East through the Inclusion and Moderation Theory to assist in the rise of political Islam.
Or, more maddening, trying to balance the Sunni and Shiite powers by alternating support so that both sides and their ill-advised clerics are kept in perpetual conflict. Both of these approaches point to nothing but a dangerous lose-lose situation for the United States, NATO, and the Atlantic Alliance.
Politics of fear indeed. This administration has put the fear of God into me, not that I fear Iran, but that I fear our own ill-informed and rudderless leadership, immensely more!
–
TheBlaze contributor channel supports an open discourse on a range of views. The opinions expressed in this channel are solely those of each individual author.