"Free worlders" is prison slang for those who are not incarcerated behind prison walls. Supposedly, those fortunate souls live in the "free world." However, appearances can be deceiving.
"As I got closer to retiring from the Federal Bureau of Prisons," writes former prison employee Marlon Brock, "it began to dawn on me that the security practices we used in the prison system were being implemented outside those walls." In fact, if Brock is right, then we "free worlders" do live in a prison—albeit, one without visible walls.
In federal prisons, cameras are everywhere in order to maintain "security" and keep track of the prisoners. Likewise, the "free world" is populated with video surveillance and tracking devices. From surveillance cameras in stores and street corners to license plate readers (with the ability to log some 1,800 license plates per hour) on police cars, our movements are being tracked virtually everywhere. With this increasing use of iris scanners and facial recognition software—which drones are equipped with—there would seem to be nowhere to hide.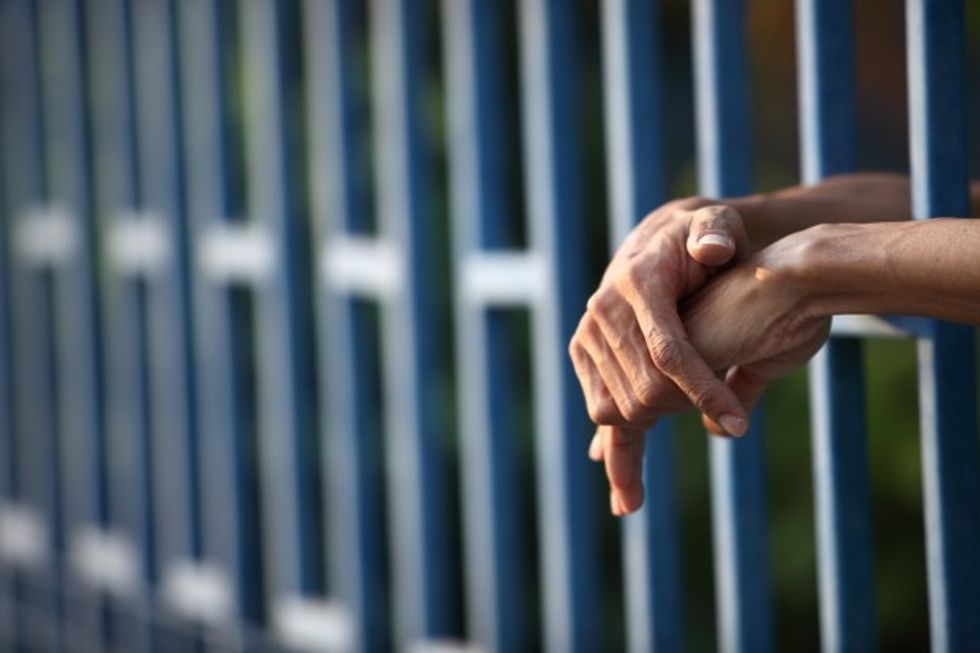 Photo credit: Shutterstock
Detection and confiscation of weapons (or whatever the warden deems "dangerous") in prison is routine. The inmates must be disarmed. Pat downs, checkpoints, and random searches are second nature in ferreting out contraband.
Sound familiar?
Metal detectors are now in virtually all government buildings. There are the TSA scanning devices and metal detectors we all have to go through in airports. Police road blocks and checkpoints are used to perform warrantless searches for contraband. Those searched at road blocks can be searched for contraband regardless of their objections—just like in prison. And there are federal road blocks on American roads in the southwestern United States. Many of them are permanent and located up to 100 miles from the border.
Stop and frisk searches are taking place daily across the country. Some of them even involve anal and/or vaginal searches. In fact, the U.S. Supreme Court has approved strip searches even if you are arrested for a misdemeanor—such as a traffic stop. Just like a prison inmate.
Prison officials open, search and read every piece of mail sent to inmates. This is true of those who reside outside prison walls, as well. In fact, "the United States Postal Service uses a 'Mail Isolation Control and Tracking Program' to create a permanent record of who is corresponding with each other via snail mail." Believe it or not, each piece of physical mail received by the Postal Service is photographed and stored in a database. Approximately 160 billion pieces of mail sent out by average Americans are recorded each year and the police and other government agents have access to this information.
Prison officials also monitor outgoing phone calls made by inmates. This is similar to what the NSA, the telecommunication corporation, and various government agencies do continually to American citizens. The NSA also downloads our text messages, emails, Facebook posts, and so on while watching everything we do.
Then there are the crowd control tactics: helmets, face shields, batons, knee guards, tear gas, wedge formations, half steps, full steps, pinning tactics, armored vehicles, and assault weapons. Most of these phrases are associated with prison crowd control because they were perfected by prisons.
Finally, when a prison has its daily operations disturbed, often times it results in a lockdown. What we saw with the "free world" lockdowns following the 2013 Boston Marathon bombing and the melees in Ferguson, Missouri and Baltimore, Maryland, mirror a federal prison lockdown.
Photo credit: Shutterstock
These are just some of the similarities between the worlds inhabited by locked-up inmates and those of us who roam about in the so-called "free world."
Is there any real difference?
To those of us who see the prison that's being erected around us, it's a bit easier to realize what's coming up ahead, and it's not pretty. However, what most Americans perceive as life in the United States of America is a far cry from reality.
This state of denial and rejection of reality is the essential plot of John Carpenter's 1988 film "They Live," where a group of homeless men discover that people have been, in effect, so hypnotized by media distractions that they do not see their prison environment and the real nature of those who control them—that is, an oligarchic elite.
Caught up in subliminal messages such as "obey" and "conform," among others, beamed out of television and various electronic devices, billboards, and the like, people are unaware of the elite controlling their lives. As such, they exist, as media analyst Marshall McLuhan once wrote, in "prisons without walls." And of course, any resistance is met with police aggression.
A key moment in the film occurs when John Nada, a homeless drifter, discovers a handful of cheap-looking sunglasses, referred to as Hoffman lenses. Grabbing a pair and exiting the church, he starts walking down a busy urban street. Sliding the sunglasses on his face, Nada is shocked to see a society bombarded and controlled on every side by subliminal messages beamed at them from every direction. Billboards are transformed into authoritative messages: a bikini-clad woman in one ad is replaced with the words "MARRY AND REPRODUCE." Magazine racks scream "CONSUME" and "OBEY." A wad of dollar bills in a vendor's hand proclaims, "THIS IS YOUR GOD."
This is the subtle message of "They Live," an apt analogy of our own distorted vision of life in the American police state. These things are in plain sight, but from the time we are born until the time we die, we are indoctrinated into believing that those who rule us do it for our good. The truth, far different, is that those who rule us don't really see us as human beings with dignity and worth. They see us as if "we're livestock."
It's only once Nada's eyes have been opened that he is able to see the truth. Disillusioned and fed up with the lies and distortions, Nada is finally ready to fight back. What about you?
As I point out in my book "Battlefield America: The War on the American People," the warning signs have been cautioning us for decades. Oblivious to what lies ahead, most have ignored the obvious. We've been manipulated into believing that if we continue to consume, obey, and have faith, things will work out. But that's never been true of emerging regimes. And by the time we feel the hammer coming down upon us, it will be too late.
The message: take the warning signs seriously. And take action because the paths to destruction are well disguised by those in control.
This is the lesson of history.
–
TheBlaze contributor channel supports an open discourse on a range of views. The opinions expressed in this channel are solely those of each individual author.