Rich ole' Hillary wants the farm, E-I-E-I-O.
And once in charge she'll do great harm, E-I-E-I-O.
With a minimum wage hike here,
Food stamps for everyone there,
Higher taxes on the rich here, to pay for
More entitlements there,
And resurrected Hil'rycare to die for everywhere.
Rich ole' Hillary wants to rule the farm, E-I-E-I-NO.
Former Secretary of State Hillary Rodham Clinton reacts as she is introduced to speak at the Massachusetts Conference for Women in Boston, Thursday, Dec. 4, 2014. (AP Photo/Elise Amendola)
Rich ole' Hil'ry claims vast experience, E-I-E-I-O.
But her qualifications don't exist, just like President O.
With a Russian reset button here,
Tea and sympathy with Muslim Brotherhood terrorists there,
Here a Libyan bombing blitz,
There Mid-East failed states and border breakdowns,
And ISIS, slaughtering Christians everywhere.
Inept ole' Hil'ry's vast achievements are dismal failures, E-I-E-I-O.
U. S. Secretary of State Hillary Clinton, left, and Egyptian President Mohammed Morsi laugh during a photo opportunity at their meeting at the Presidential palace in Cairo, Egypt, Saturday, July 14, 2012. (AP Photo/Maya Alleruzzo)
Rich ole' Hillary lied on the farm, E-I-E-I-O.
And denied it all, her future not to harm, E-I-E-I-O.
With a private computer server here,
deleted email proof of shady deals there,
Here, "What difference does it make?"
There, sniper bullets a'flying in Bosnia,
And "dead broke after eight years in the White House" which she declared absolutely everywhere.
Dead broke ole' Hillary lied while on the farm, E-I-E-I-0.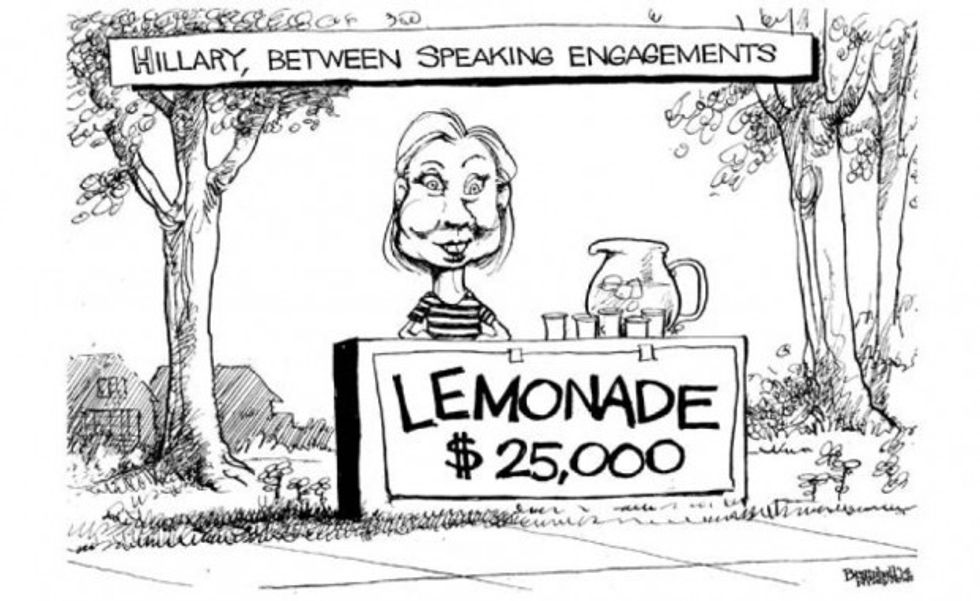 Courtesy of Author
Poor ole' Hil'ry received "quid pro dough," E-I-E-I-O.
Then revised and refiled taxes to conceal cash flow, E-I-E-I-O.
With companies lobbying for State Department favor$ here,
While funneling million in donation$ to Hil'ry's foundation there,
Here HillyBilly speaking fee$ sprouted "good deed" seeds,
While they denied any dastardly deeds,
As they stocked Russia with Uranium to funnel into hands of America's enemies absolutely everywhere.
Rich again ole' Hil'ry wallows in quid pro dough, E-I-E-I-O.
(AP Photo/Charles Dharapak, File)
Rich ole' Hillary wants to be the superhero on our farm, E-I-E-I-O.
Where she had accomplished E-I-E-I-Oh so much.
With Bimbo management here,
Pantsuit promotion there,
Fighting for equal pay here,
While underpaying Senate staffers there,
And wasting millions crisscrossing the globe on her quest for an accomplishment and a decent haircut . . . which were not found anywhere.
Is rich ole' Hil'ry qualified to lead our farm? E-I-E-I-OH HILL NO!
Want a little more snark in your day? FREE DOWNLOAD of Molli's quick-read book, "Uncle SCAM Wants Your Money and Your Country." Use her humor to initiate conversations with the less-aware people in your universe. Entertain, then enlighten about our need to wake up, wise up, stand up, speak out, and push back to fundamentally UN-transform Obama's America.
–
TheBlaze contributor channel supports an open discourse on a range of views. The opinions expressed in this channel are solely those of each individual author.