After a police officer was severely burned in an accident, his family is seeking to raise awareness of fire safety.
"I survived because the fire inside me burned brighter than the fire around me," Jack Kruse said. "I don't know what was going on in Joshua Graham's life that inspired him to write that quote, but it should be every burn survivor's rallying cry."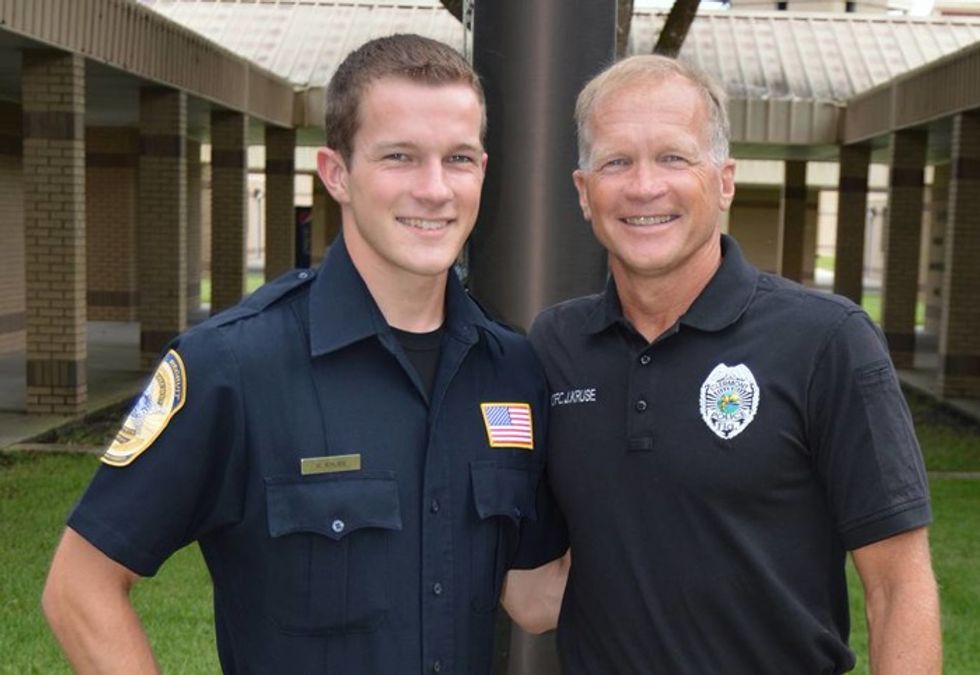 Jack's Facebook post of February 8 reads:
Please pray for my son Kris Kruse, the best child any parent could hope for. He's in Orlando Regional Medical Center's ICU with severe burns over 65% of his body. He was airlifted there last night following a fuel container explosion that covered him with burning gasoline. He needs to fight for his life in the short term, and if God willing, he comes through, he has a very, very long road to recovery ahead. He is currently stable, but intubated and on a ventilator. He cannot have visitors. There is nothing more difficult for a parent than to see their child suffering…So if you're religious, I ask you to pray for him. If you're not, give him your well wishes and keep him in your thoughts. Hopefully, at some point we will be able to share the love we receive with him to boost his spirits. Also keep Jill Kruse in your prayers. She'll have the monumental task of caring for both of us at some point.
Jill had been caring for Jack since a January 12 paragliding accident in which he fractured two vertebrates, sustained multiple fractures of both legs, and shattered his right heel. Less than a month later, the couple faced only a 50/50 chance of their son's survival.
"As bad as [they] sound, when Kris had his accident, my injuries suddenly seemed like a stubbed toe, and are really just a minor inconvenience in the big scheme of things," Jack said.
Jack Kruse has updated friends and followers on Facebook since the accident. His posts are difficult to read as the enormity of his son's injuries unfolds. Descriptions of daily care and pain are excruciating, this is the reality of Kris' daily life, and what his loved ones witness each day.
After watching the Super Bowl, the off-duty rookie, his girlfriend Liz, and two friends were chatting around a fire pit. Kris lifted a plastic gas can which exploded, dousing him with burning gasoline. Kris was fully engulfed in flame for 35 – 40 seconds. Liz threw her jacket over him to smother the flames, and another friend ran for a nearby water hose and extinguished the remaining fire. An important note: Kris and his friends are not partiers, and Kris is likely the designated driver when they are out. There are no indications that alcohol had any role in this incident.
Jack recently urged readers to be prepared for the worst:
After the explosion, [Kris] instinctively performed [the stop, drop, and roll] maneuver, but it had no effect on the fire whatsoever. Assuming you don't have a Class B fire extinguisher handy, the best option is...to smother the fire. All fires need a fuel source and oxygen in order to burn. Smothering it cuts off its supply of oxygen and quickly extinguishes the flames. Water, if available…is also effective on a burning person, but not necessarily the best choice for fuel spills. The lesson here is one of awareness and preparation. If you have a back yard fire pit, you should have a good fire extinguisher close by, and make sure you know how to use it. Don't cheap out either, get one with the proper rating and volume, because someone's life may depend on it. Keep any accelerant far away from the fire, and make sure you have your hose nearby, unkinked and ready to go…if you are out in the woods or otherwise nowhere near a water source, have a fire extinguisher handy, and maybe even a blanket. You need to have the means to extinguish a fire quickly, because waiting for the fire to burn itself out is not the only option you want when you're on fire.
Jack's close-knit family has shown bravery and courage during the ordeal. Despite unimaginable pain, Kris silently whispers "thank you" to nurses after torturous scrubbings and dressing changes, necessary to keep raw skin infection free. He's been visited by Clermont burn victim, Matt Manzari. Barely into recovery, Kris is planning to team with Matt to offer support to burn victims.
Jack's updates are full of respectful praise for the paramedics who responded at the scene, as well as the medical personnel who are making Kris' recovery possible. He lauds the ICU nurses doing this difficult work with the care they would show their own family.
Kris was airlifted to Shands Hospital in Gainesville on February 17 for specialized care. Kris is now preparing to move into a regular hospital room. Several weeks later, if all goes well, he'll move to a rehabilitation facility. His family hopes that he may be home for his birthday on May 15.
Seeking a more family-centered life, the Kruses moved from Cherry Hill, New Jersey to the Orlando area seventeen years ago. Jack is a Clermont Police Officer, and Kris, now 21, wanted to follow in his father's footsteps. He began in the Clermont police explorer program at age 13, and joined the police force in July 2015, making Jack and Kris the only father-son duo in the department. It is unclear whether Jack or Kris will be able to return to duty.
Tragedies often have a silver lining, and for Kris' family, it is a blessing. The strength and love of supporters pours in daily. Jill would like "to thank everyone across the country and around the world for their kind words, generous gifts, and most of all, their prayers that are obviously working to bring Kris home to us."
Jack says that "she is feverishly writing notes and making phone calls when numbers are provided to thank individuals."
Following Jack's posts is inspiring. Respect for them runs deep in their community, and quotes, poems, pictures, and prayers on his Facebook page impress on the darkest days. Though the Kruses have requested only prayers, Kris faces a long, expensive recovery. Donations are gratefully accepted through GoFundMe.
Please send mail to: Kris Kruse, c/o Clermont Police Department, 865 W Montrose Street, Clermont FL 34711.
Julie Custer holds a B.A. in History and has written for The Philadelphia Inquirer and American Thinker. Julie recently moved to SE Georgia from SE Pennsylvania. Website: www.southernwrites.com. Email: Julie@southernwrites.com
–
TheBlaze contributor channel supports an open discourse on a range of views. The opinions expressed in this channel are solely those of each individual author.