If we've learned anything by studying history, it's that there's rarely a purely "good" or purely "evil" side in war. Instead, there's various shades of gray. Sure, one shade may be brighter than the other (we all hope that's "our" side, right?), but, fallible humans that we are, darkness and light are with us all.
We would do well to remember this when we contemplate the current Syrian crisis. If your eyes are starting to glaze over now, please bear with me. This is more important than you might think.
As the situation stands now, there are three primary sides in this conflict: 1) Syrian President Bashar al-Assad and those supporting the president and current government; 2) the Free Syrian Army, founded by Syrian Army defectors intent on bringing down the Assad regime and providing, apparently, freedom and justice for all; and of course, 3) those crazy head-chopping nutcases in Islamic State who want to do away with girls in bikinis and impose a "no bacon" zone across the planet.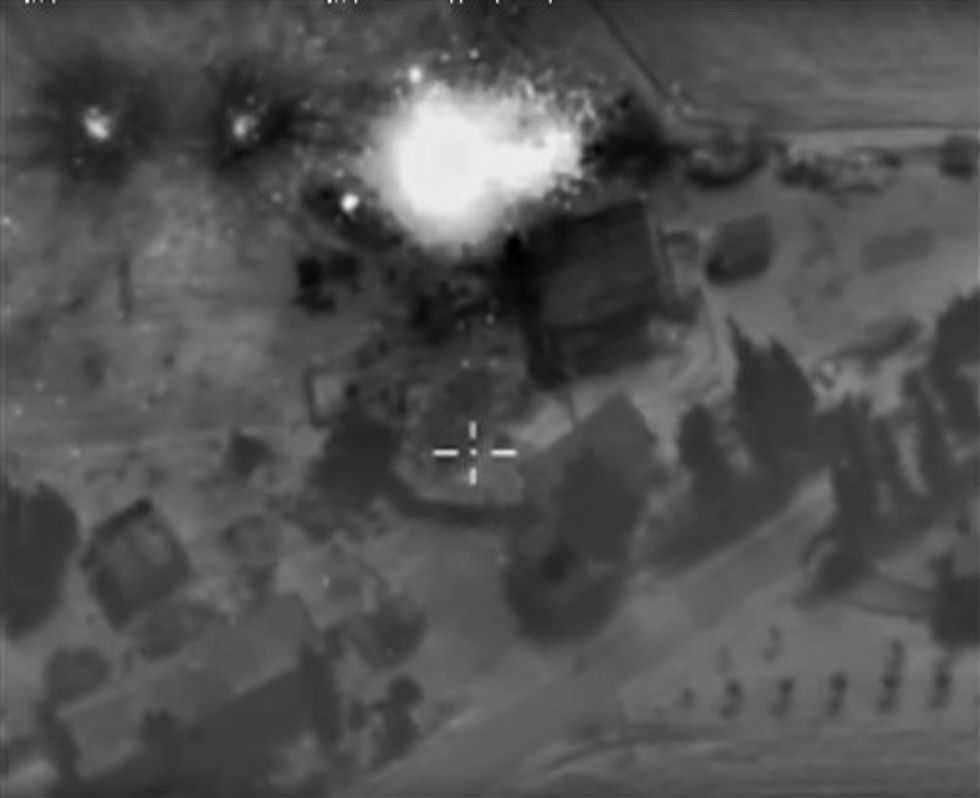 In this photo made from the footage taken from Russian Defense Ministry official web site Oct. 1, 2015, a bomb explosion is seen in Syria. Reacting to criticism that it is targeting opponents of the Syrian government, a spokesman for Russian President Vladimir Putin admitted that Russia's airstrikes in Syria are targeting not only Islamic State militants but also other groups. (AP/ Russian Defense Ministry Press Service)
Although I realize that I began this article with the statement that a purely evil side is pretty rare in war, I think we can all agree that Islamic State is one such glaring case. This makes door No. 3, letting Islamic State run the country — or even a four-acre slab of desert — a non-starter for any rational nation.
So that leaves doors No. 1 and 2, and two world powers who recently "fought" a cold war outside this Syrian conflict yet are intertwined in it — the United States and Russia. One borders the area and has vital interests there, the other does not. One is willing to go "all in" to ensure the area is stable, the other just wants to bluster and spout catch-phrases about how awesome "democracy" is. Both agree that the world needs to put an end to Islamic State, but their differing views on how this crisis should be handled is the crux of the issue, at least as it relates to us.
These differing worldviews can be summed up in the contrast between President Barack Obama's and President Vladimir Putin's speeches before the United Nations General Assembly last last month: Obama blaming Assad for jailing and killing protesters (not to justify everything Assad has done, but one cannot help but wonder how Obama & Co. would react if elements in America took up armed revolt against the government) and Putin blaming America for stirring up revolutions and creating ginormous vacuums across the Middle East.
Russia has, of course, chosen to support Assad against both Islamic State and the Free Syrian Army, considering them both terrorists. American leadership, believing Assad to have taken steps, including the use of chemical weapons, to kill his own people, has chosen to support the FSA in its efforts at "regime change" in Syria.
Of course, the question of whether Assad used chemical weapons against his own people is a murky one at best and certainly not a valid thing to base our entire Syrian policy on. It is very possible, as Putin has claimed, that the rebels used sarin nerve gas on non-combatants in an effort to get the West to intervene on their behalf. Even if Assad has used chemical weapons in the past, what could he possibly gain by using them against civilians now?
He may be a brutal dictator, but he isn't, after all, a religious zealot like the Muslim Brotherhood members and other extreme elements that make up a significant part of the Free Syrian Army.
See the gray there? By listening to the media and Obama, one might make the mistake of thinking the FSA is pretty much like the lovable Republic rebels fighting the evil Galactic Empire in "Star Wars."
The problem is that one can reason with a pragmatic leader with a keen sense of his own mortality and a desire to maintain control, but you can't reason with a Muslim extremist who would just as soon blow himself up and claim his 70 virgins as have a beer with an infidel.
But this is the crux of the issue, isn't it? As Putin rightly points out, we have spent the better part of the last dozen years trying to effect "regime changes" in places where we have no business meddling, trying through various means to depose one tinpot dictator after another and replace them with …
With what exactly? Because it seems like the only thing we're gaining here is more of the extremist types we say we don't want coming to power and hundreds of thousands of mostly young male "refugees" invading the West.
The effects of this comedy of errors remind me of what happens when the barking, running dog finally catches the car he's been chasing. Nothing good can come of that, and beginning with Bush and continuing with Obama, nothing good has come of our efforts in the Middle East.
What happened with the end of the rules of Saddam Hussein in Iraq? Muammar Gaddafi in Libya? Hosni Mubarak in Egypt?
Did those countries suddenly become stable, vibrant democracies? Did we witness a Libyan Jefferson, an Iraqi Washington or an Egyptian Adams rise to the forefront to guide their nations to the light of democracy?
Hardly.
Protesters waved an Egyptian national flag and chanted slogans at a rally in Tahrir Square in Cairo Egypt, April 27, 2012. Hundreds of Islamists rallied in Cairo to denounce the ruling military council and demand that Hosni Mubarak-era politicians be barred from running in the presidential elections. (AP/Fredrik Persson)
Instead, we saw what libertarian and non-interventionist types have been predicting since we first stuck our nose in Iraq in 2003 — instability, anarchy, extremism and total collapse absent a significant U.S. troop presence ad infinitum. And while neocons like Charles Krauthammer would probably like to see American boots on the ground in virtually every unstable Middle Eastern country until the end of time, realists understand that we have neither the resources nor the vital interests to justify any of it.
When are we going to admit that cultures are different, and what might work for one people in one area of the world doesn't necessarily translate to another? When are we going to realize that when you create a vacuum in a place like the Middle East (or anywhere!), something is going to fill it? In the case of the Arab world, more often than not it's been Muslim extremists filling the giant, gaping black holes we create.
Is the Arab world truly ready for democratic, representative, freedom-oriented government? If we're truly honest with ourselves, I think we know the answer to that.
Which brings us back to Putin and his Syrian adventure. Assad is far from perfect, but Putin recognizes that Assad's leadership is the best course for regional stability and the best chance to truly fight Muslim extremism. If his recent efforts to reach out to elements within the FSA to help fight Islamic State succeed, so much the better.
After all, in the end it's all just shades of gray.
–
TheBlaze contributor channel supports an open discourse on a range of views. The opinions expressed in this channel are solely those of each individual author.