Shimon Peres made history with his role in the Oslo Peace Accords, for which he received a Nobel Peace Prize. He was famous for his tireless work on behalf of peace in the Middle East, efforts for which he received the U.S Presidential Medal of Freedom in 2012.
But there's another side to his story, one that mirrors the nation he loved and led.
I have traveled in Israel more than 25 times and dearly love the Jewish people and their nation. Each time I return, I am impressed again with the Israelis' passion for peace with their neighbors, whatever their race or religion.
But this commitment to peace is built on a vigilant readiness for war.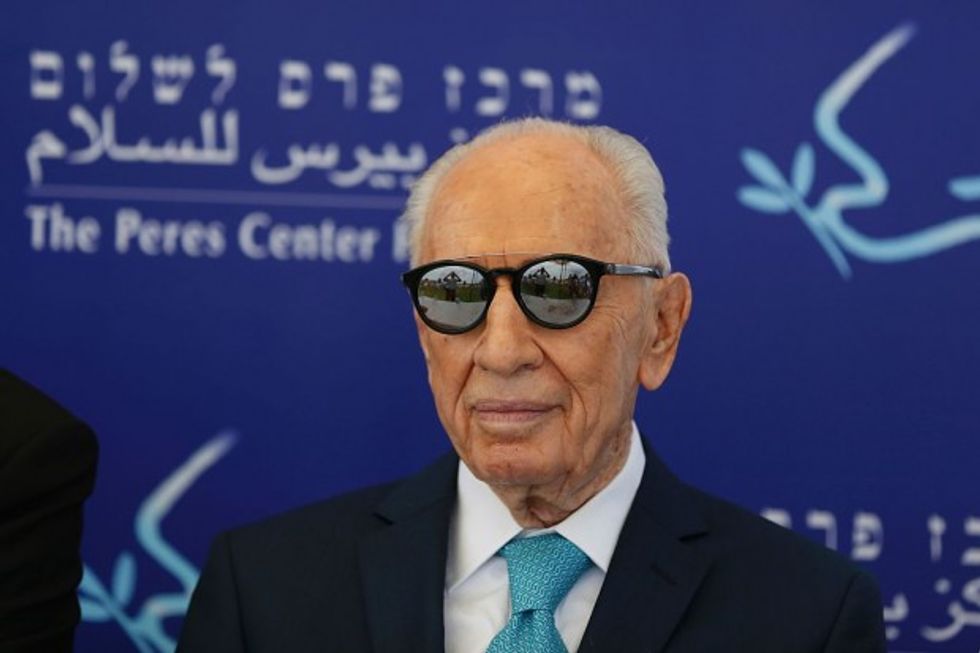 Former Israeli president Shimon Peres looks on during the opening of the "Mini World Cup for Peace" football event at the Herzlyia stadium, in the Israeli city of Herzlyia near Tel Aviv, on May 9, 2016. AHMAD GHARABLI/AFP/Getty Images
All Israeli youth—males and females—are expected to serve in the military. During their service, they carry their weapons with them at all times, even when they are not in uniform. After their service, they can be called back to active duty until they reach the age of 40. I have seen Israelis in large cities and small towns practicing drills in preparation for air raids and bombings.
And no wonder. Israel is a tiny nation surrounded by Hamas, Hezbollah, ISIS forces and other militant groups pledged to its destruction. The Jews' history has taught them that the best guarantee of peace is readiness for conflict.
Shimon Peres reflected this duality perfectly. Before he was an advocate for peace, he was a soldier of war. He headed the naval service when Israel achieved independence in 1948. He became Director-General of Ministry of Defense at the age of 29. He helped plan the 1956 Suez War and served twice as Minister of Defense.
His commitment to the defense of his nation earned him the respect of his people and enabled him to serve as prime minister three times. And his willingness to wage war gave him the credentials to wage peace.
Those of us who love and support Israel should follow his lead.
Anti-Semitism is rising dramatically in the West. Persecution in France has caused the largest migration of Jews since the creation of Israel in 1948. Anti-Semitic acts at American colleges and universities nearly doubled last year. The FBI recently thwarted an explosive attack against a South Florida Jewish center. Jews in the West are facing the worst oppression since World War II.
I know that many in the West disagree with Israel's current leaders on West Bank settlements. So do I. But whether we agree or disagree with Israel's leaders, we should stand ready to defend her people. Only when they are secure can they negotiate for peace with those who would destroy them.
Shimon Peres was the quintessential warrior-statesman. He wanted peace but was ready for war. On behalf of the Jewish people, he embraced both the sword and the pen. So should we.
James C. Denison, Ph.D., is CEO and co-founder of the Denison Forum on Truth and Culture. He is the author of eight books, including his most recent "The State of our Nation: 7 Critical Issues."
–
TheBlaze contributor channel supports an open discourse on a range of views. The opinions expressed in this channel are solely those of each individual author.