On Roosevelt Island, Hillary Clinton announced her bid for the Democratic presidential nomination.
With four years as secretary of State under her belt since losing the very same nomination to Barack Obama in 2008, this was Clinton's attempt to get a fresh start, away from Obama and her own husband – former President Bill Clinton – and to become, in her words, "the youngest woman president in the history of the United States."
So, how did it go?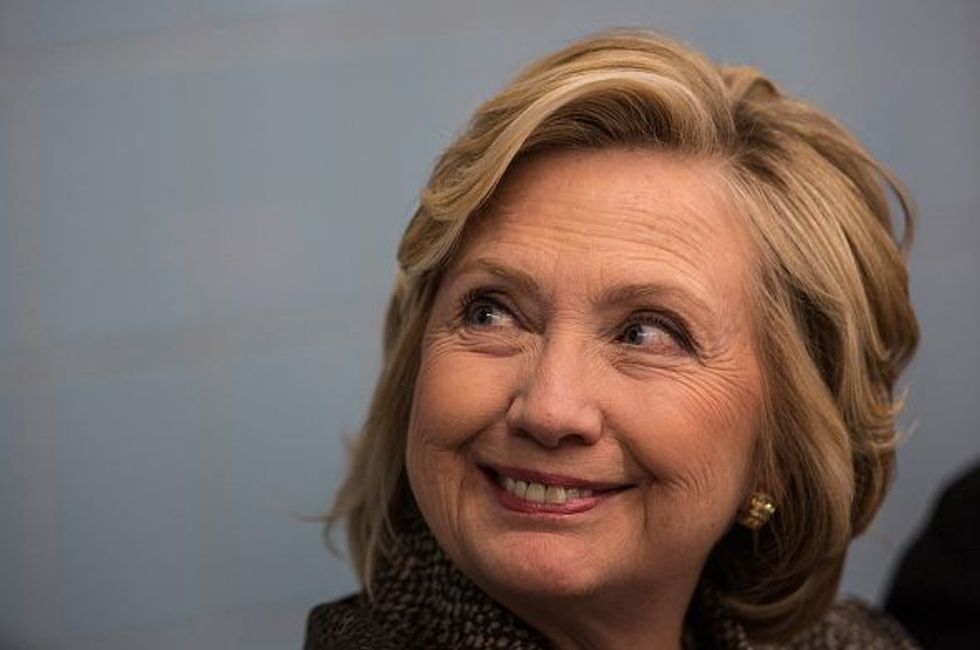 (Photo by Andrew Burton/Getty Images) 
Well, according to Politico, some attendees wore 1992 Clinton-Gore T-shirts; her 45-minute announcement read like a State of the Union speech; and after it was done her husband, "stayed shaking hands and feeding off the energy of the crowd for at least 30 minutes after the candidate had wrapped up her speech."
Darn, so close.
Hillary Clinton's address, laying out her stance on the political issues of the day, was supposed to be the thing she'd been working on so hard that she couldn't take a stand on the political issues of the day, like the Trans-Pacific Partnership. And you can tell she put a lot of thought into it. Standing on an island named after President Franklin Delano Roosevelt (it used to be called "Welfare Island," but fortunately that's all in the past), she recalled his "Four Freedoms" and followed them up with her own "Four Fights."
[sharequote align="center"]I'm still trying to figure out, are we giving her an "F," or is she giving one to us?[/sharequote]
Not following?
Well, in his 1941 State of the Union, F.D.R. advocated for freedom of speech, freedom of worship, freedom from want, and freedom from fear. Fast-forward to 2015, and Hillary Clinton outlines four things she'll fight for: Fiscal and economic policy, families, foreign policy, and reforming government. They're the same things that most every presidential candidate promises to undertake, though they don't line up with F.D.R.'s four freedoms except for the alliterative use of the letter "F."
Which is just to say that Clinton's "Four Fights" have as much in common with F.D.R.'s "Four Freedoms" as they do with, oh, let's say, the "Fantastic Four." Her speech could just as easily prompt us to ask, "Which member of the 'Fantastic Four' would Hillary Clinton be?" And before you accuse me of casting her by gender, understand that Bill Clinton has to be Mister Fantastic: That's what he thinks he is, and it suits his verbal elasticity under his other alter ego, "Slick Willie."
Former US Vice President Al Gore speaks about climate change during the Fourth Annual Rhode Island Energy and Environmental Leaders Day at the US Capitol in Washington, DC, June 11, 2013. AFP PHOTO / Saul LOEB 
We also have to resist the temptation to cast Al "The Planet Has A Fever" Gore as the Human Torch, because that would upset the natural order, in which Bill Clinton has all the flashy, attention-getting superpowers. Bill gets to be Johnny Storm and The Thing, too, leaving Hillary Clinton with the role of the – relatively speaking – Invisible Woman. Basically, she'll have the power to not be noticed and to surround herself with glass ceilings of her own making ('cos let's face it, whatever trouble Bill causes her, she married him, and she's decided to keep being married to him). I'm sure the upcoming reboot will prove me right.
Anyway, getting back to the only slightly less relevant "Four Freedoms" of F.D.R., Hillary Clinton had next to nothing to say about his first two freedoms. And while F.D.R.'s "freedom from fear" was related to foreign policy, he envisioned a "world-wide reduction of armaments" that Clinton doesn't espouse. No, Clinton's oratory was mostly a matter of cramming three of her four fights – fiscal and economic policy, families, and reforming government – into F.D.R.'s "freedom from want."
And cram she did, outlining any number of initiatives: Tax and business incentives; investments in research, infrastructure, and education; student loan relief; and increasing workplace flexibility and the availability of childcare. She also plugged immigration reform and for an end to LGBT discrimination, along with campaign finance reform and making it easier for citizens to vote.
What she didn't touch on is exactly how she plans to finance (starts with "F"!) all these initiatives. America's basic bargain, she said, is that, "If you do your part you ought to be able to get ahead." But how do we judge whether someone's done their part when it comes to taking care of themselves, taking care of others, or ponying up the dough for Clinton's Four Fights?
Clinton spoke admiringly of the balanced budgets during her husband's presidency, but remember, they happened while the GOP was in control of Congress. She gave no specifics on how she'd work with Republicans, even as she took the time to demonize them on abortion and voting rights, saying they don't support an "inclusive society."
And, while the "F is for 'female'" thread ran throughout her speech, at no point did "F" stand for "Foundation," or for "Fundraising from foreign benefactors," or for "Why didn't you give all your emails to the State Department before you deleted a bunch of them?" I guess I can't blame her for that last one.
Meanwhile, the symbolism stuffed into Clinton's presidential roll-out never added up. It seemed to argue:
Hillary Clinton is on Roosevelt Island, named after President F.D.R.;

F.D.R. advocated "Four Freedoms";

Hillary Clinton's presidential campaign is based on "Four Fights";

Therefore, Hillary Clinton should be president!
The logic is positively inexorable.
This doesn't mean she can't win. This is America, after all, the land of, "Gosh, I can't imagine how that person wound up in public office." So, much as we might want to give her a grade, it's probably too early in the semester for that.
Besides, I'm still trying to figure out, are we giving her an "F," or is she giving one to us?
–
TheBlaze contributor channel supports an open discourse on a range of views. The opinions expressed in this channel are solely those of each individual author.