The largest pop culture convention in the world kicked off this week as fans, actors, producers and more came together for the 47th Annual San Diego Comic-Con. What began as a small, local event in 1970 for the growing comic book community is now one of the biggest events of the year.
As is tradition, Comic Con hosted its preview night; a special event open to members of the media, guests and VIP ticket holders. This year, Paramount Pictures hosted a premiere screening of "Star Trek Beyond," which opens in theaters nationwide July 22.
At the special screening - attended by the film's cast and director Justin Lin - Idris Elba revealed to reporters, rather nonchalantly, that he gave the film's star Chris Pine a black eye.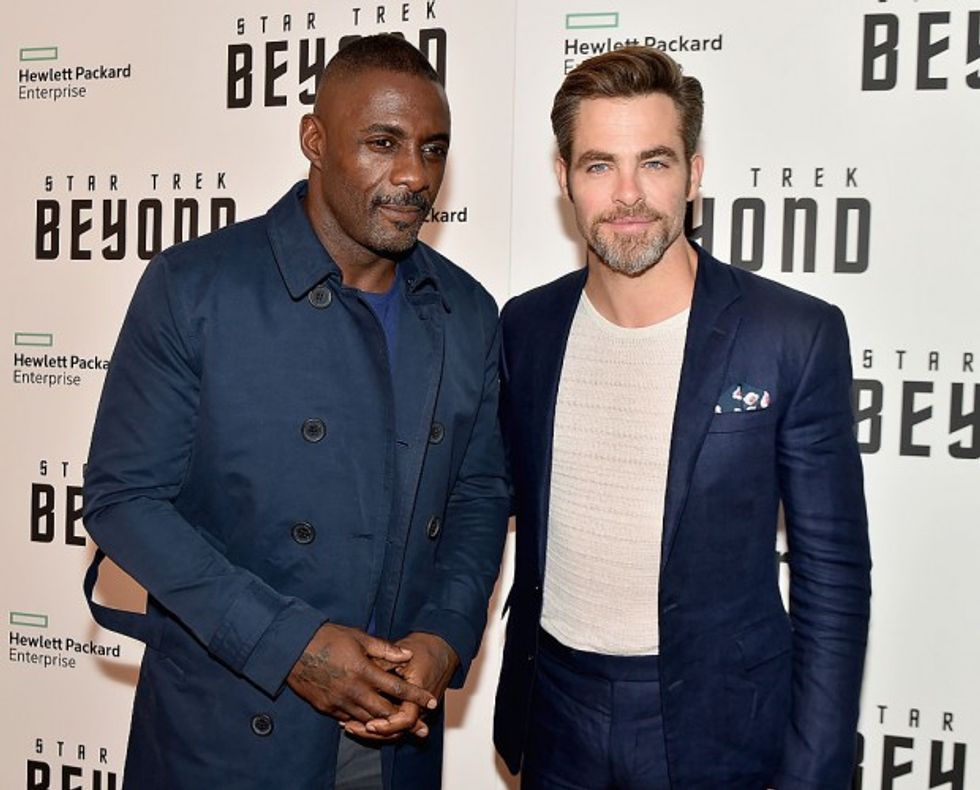 Idris Elba and Chris Pine attend the 'Star Trek Beyond' New York Premiere at Crosby Street Hotel on July 18, 2016 in New York City. (Photo by Theo Wargo/Getty Images)
The Hollywood Reporter quoted Elba as saying, "Chris and I had laughs, and then I gave him a black eye."
According to Elba, he had quickly become comfortable around his "Star Trek" co-stars and that he punched out the film's Captain Kirk after Pine made a snarky remark. Elba went on to explain that the incident was completely unintentional.
"Well, we were doing a fight scene," Elba explained, "and (Pine) got a bit cheeky, and I was just like pow! I didn't mean to do it, but Chris was quite proud of it."
Idris Elba came into the franchise as something of an outsider. The main cast has been together since the reboot of the franchise in 2009. Director Justin Lin (who took over directorial duties from J.J. Abrams when Abrams went off to direct last year's "Star Wars: The Force Awakens") was also new and, as such, he and Elba took to each other quite quickly.
"He had come into it kind of late too. So we both were there going, 'Whoa, what's going on?' He was very collaborative from the beginning and really knew his stuff," Elba said of Lin.
"This cast goes all out, and I like to challenge them. We were shooting this third-act fight, and I kept pushing to get the right angle, to the point where Chris just got hit," said Lin.
Normally an injury on set could halt production and cause delays - as it did when Harrison Ford was injured on the set of "The Force Awakens" - but in this case it ended up adding to the production.
"Continuity-wise, it worked out," Lin explained. "That black eye played so well in the rest of the movie."
Cast and crew of "Star Trek Beyond" also paid tribute to original series star Leonard Nimoy who passed away last year and Anton Yelchin - who plays Chekov in the new films - who was killed tragically in a freak accident last month.
Other highlights from Comic Con day one include the trailer premieres for several Netflix series including "Daredevil" season 3, "Luke Cage" and "The Defenders;" Universal Pictures announcing filming locations for the upcoming sequel to "Jurassic World;" and the reveal of promotional art for the new season of the CW's DCTV universe, which will welcome "Supergirl" after CBS officially canceled the series.
San Diego Comic-Con continues through Sunday.
–
TheBlaze contributor channel supports an open discourse on a range of views. The opinions expressed in this channel are solely those of each individual author.