Earlier this week, Clay Higgins, a reserve city marshal in Louisiana, stopped by the Heymann Performing Arts Center to pray with those displaced by the recent flooding in the city. Higgins claims he was told that he could not pray with the flood victims within the center.
Higgins can be seen on camera, sitting in his car in uniform, but off-duty, discussing his recent experience with the Red Cross. He speaks slowly into the camera, questioning why he was turned away from the center when he believes there are so many people in need of compassion and a word of encouragement.
Higgins purpose for going to the center was to let the flood victims "know that there are people out there who are caring about them and loving them and praying for them." "What's wrong with that?" Higgins can be seen saying into the camera.
"What part of our First Amendment that allegedly, I guess the Red Cross rules are tempting to reflect? What part of our First Amendment guarantees a freedom from religion?" Higgins said, in trying to make sense of why he was denied the ability to pray for others inside the building.
"Our First Amendment rights include a freedom of religion and a free practice thereof…" "What's wrong with offering love and prayer to people that are in shelters? Why would an agency like the Red Cross deny such a thing?" Higgins added.
Good questions.
Clara Barton was the founder of the Red Cross in the United States and instrumental during the American Civil War, working on the frontlines to "distribute stores, clean field hospitals, apply dressings and serve food to wounded soldiers in close proximity to several battles."
Her father convinced Barton it was her "duty as a Christian" to help the soldiers. She became known as the "Angel of the Battlefield" for the sacrifices she made during the war.
Perhaps Barton would be disappointed today to learn that people who are suffering won't be allowed to receive encouragement and compassion within the walls of the organization she founded.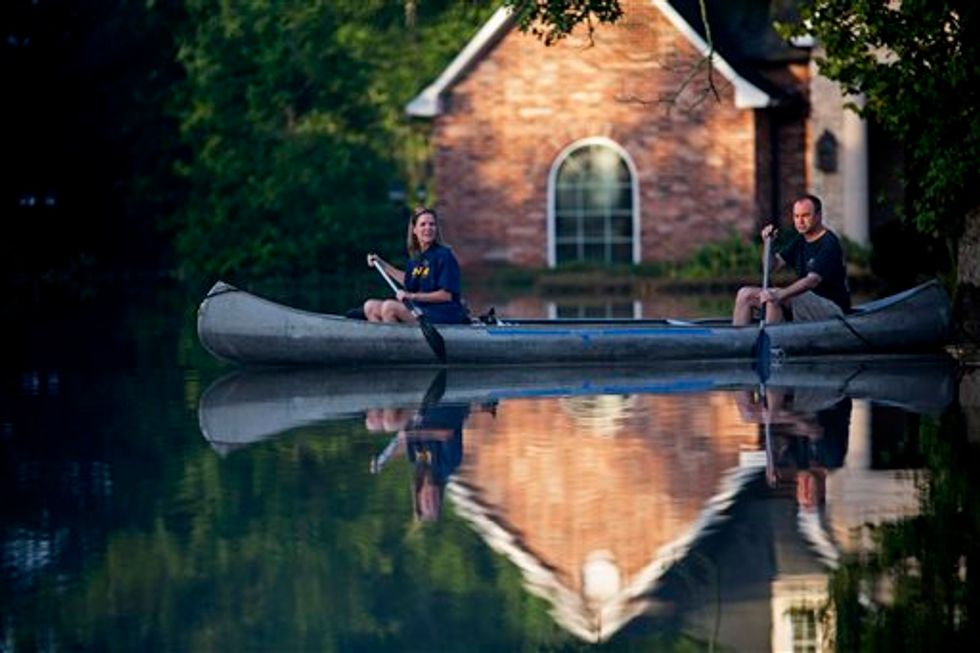 Danny and Alys Messenger canoe away from their flooded home after reviewing the damage in Prairieville, La., Tuesday, Aug. 16, 2016. As waters begin to recede in parts of Louisiana, some residents struggled to return to flood-damaged homes on foot, in cars and by boat. (AP Photo/Max Becherer)
Nancy Malone, a spokeswoman for the American Red Cross said that the organization has a policy intended to be respectful of all faiths, but she said if Higgins had approached managers they would have accommodated him.
However, it is also being alleged that some families left the center when they were told they could not pray or read Bibles at their cots.
I for one am sorry to see the Red Cross taking such a stance. Perhaps its original European roots are slowly creeping into and clouding its better judgment on this issue.
The Red Cross is a non-profit, charitable institution pursuant to a charter granted to it by the United States Congress. Unlike other congressionally chartered organizations, the Red Cross maintains a special relationship with the federal government but is not considered a government agency. Therefore, First Amendment arguments made by Higgins would not be applicable and the organization is free to set its own rules regarding the speech allowed within its buildings.
However, you have the freedom to decide where your donations will go in response to how individuals were allegedly treated at the center.
There are plenty of organizations which will allow someone who wants to pray for others to come inside the building to pray, especially when the people inside have no objections or may even request the prayers.
When political correctness has gotten so far out of hand that we are no longer allowed to openly pray for those who seek comfort then it's time to take a stand.
It's time to draw our own lines on the 'battlefield' and refuse to donate to what we do not believe in.
If it bothers you that Christians are not allowed to openly pray in a Red Cross center as is being alleged by Higgins and others, then stop supporting them and start giving to organizations which hold your same values.
–
TheBlaze contributor channel supports an open discourse on a range of views. The opinions expressed in this channel are solely those of each individual author.