The Democrats love to boast themselves as the "party of science." But after listening to the Democratic Debate last Saturday, one can say that this science is not economics. In fact they uttered so many lies that they should be called economics "deniers."
First of all, they love to talk about how the middle class' income barely rose since the 1990s compared to CEOs. There may be some truth to that statement, but it misses the elephant in the room: the Federal Reserve.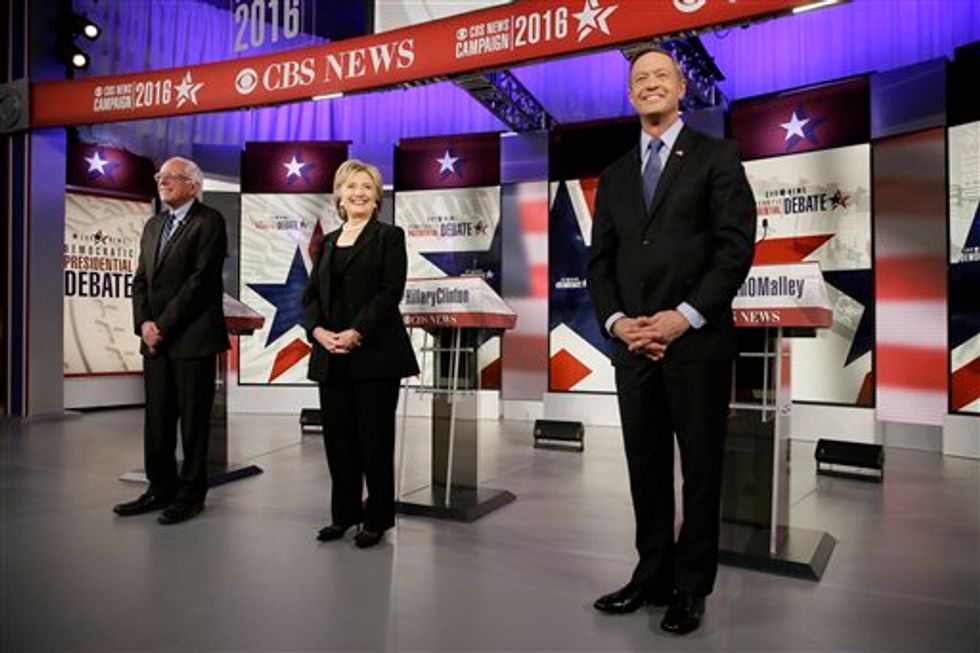 Democratic presidential candidates Bernie Sanders, left, Hillary Rodham Clinton and Martin O'Malley take the stage before a Democratic presidential primary debate, Saturday, Nov. 14, 2015, in Des Moines, Iowa. (AP Photo/Charlie Neibergall)
Be it in the late 1920s, 1960s, 1990s or 2000s it was one of the main culprit for inflating the economic bubbles that lead to severe depressions. Since 2008 it more than quadrupled the amount of money in circulation. Most of that money went in stocks, which greatly inflated places like the S&P 500. So the President Barack Obama "recovery," much like President Bill Clinton's "prosperity," is an artificial one. And the longer we wait for the crash to happen the more it will hurt.
Of course, when it happens Hillary Clinton and Bernie Sanders will be quick to blame Wall Street. During the debate both candidates complained that the largest six banks controlled an insane amount of transactions. But both forgot to mention that these banks grew because of the tons of regulations enacted since 2008. In particular, the Dodd-Frank Act of 2010 is so burdensome that a single new bank opened since 2010. The act is also responsible for the closing of 28 percent of the small banks.
In particular, Sanders continued to rig the economy towards the 1 percent he so hates. Speaking of the "democratic" socialist candidate, his ignorance of economics dug the bottom of the barrel. He said without blinking that the billionaires don't pay their "fair share" of taxes. Considering that the richest 5 percent (nearly 7 million people) of earners get 34 percent of all income and pay over 58 percent of income tax, what will be "fair"?
Martin O'Malley also pitched in with his ignorance. He promised to create a 45-percent income tax bracket and increase the capital tax. He believes that these measures will raise $800 billion over 10 years, enough to finance some of his promises like paid family leaves.
He would be right if humans were mindless robots. But unfortunately they are creatures of reason and react to incentives. And as the Tax Foundation shows so often, revenue estimates with increased taxed are often exaggerated. Why? Think of yourself; would you keep working as hard if you kept less and less of your salary because of taxes?
Finally all three candidates used their podium to repeat long-debunked myths. Among others, they keep repeating that women earn less, forgetting that this "gap" is almost entirely due to life choices. They also want the minimum wage to be a "living" one, forgetting that it was created explicitly to put people out of work. Finally they want to make college more affordable or free, forgetting that dead-end majors like Theater, Anthropology and English only leads to the nearest McDonald's.
America, take the last Democratic debate as a wake-up call. Do you want another four years of the same economy-destroying policies? Do you want government to keep fixing Obamacare's "glitches," as Clinton called the program's miserable failure? In other words do you want more federal government in your lives?
If not you have to work hard to awaken people from their eight-year slumber. Make them realize that the country they so love is in mortal peril.
–
TheBlaze contributor channel supports an open discourse on a range of views. The opinions expressed in this channel are solely those of each individual author.