In a recent interview with Donald Trump's running mate, Indiana Gov. Mike Pence, CNN's Wolf Blitzer wondered if there is a veneer of racism to the Trump campaign. Specifically, Mr. Blitzer resurrected yet again the ghost of David Duke.
For those too young to remember, David Duke is a former one-term Louisiana House representative (1989-1992) who tried, and failed, several times to run for higher political office and shrank back into the obscurity from whence he came. That is until he popped up from his hole to announce that he, David Duke, whom no one cares about, was a supporter of Trump's candidacy.
On cue the left-leaning mainstream media swung into action and began to pepper Trump on whether he would disavow Duke's support. He did several times, yet clearly short of Trump promising that his first presidential act would be authorize the drawing and quartering of David Duke, the media remains unsatisfied. Always original in her thinking, Hillary, too, got in the game, tweeting: "Long time Ku Klux Klan leader David Duke supports Donald Trump because they share many of the same values."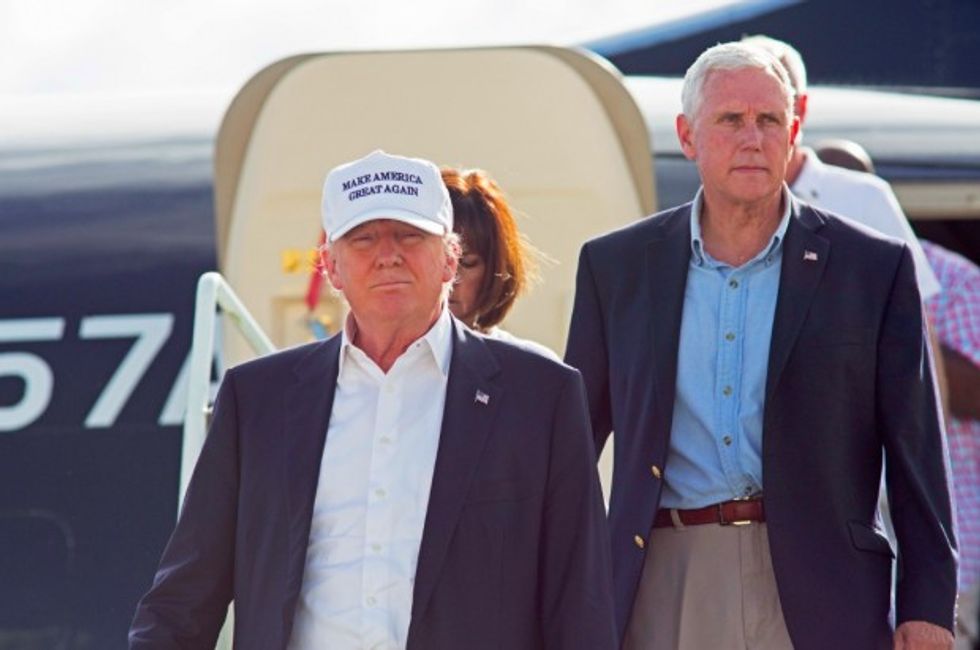 Republican presidential candidate Donald Trump, followed by his running mate, Indiana Gov. Mike Pence, emerges from his plane as he arrives to tour the flood damaged city of Baton Rouge, La., Friday, Aug. 19, 2016. (AP Photo/Max Becherer)
With this mindset, Blitzer asked Pence to once again denounce Duke. And once again Pence was forced to declare: "Donald Trump has denounced David Duke repeatedly. We don't want David Duke's support, and we don't want the support of people who think like him."
Blitzer pressed on: "You'd call him a 'deplorable'? You would?"
Pence answered: "No. I'm not in the name calling business, Wolf. You know me better than that."
And so it went. Now, anyone who's ever been in a high school sophomore-level debate club could see through Blitzer to his real agenda. He wasn't asking Pence to denounce a racist...again. He was trying to trick Pence into specifically using the word "deplorable." Blitzer was trying to hand the Hillary campaign a pin with which to prick the swelling balloon of Hillary's "basket of deplorables" gaffe. "Pence Uses Term 'Deplorable' Too!" To his credit Pence didn't fall for it. (No…there's no left-wing bias in the media.)
But one must ask. Does the Hillary campaign have a point? Is there a subtle undertone of racism in Trump's appeal?
Remember now, although he has been a non-event in American politics for almost a generation—yet somehow is still relevant to Blitzer et. al.—in his heyday Duke did recruit over 150 members into the KKK and rose to the rank of "Exalted Cyclops" by unanimous vote.
In fact, Duke has said such lovely things as: "Rather I should die a thousand times, and see Old Glory trampled in the dirt never to rise again, than to see this beloved land of ours degraded by race mongrels, a throwback to the darkest specimens of the wild." On another occasion Duke offered: "The Klan is needed today as never before, and I am anxious to see its rebirth here and in every state of the union."
Duke also has stated that if he was on the Senate he'd have filibustered against the Civil Rights Act and of course opposed the nominations of both liberal Thurgood Marshall and conservative Clarence Thomas. Given their polar opposite views one can see their only commonality that would so offend Duke is pigment. So yes this man is the very definition of 'racist.'
Trump has claimed to not even remember the man…which I highly doubt. In fact here is what Trump actually had this to say about the card-carrying racist I just described.
He labeled Duke "an American original." He has called him "My friend. A man of surpassing eloquence and nobility." Trump praised Duke's "passion for a government that improves the lives of the people it serves...We will not see his like again."
Selective amnesia there Donald? If that's not coddling a racist I don't know what is. Maybe the left does have a point.
There's only one problem.
The abject racist who was a KKK big-wig and recruiter and made those vile statements above was not David Duke but a man who for over fifty years was a leading and respected Democrat...Senator Robert Byrd (D-WVa). Byrd did, in fact, filibuster the Civil Rights Act and he did vote against two black SOCTUS nominees of opposite views.
And those praises heaped upon Byrd, who passed away in 2010 while still holding his powerful Democratic Senate seat and committee chairmanships (and eulogized by the New York Times as a "Pillar Of The Senate") were spoken by Hillary Clinton.
So someone square this circle for me. Donald Trump is excoriated by the media for not distancing himself with strong enough language from an obscure early-1990s residue small-time former KKK political has-been loser hack politician—whom most people under age forty didn't even know existed.
And yet Hillary can shower praises upon a man David Duke would applaud and no doubt have emulated if the GOP gave him a senate seat as willingly as the Democrats gave the other racist his…and what? And unlike Duke who couldn't get elected dog catcher today, Robert Byrd rose to the highest ranks of elitist power and prestige in the Democratic Party as president pro tempore of the Senate.
So what did Hillary's coattail provider Bill Clinton have to say about Byrd at his funeral?
"He once had a fleeting association with the Ku Klux Klan, what does that mean? I'll tell you what it means. He was a country boy from the hills and hollows from West Virginia. He was trying to get elected.
"And maybe he did something he shouldn't have done come and he spent the rest of his life making it up. And that's what a good person does. There are no perfect people. There are certainly no perfect politicians."
Uh-huh. Substitute David Duke for Robert Byrd and Donald Trump for Bill Clinton and see how far this shameless rationalizing gets you.
Whenever others mention Byrd, of course the liberal press circles the wagons offering that at least Byrd apologized. Duke hasn't. Does that make Byrd the recipient of a moral catharsis, or maybe just a shrewder politician? Well, as Byrd himself advised a staffer in 1997: "Be sure you avoid the Ku Klux Klan. Don't get that albatross around your neck. Once you've made that mistake, you inhibit your operations in the political arena." (This quote reminds me of some Germans who said World War II was a bad idea because they lost...not because Nazism was necessarily wrong.)
Indeed there are no perfect politicians. But there are no good racists either. And few were as outspoken as Hillary's "friend and mentor" Robert Byrd. But since Byrd had a sacred (D) by his name the Democratic praetorian guard calling itself the mainstream media continues to ignore the warmly embraced racist plank in Hillary's eye so it can zero in on the roundly denounced racist sliver in Trump's.
Brad Schaeffer is an energy broker, columnist, historian and author. Drop him a note at: shafemans@yahoo.
–
TheBlaze contributor channel supports an open discourse on a range of views. The opinions expressed in this channel are solely those of each individual author.