Planned Parenthood, the country's largest abortion provider, recently announced a federal lawsuit against the Center for Medical Progress and the individuals participating in a series of undercover videos.
I already have my doubts about the courts willingness to protect our First Amendment rights. So instead of dwelling on all the specifics of the case I want to concentrate on something that stood out to me while perusing the lawsuit documents.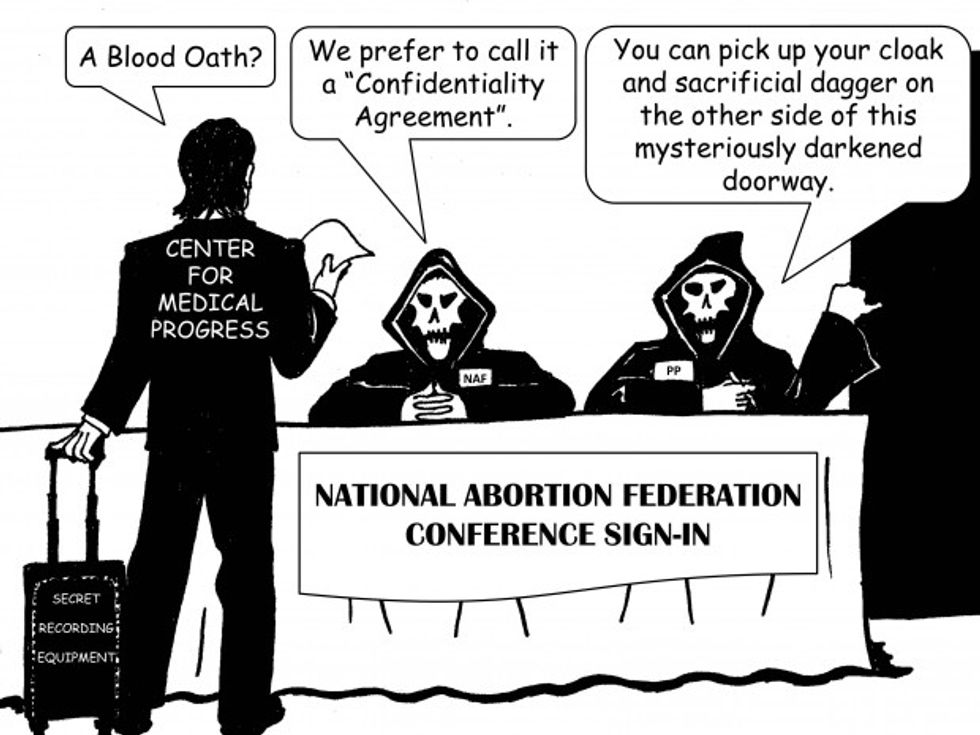 (Karl Knighton)
The abortion industry thrives on its secrets. They are bound by cult-like pacts and blood oaths in order to keep as little information as possible from reaching the hands of regular citizens and our elected representatives. The oaths I am referring to can be found in Exhibit H, page 94, of the federal lawsuit filed by Planned Parenthood.
The National Abortion Federation "confidentiality agreement" specifies under no circumstances are conference participants to divulge information to those outside the abortion industry without written consent. They even threaten legal action against those who break these agreements.
The same agreement goes on to outline guidance for preventing and limiting discovery requests from legal investigations in all branches of government. And if disclosure is ultimately required the federation wants to ensure that the information will still not make it out to the public!
"Attendees must: (a) immediately notify NAF, (b) cooperate with NAF (if NAF so requests) in taking all lawful steps to resist or narrow the request or requirement, and (c) if disclosure is required or deemed advisable by NAF, cooperate with NAF in obtaining a protective order or other reliable assurance that NAF Conference Information will receive confidential treatment."
With secret oaths like this how could anyone doubt there is at least some damaging information behind it?
If the pro-abortion crowd is so confident they are in the right, then why do they need to hide behind these oaths of secrecy to in order to maintain their practices? Why do they attempt to deny information to our political representatives and to the courts while at the same time benefiting from taxpayer dollars?
They must have felt pretty safe with their secret combinations in the past. Considering all the legal barriers the federation had outlined is it any wonder Planned Parenthood representatives felt so secure bargaining for baby parts with fellow federation conference attendees?
Planned Parenthood representatives freely entered the bargaining process because they thought the people they were talking to were part of the same oath-bound cult. As far as they were concerned no one would dare risk the repercussions of the abortion industry by betraying this inviolable pact.
Blood, that's what this lawsuit is primarily about. Someone broke their oath which has resulted in major damages to their operations and now they are out for the blood of the spies. A win here could re-establish their usual status-quo. It would give hesitant lawmakers an excuse to back them again. It would give them another opportunity to strengthen their oaths. And it would allow them to maintain their veil of secrecy knowing the next pro-life group will be less likely to risk the legal repercussions of exposing the abortion industry.
I only hope there will be more people like those found at the Center for Medical Progress. People courageous enough to risk their lives, fortunes, and sacred honor to expose the evils found in the abortion industry or anywhere else they may find it.
–
TheBlaze contributor channel supports an open discourse on a range of views. The opinions expressed in this channel are solely those of each individual author.