Anti-cop hysteria is sweeping the nation. Recent events - Michael Brown, John Crawford, and Eric Garner - have caused many Americans to wonder if the police really have the best interests of their communities at heart.
Mainstream media coverage of these events hasn't helped, as many media outlets are quick to make accusations before they have all the facts, sometimes even ignoring key factors in the story or running with unverified evidence.
While it is true that there are, of course, some people who should not be wearing the badge, the good cops far outnumber the bad ones. The simple fact is that most cops are regular people, trying to do a difficult and dangerous job. They have families, hobbies, and they go to movies.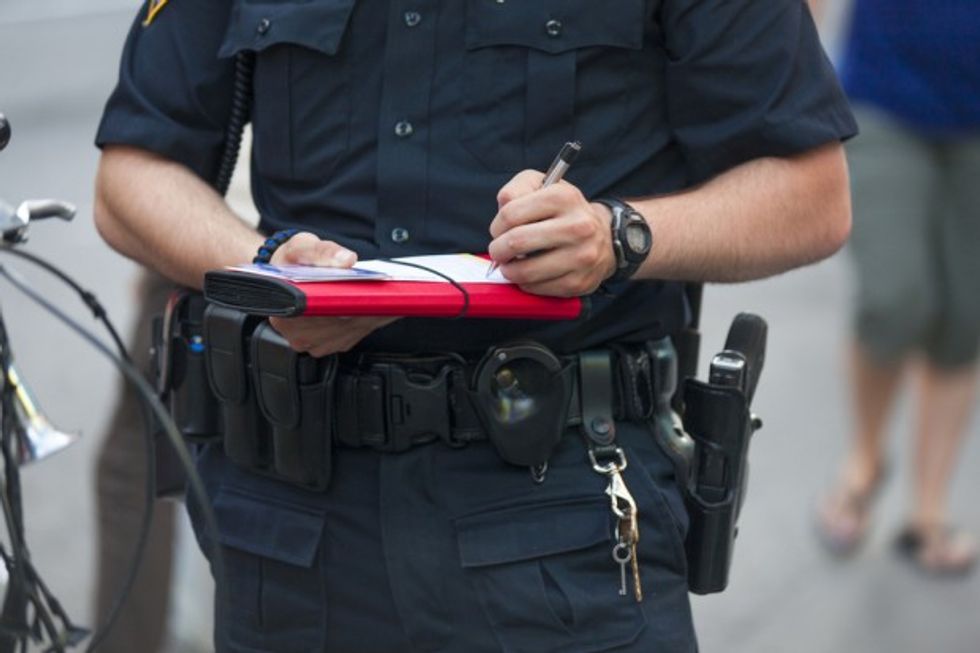 (Photo credit: Shutterstock)
The next time you are stopped by a police officer, even if you feel it was unjust, just remember that police officers are real people. They live day in and day out in some of the worst conditions, and they exist to keep you sheltered from the seedy underbelly of society. If we all tried to see things from their perspective, with mutual respect and understanding, the world could be a better place.
Here are 10 of the best cop movies chosen by real cops.
"Heat"
Recommended by Capt. (Ret.) Rick Right, Trotwood Police Department
Directed by Michael Mann and released in 1995, "Heat" tells the story of a career criminal - played by Robert De Niro - trying to one-up the LAPD task force trying to bring him down. Leading the task force is Al Pacino, who discovers a clue at the last heist that leads them to the criminals' next hit, a precious metals depository. This is a classic cop action thriller, featuring stand out performances from Val Kilmer, John Voigt, Mykelti Williamson and Ashley Judd. "Heat" was loosely based on real life criminal Neil McCauley and the manhunt conducted by Detective Chuck Adamson, which resulted in McCauley being shot dead by police in 1964.
"The Zodiac"
Recommended by C.O. Christopher Smith, Ohio Department of Rehabilitation and Corrections
Based on the real life story of the Zodiac Killer, who terrorized northern California communities in the late 1960s and early 1970s, "The Zodiac" was released in 2005 and starred Justin Chambers and Robin Tunney. The film was mostly panned by critics when it was released, with Owen Gleiberman of Entertainment Weekly saying, "The Zodiac has been made with the dunderheaded flatness of bad '70s TV."
"Dirty Harry"
Recommended by Officer (Ret.) Timothy Hunley, Dayton Police Department
In 1971 Clint Eastwood created one of the most iconic film cops in cinema history. Interestingly, Eastwood wasn't the first actor considered for the part, with producers looking at both John Wayne and Frank Sinatra before settling on Eastwood. The film was followed by four sequels, and the line "Do you feel lucky, punk?" has become one of the most quoted movie lines of all time.
"The Blue Knight"
Recommended by Deputy Gregory Textor, Montgomery County Sheriff's Office
"The Blue Knight" was a 1973 made-for-TV movie starring William Holden as a veteran LAPD police officer in his last week on the force before retirement. The film won four Emmy Awards, including Best Lead Actor for William Holden, and was nominated for two others. Based on the 1973 novel of the same name, the film proved so popular that a television series followed starring George Kennedy.
"L.A. Confidential"
Recommended by Officer Tony Ruble, Bellbrook Police Department
Based on the 1990 neo-noir novel by James Ellroy, "L.A. Confidential" tells the story of three cops fighting against the rising corruption of 1953 Los Angeles. The film was universally praised by critics upon its release in 1997 and currently holds a 99 percent rating on Rotten Tomatoes.
"End of Watch"
Recommended by Deputy Mike Martin, Gallia County Sheriff's Office
"End of Watch" follows two young LAPD police officers, played by Jake Gyllenhaal and Michael Pena, as they patrol gang-infested South Central Los Angeles. "End of Watch" is widely considered one of, if not the, best cop movie in recent times by most members of the law enforcement community. Roger Ebert called the film, "A virtuoso fusion of performances and often startling action."
"The Onion Field"
Recommended by Officer (Ret.) Leo Budenz, Dayton Police Department
Based on the 1973 novel of the same name - which in itself was based on a true event that happened in 1963 - "The Onion Field" is a 1979 film that tells the story of two LAPD cops who were abducted during a routine traffic stop and held in an onion field near Bakersfield. The film currently holds an 83 percent rating on Rotten Tomatoes. As an interesting side not, the same true story was also used as the basis for a fifth season episode of the television series Southland.
"Super Troopers"
Recommended by Officer Alan Dailey, Sardinia Police Department
Released in 2001 by comedy troop Broken Lizard, "Super Troopers" is a favorite among many police, corrections and private security officers. In addition to being extremely funny - and who doesn't like to laugh? - the officers of the Spurbury post of the Vermont State Police do things that most real life police officers only wish they could. Shenanigans perpetrated by the state troopers include messing with stoned teenagers, playing word games with unwitting drivers during routine traffic stops and even going fishing, leaving a dummy in the cruiser to make it look like the officer is doing traffic duty.
"Rush"
Recommended by Deputy Charlie K. Miller, Montgomery County Sheriff's Office
Released in 1991, "Rush" is the seedy story of two Narc officers undercover in the world of drug dealers and drug addicts. Soon, the life becomes too much for them and they succumb to the temptations of the dealer life, and resort to fabricating evidence to bring down the head of the drug ring, after they were unable to collect the evidence needed. Rush is a cautionary tale of police work and the kind of filth that officers have to immerse themselves in every day, and are still expected to come out clean.
"Dark Blue"
Recommended by Lt. Cameron Russell, Fountain City Police Department
Set in the backdrop of the L.A. riots, "Dark Blue" follows Detective Eldon Perry, played by Kurt Russell, as he watches the city sink deeper into the riots, caused by the beating of Rodney King and subsequent acquittal of the officers involved. Perry, who didn't have the highest morals as a police officer, is soon forced to fight for his life amid the racial divide that he helped to create, and comes out of it a changed person. As the city burns, Perry is forced to fight his own inner demons and decide what the right thing truly is.
–
TheBlaze contributor channel supports an open discourse on a range of views. The opinions expressed in this channel are solely those of each individual author.