With the war on "all things Jesus" this Christmas, it was so refreshing to see a beautiful nativity scene made completely of ice displayed at the famed "ICE!" exhibit held at the Gaylord Texan hotel in the Grapevine, Texas.
The room was packed with people adoring the spectacular event which draws thousands each year. I stood in the 9 degree room looking at the display, grateful that the Gaylord Texan had taken a stand and included Jesus this year. In our culture, which is fighting to remove Jesus from all corners of society, it was especially meaningful.
As I viewed the sparkling nativity, I couldn't help but recite the great prophet Isaiah in my mind.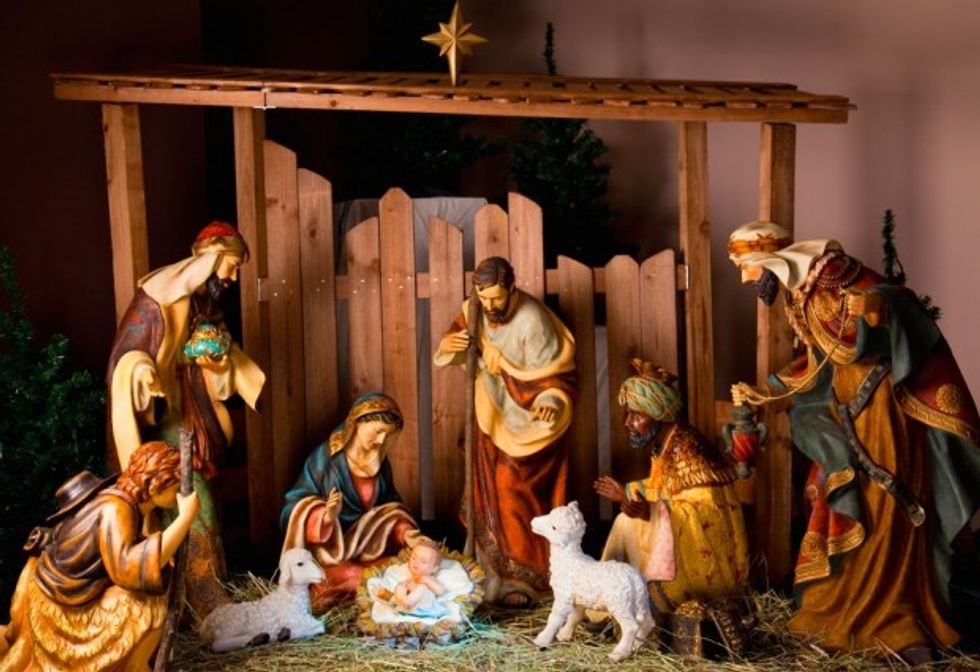 Photo credit: Shutterstock
Isaiah 9:6, "For a child will be born to us, a son will be given to us; and the government will be on His shoulders; And His name will be called Wonderful Counselor, Mighty God, Eternal Father, Prince of Peace."
Jesus was born with great value. Wonderful Counselor, Mighty God, Eternal Father, Prince of Peace were just a few of the things that He represented, even as a baby. However, whether you are able to comprehend Jesus' worth depends on your perspective.
This holiday season, I was drawn to Matthew 26, which relays the story of a woman who came to Jesus while He was eating. She brought her alabaster box filled with perfume so expensive that it cost about a year's wages. She took the marble vial of perfume and poured it on Jesus head as he sat to show Him the honor and value she placed on Him.
Of course, the disciples were appalled that she seemed to have wasted this expensive perfume on Him, but she saw it as a way to honor Jesus. Jesus then promised that wherever the Gospel is preached she will be spoken of as well.
The verses immediately following this story, in Matthew 26:14-16, says that Judas Iscariot went to the chief priests and asked, "What are you willing to give me to betray Him (Jesus)?" And they weighed out thirty pieces of silver to him. From then on, Judas began looking for a good way to betray Jesus.
After seeing the nativity scene of ice this weekend, this passage of scripture resonated with me as I thought on the differing perspectives on Jesus represented in the story.
Mary, the woman with the vial of perfume, believed Jesus was worth all that she had. However, Judas sized up Jesus and saw him only worth 30 pieces of silver, the equivalent of about $750. Their perspective changed the value they placed on Jesus.
It is clear that the woman with the vial of perfume had been radically changed by Jesus. She knew and was aware that He was the Wonderful Counselor, Mighty God, Eternal Father, Prince of Peace, because He had changed her life. She understood His power and ability and valued Him with all that she had.
Despite spending three years with Jesus, Judas clearly hadn't been affected the same way. He didn't see Jesus as the Prince of Peace; he only saw Jesus as a bargaining chip for selfish gain.
Both people were in Jesus inner circle, but they had a totally different perspectives of Him.
This Christmas season, I ask you, what is Jesus worth to you? Is he worth everything to you, even a costly sacrifice like Mary gave? Or would you sacrifice your relationship with him for a small price like Judas? In your life, is he more a status symbol than a Mighty God?
Now, more than ever our world needs the love of Jesus. I challenge you to find the amazing value in the gift of Jesus this holiday season.
–
TheBlaze contributor channel supports an open discourse on a range of views. The opinions expressed in this channel are solely those of each individual author.