Another day, another opportunity to try and turn a tragedy into a political agenda for the purpose of banning guns in America.
I don't know about you but I'm sick of it. But not for the reason Piers Morgan is.
No sooner had the news come out that the alleged shooter, Dylann Roof, was captured in Shelby, North Carolina, about 245 miles north of Charleston, South Carolina, where nine innocent people, including the pastor and state Sen. Clementa Pinckney lost their lives at Emanuel African Methodist Episcopal Church, then President Barack Obama took to the air waves.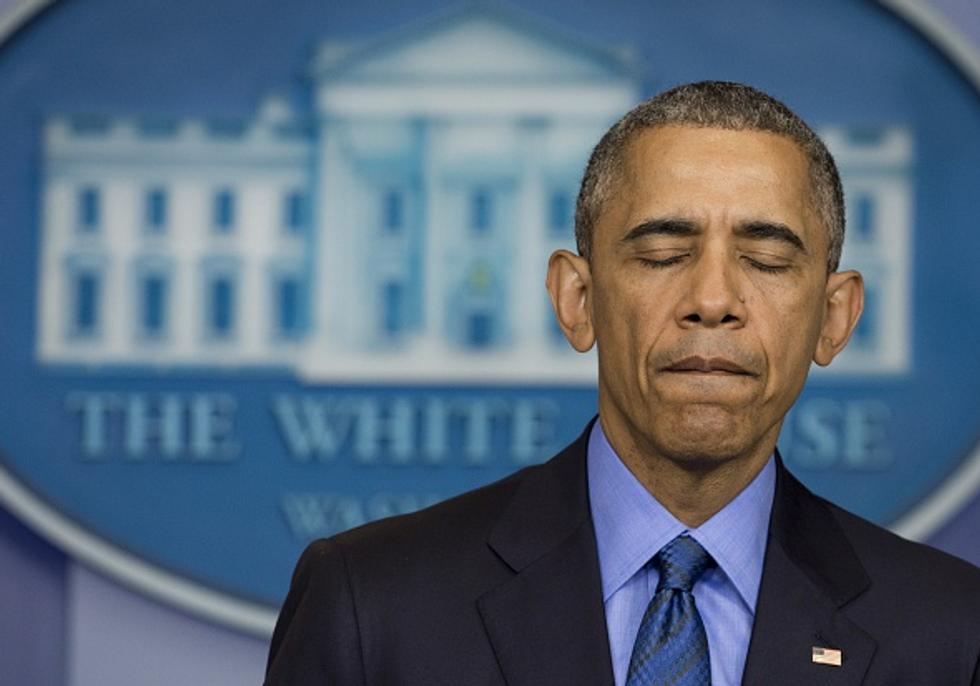 President Barack Obama speaks about the shooting deaths of nine people at a historically black church in Charleston, S.C., from the press briefing room of the White House in Washington, June 18, 2015. (SAUL LOEB/AFP/Getty Images)
One would have hoped that the leader of the United States could focus exclusively on the grief and healing process that is being felt across this nation following such a horrific tragedy.
However, Obama, true to form in what we have come to expect following any event with such magnitude and possible racial overtones such as this one, immediately began to churn out the progressive message.
In referring to the alleged shooter, Obama said that the South Carolina suspect "had no problem getting [his] hands on a gun."
Obama also said during the news conference "I've had to make statements like this too many times ... Communities like this have had to endure tragedies like this too many times. We don't have all the facts, but we do know that once again, innocent people were killed, in part, because someone who wanted to inflict harm had no trouble getting their hands on a gun."
Obama also took an opportunity to insult the intelligence of the American people during his speech by saying that this mass violence doesn't happen in other places with this type of frequency. Obama clearly wanted to send the message that only in America and because we own guns, innocent people are being killed.
Those on Twitter, offended by Obama's off putting remarks immediately began to respond under the hashtag, #ViolenceInOtherCountries:
Obviously our President is ignorant. So lets help inform @BarackObama about #ViolenceInOtherCountries → Charlie Hebdo Attack France 1/7/15

— Doc Thompson (@DocThompsonShow) June 18, 2015
@DocThompsonShow @BarackObama 2004 Madrid train bombings #ViolenceInOtherCountries

— HarleyJunkie (@SMflstn) June 18, 2015
@DocThompsonShow #Violenceinothercountries Japan, Tokyo - March 20, 1995 Domestic terror assault on subway 5 dead, 1000 injured

— daishi (@Daishi3100) June 18, 2015
Can't this country be allowed for one minute to come together as a nation and pray together? Can't we take time away from politics to respectfully mourn the death of those whose lives were taken by evil?
Obama wasn't the only one jumping in on the anti-second amendment issue. CNN began their political rhetoric even before Obama's news conference started.
CNN, using a report from Reuters, alleged that Roof's father had recently given Roof a .45-caliber handgun as a birthday present.
Bringing up the type of weapon and where the gunman had allegedly gotten the gun at this point, is only being done to push for a ban on guns. We've heard it all before.
This time, America heard the anti-gun statements from Obama and the mainstream media just as a vigil was being held in Charleston to allow people to show their respect for those that had been killed.
How disrespectful to make this day about an agenda. Enough! Save your politics for another day!
The people of Charleston are showing the nation their character and it far exceeds anything that I have seen today from those on the left who want to push an anti-gun agenda during a time when the families of those who died are suffering.
The hearts of the people in this great country also break for the loss of such innocent people at the hands of evil.
Come back another day with divisiveness and politics as usual. Today is not that day.
–
TheBlaze contributor channel supports an open discourse on a range of views. The opinions expressed in this channel are solely those of each individual author.