Politics has often been referred to as "war without bloodshed."
As a former warrior, I am always interested when people compare things to combat or war. As I considered the similarities of war and politics I couldn't help but reference Murphy's Laws of Combat—the premier resource for understanding actual combat.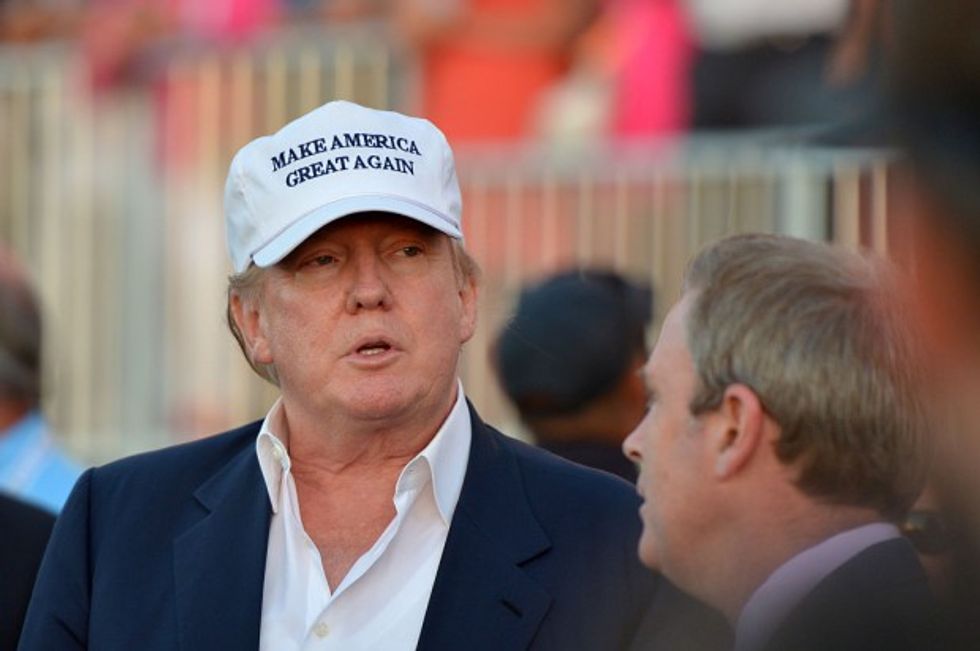 Donald Trump on the 18th hole during the final round of the World Golf Championships-Cadillac Championship at Trump National Doral Blue Monster Course on Sunday. (Getty Images/Drew Hallowell)
For years, Murphy's Laws of Combat have served as a canon where the realities of warfare can be found—simple truths that every combat veteran can relate to. Along that vein of thought, I see many correlations between actual war and political combat—specifically with the current frontrunner for the Republican nomination.
Donald Trump has taken the 2016 race for the White House by storm. Once considered a sideshow, his unfiltered commentary and bravado has been the equivalent to a military shock and awe campaign and has catapulted him to the front of the pack.
The following is a concise list of Trumps Tactics, Techniques, and Procedures, or what one might refer to as:
Trump's Laws of Politics
You are not Donald J. Trump

If in doubt "double down."

If your attack is effective, it was planned.

K.I.S.S; Keep It Simple Stupid: WALL, MUSLIMS, CHINA etc.

No debate plan survives the initial question.

Never let them see you sweat.

Endorsements are meaningless, unless they're for you.

Everyone against you is nasty.

Poll Math: supporters + anger = WINNING

LOVE every state.

Constantly interrupt yourself to remind people of your success.

HATE on the media until they treat you fairly.

Vague threats are easy to interpret and easier to disavow.

It's better to be loved than feared.

Sleep is for the weak.

Everything you do will be used against you, including doing nothing.

Never burn a bridge you can't rebuild.

If you rebuild a bridge make sure it's done very classy.

Define your opposition with simple catchphrases.

Politicians are all the same, all talk and no action.

When in doubt, make a personal attack.

Power only corrupts the weak.

Our leaders are all stupid, until they agree with you.

If support in unclear, ask for a pledge.

Don't take it personal it's just reality TV.

Political correctness is weakness personified.

Never disparage veterans, unless they are GOPe.

There's always a poll that says you're the best.

Being pompous is only a negative if you're a loser.

Criticism is inevitable, so speak your mind.
Love him or hate him, no one can deny that The Donald has been extremely effective. His canon on political warfare is sure to be referenced and studied by all aspiring politicians and students of politics.
To steal from the character Rayburn from "Man on Fire:"
"A man can be an artist... in anything, food, whatever. It depends on how good he is at it. [Trump's] art is [winning]. He's about to paint his masterpiece."
–
TheBlaze contributor channel supports an open discourse on a range of views. The opinions expressed in this channel are solely those of each individual author.