Despite the persistence of Iran and the P5 + 1 nations (the U.S., China, France, Russia, the United Kingdom, plus Germany), it's still anyone's guess whether a deal will actually be reached on Iran's nuclear program.
The negotiations have wandered past yet another deadline, with the result that deadlines don't mean anything anymore. Both sides know the other side isn't willing to just up and walk away.
But even if some agreement is reached, the work of getting Iran to stick to the terms of the deal still lies ahead. And that work – think Saddam Hussein and Weapons of Mass Destruction inspections, or North Korea and the limited access to its own nuclear facilities – will be far more difficult than the talks preceding it.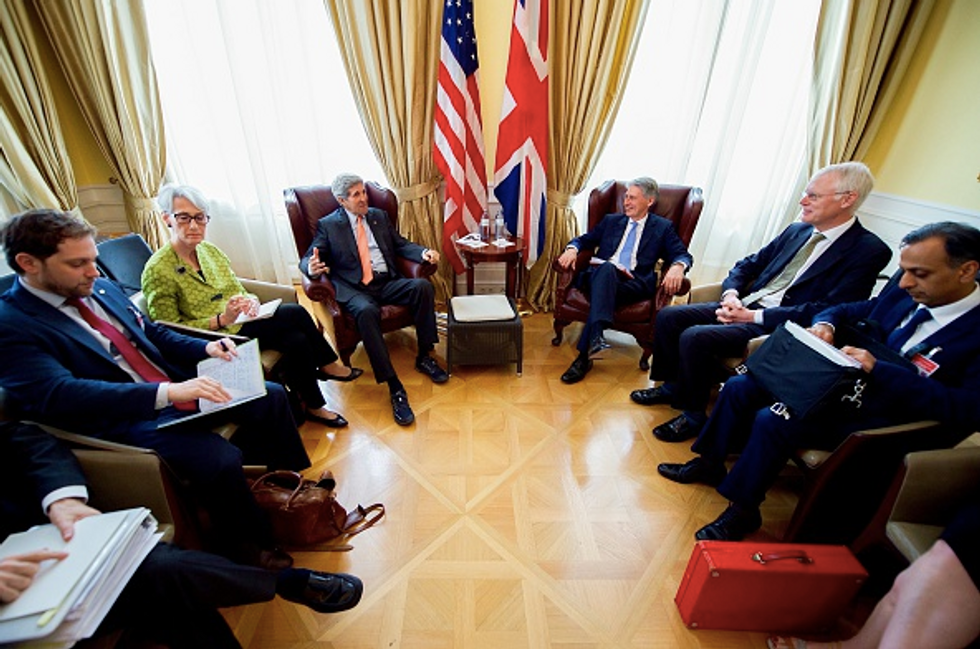 VIENNA, AUSTRIA - JULY 02: US Secretary of State John Kerry (3rd L) and former Secretary of State for Foreign and Commonwealth Affairs Philip Hammond (4th R) meet during the nuclear talks between the E3+3 (France, Germany, UK, China, Russia, US) and Iran, in Vienna, Austria on July 02, 2015. (Photo by United States Department of State /Anadolu Agency/Getty Images)
So, if the negotiations are just going to keep on going on, and if it's up in the air as to whether there's any deal, why not shake things up? Why doesn't Secretary of State John Kerry, who is heading up the effort on behalf of President Barack Obama's administration – or a member of Congress, or perhaps a GOP presidential contender – publicly suggest that we start over from scratch?
They should offer to completely lift U.S. sanctions in exchange for Iran fulfilling one condition:
Hold free and fair elections.
You see, although it's dubbed an "Islamic Republic," Iran is really more of a joint-venture dictatorship between theocrats such as Supreme Leader Ayatollah Ali Khamenei and the military that props the theocrats up. Iran holds elections that, while not as much of a joke as Iraq's presidential referendum of 2002 (100 percent approval!), are a farce of democracy.
Much like in communist countries, there's a government body – the "Guardian Council" – that vets candidates to make sure they are "qualified" for office. Just as the Communist Party allows citizens a variety of loyal communists to vote for, the Guardian Council makes sure Iranians can only chose someone who won't upset the military-theocratic one-party state.
Of course, it doesn't stop there. Any Iranians who have the temerity to protest these sham elections – say, the 2009 election that gave Mahmoud Ahmadinejad a second term as president – face the wrath of groups such as the Basij, a government-run militia. The Basij, who's full name translates as "Mobilization of the Oppressed," served to oppress protesters, attacking them with guns, knives, and truncheons both in the streets and on their way home.
In other words, Iran's elections are every bit as invalid as the violence- and brownshirt-ridden affairs that brought the Nazis to power in Germany in the 1930s. While we focus on how many centrifuges Iran has and what it's "breakout time" for building a nuclear weapon might be, we should realize that the fundamental problem is not Iran's nuclear program, but the regime itself.
[sharequote align="center"]The U.S. will lift all its restrictions on trade with Iran once Iran holds free and fair elections.[/sharequote]
So why not reset everyone's attention to that fact by floating a different deal: The U.S. will lift all its restrictions on trade with Iran once Iran holds free and fair elections. That means allowing Iranians to vote for whoever they want, without eliminating any candidates from contention. That means no media censorship and no government threats of violence. That means those who are elected serve their full term with no interference or molestation.
It means giving Iranians something they don't yet have: Liberty.
Of course, the Iranian government will never accept this offer, but that's not the point. The point is to force them to make it clear to everyone – to the international community and to the people of Iran – where their priorities lie. By rejecting the offer, they'd be admitting that it's more important for them to keep oppressing the people of Iran than to revive the Iranian economy and remove obstacles to their "nuclear rights."
And the offer costs us nothing but a few minutes in front of a microphone.
Iran is a brutal religious armed-forces oligarchy. The ayatollahs and those who guard the "Islamic Revolution" enrich themselves at the expense of the Iranian people. They support militants and terrorists in Lebanon, Iraq, Syria, and Yemen, while at the same time developing weapons of mass destruction and long-range missiles. The only real hope for regime change is for the "supreme leader" to die and see if the new boss is different from the old one.
Bad as they are, I don't have a problem negotiating with them. Sometimes negotiating or trading with regimes like Iran – or China, the Soviet Union, or North Korea – is the best of a range of bad options.
But let's not pass up on an easy opportunity to get Iran to remind us all just how bad they really are.
–
TheBlaze contributor channel supports an open discourse on a range of views. The opinions expressed in this channel are solely those of each individual author.