Earlier this month, Rand Paul announced his run for the White House in 2016, and was immediately dragged through the mud by the mainstream media. Why is the media being so harsh on Rand Paul?
In short, it's because they just don't like him. His attitude toward them, coupled with their overbearing love for other candidates, makes him an easy media target.
However, a more fitting question could be, why does the media love covering Hillary Clinton and Jeb Bush so much?
Comparing Bush to Clinton is almost like comparing Coke to Pepsi, and the media is consuming it like they haven't had a drink in weeks. Since many candidates other than Clinton and Bush are outside of the establishment or status quo, they are treated differently, by being given less coverage.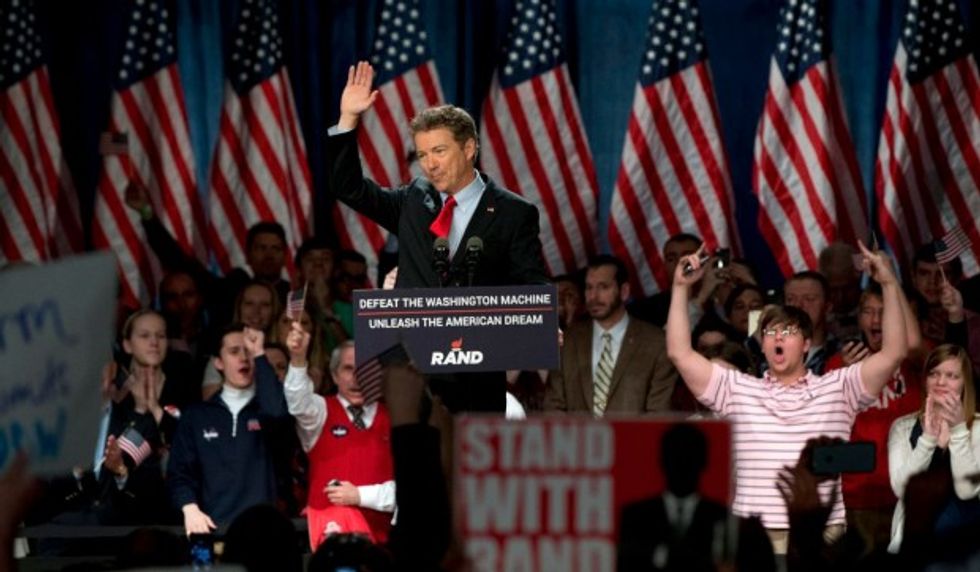 Sen. Rand Paul, R-Ky., announces the start of his presidential campaign as the audience cheers, Tuesday, April 7, 2015, at the Galt House Hotel in Louisville, Ky. Paul launched his 2016 presidential campaign Tuesday with a combative message against both Washington and his fellow Republicans, declaring that "we have come to take our country back." (AP Photo/Carolyn Kaster)
Clinton and Bush have also received their fair share of negative coverage, most notably the recent New York Times article discussing the Hillary campaign's hidden donations. However, when looking at media coverage of many other candidates, including Ted Cruz, Marco Rubio, and others, they are getting hardly any coverage compared to the "big two," and most of it is negative.
How and why are the other candidates being grouped into this "different" category against these two?
To begin, both of these candidates have similar views, histories, and strategies. What is most important to note, however, is that they also have many of the same backers and donators. These are two candidates, coming from opposing political parties, yet they have the same people supporting them.
You may be asking yourself how this can be possible, as you very well should be. The big businesses supporting these candidates want the race to come down to these two, because they're so similar that it does not truly matter to them which one wins. Both candidates claim that they have the "Main Street" American in mind, but have only ever been a Wall Street resident themselves.
Clinton makes more than the top 10 CEO's in the country do, and is backed by some of the same companies and the 1 percent she claims to want to take down. Bush, on the other hand, has only ever experienced politics firsthand, with both his father and brother serving as Presidents before him.
Thankfully, Paul has recently started calling out and exposing the media for being particularly hard on him, and not on other candidates. Their "lovefest" as he calls it, with Hillary Clinton, is unfair considering how much they hound him and other GOP candidates on their views.
And boy does the media love covering Clinton! Reporters are so desperate to get coverage of her that they resorted to running after her van like children after an ice cream truck. There were also so many of them at her campaign opening that they even outnumbered the voters! Although she has also recently received much negative coverage, the media can't seem to cover her enough. Where is all of this media love for Rand Paul?
Rand Paul, and the other candidates outside of the "normal realm" are being targeted because their ideas are new and different, and that scares people. When it comes to politics, big businesses want a candidate that will continue doing the things that have helped them rake in the money, and won't ever accept a candidate that aims to change this. Even though these ideas are often in the best interest of the consumer, big businesses, and their money, have a lot more pull than the average American consumer.
At one time journalists upheld their duty to deliver objective stories backed by unbiased facts, but those days are long gone. While media darlings like the Clintons and Jeb Bush get loads of coverage, both positive and negative, Rand Paul can't catch a break. The reporters that aren't fond of him need to get over their egos, think about what will help Americans as a whole, and work to once again go back to real, unbiased journalistic practices.
Chris Markowski has carried the titles of author, investment banker, equity analyst, muckraker, all around trouble-maker, and most importantly consumer advocate. He is the personality behind Watchdog on Wallstreet and founder of Markowski Investments.
–
TheBlaze contributor channel supports an open discourse on a range of views. The opinions expressed in this channel are solely those of each individual author.