For too long the United States has stood by while political Islam has grasped the Middle East, and we have done virtually nothing to stop it. In fact, we have worked under the lofty goal of democracy for all mankind to encourage it.
In 2012 when the United States threw its support behind the Muslim Brotherhood's rise to power, we in doing so went as far as to not only stand by but to assist in establishing political Islam's reign in the Middle East -- even in light of the many independent observers who reported that Mohamed Morsi had in fact lost the Egyptian presidential elections. Contradictory to our democratic ambitions, we have worked to destabilize every secular state in the Middle East, knowing well of the political vacuum that exists in the region. Thus, we are left with political Islam as the only organized means of filling that void.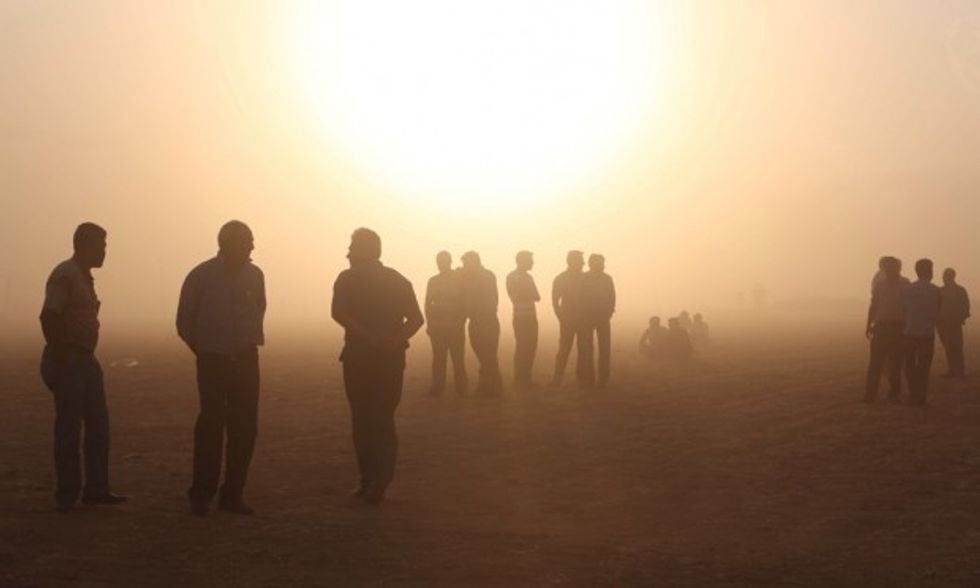 Syrians fleeing clashes between the Islamic State of Iraq and Levant (ISIL) militants and Democratic Union Party (PYD) forces in Syria, wait during a sand storm as they cross into Turkey from the borderline in Suruc district of Sanliurfa, southeastern province of Turkey, on September 25, 2014. (Anadolu Agency/Getty Images)
Working under the delusion of the theory of Inclusion and Democracy can only lead to moderation. Under the Obama administration, we in the United States have created the very conditions that enable the growth of radical political Islam in the Middle East. We did this by believing that if we were to allow political Islam the capacity to evolve within the political system, that inclusion would eventually lead to moderation. However, it did not work in Egypt, Tunisia, Jordan, the Gaza Strip, Libya, nor in Syria -- and it will not work in Iran, either. As crazy as it sounds, breeding political Islam is exactly what we have been doing as a matter of tacit policy.
As a Muslim, I firmly believe that political Islam, regardless of how moderate, is a slippery slope that will inevitably -- whether sooner or later -- lead to radical extremist takeover.
When Ben Carson, the Republican hopeful for president stated that Islam is inconsistent with the U.S. Constitution, he wasn't completely wrong. Had he inserted the word "political" in front of the word "Islam," he would have been 100 percent right.
Radical political Islam is the number one enemy of the modern world today, and needless to say is an enemy of the United States. But that being said, the United States does not have contiguous borders with any Islamic-majority nation. However, Russia does.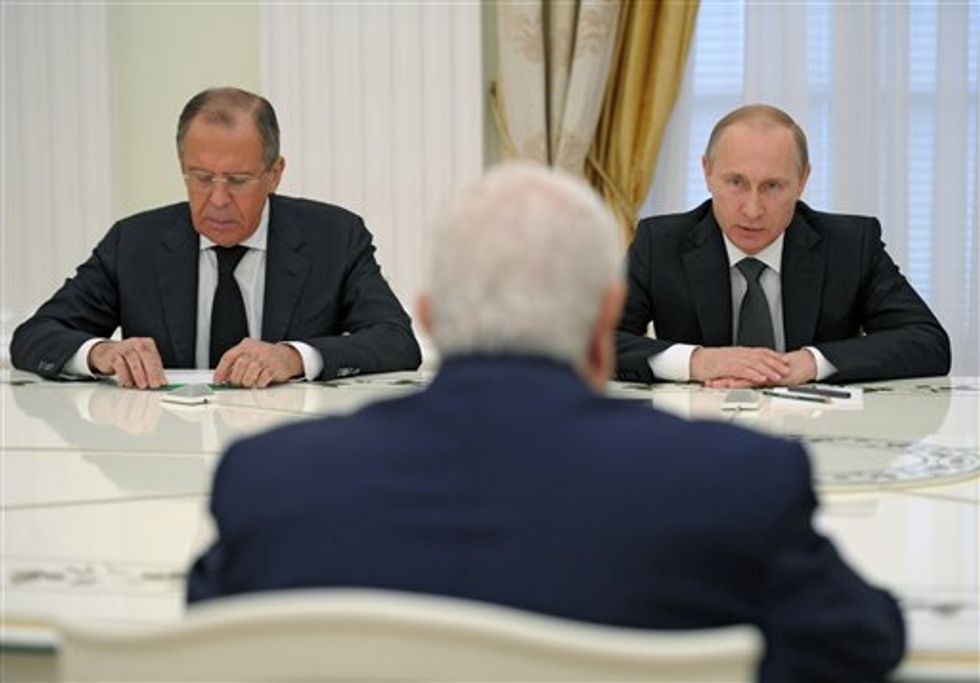 Syrian Foreign Minister Walid al-Mualem, front, meets with Russian President Vladimir Putin and Russian Foreign Minister Sergey Lavrov, left, in Moscow's Kremlin, Russia on Monday, June 29, 2015. (Alexei Nikolsky/RIA Novosti, Kremlin Pool Photo via AP)
So when the media theorizes as to Russia's motives and questions whether those motives are to simply prop up Bashar al Assad or to fight Islamic State -- or just to simply make a statement that Russia is "back" -- the media ignores both geography and history. Russia, in fact, shares borders with Islamic states and has a history of no less than 300 years of fighting continuous wars with an Islamic state called the Ottoman Empire. Simply put, while we in the United States (some 6,000 miles away) boast the luxuries of merely trying to implement all kinds of political theories to solve the problem of radical political Islam, or to take half measures to deal with it, Russia cannot afford to pussyfoot around it. Russia must deal with this problem now, before it appears on its soil and on its borders.
If we in the United States are determined to continue in taking half measures to deal with the global problem of the rise of radical political Islam, then shame on us that somebody else is stepping in to take the lead. Instead, let's be gracious enough to say we are not going to lead and get out of the way so that somebody else can do the job. Political Islam must be addressed, so rather than panic over Russia's involvement in Syria, we should all breathe a sigh of relief that finally someone will deal with this problem as it needs to be dealt with.
If we are not willing to fight radical political Islam wherever it appears, then let's not stop those who will and or hinder those already on the ground carrying on the fight.
Ultimately, I can say that I never thought I would see the day, as a former Cold War warrior and an officer in United States Air Force Strategic Air Command, that I would be rooting for Russia to win a war.
–
TheBlaze contributor channel supports an open discourse on a range of views. The opinions expressed in this channel are solely those of each individual author.