Usually a victim of anti-Semitic or Islamist violence, Israel last week found itself dealing with two cases of terrorism going in the opposite direction.
First there was the case of Yishai Schlissel, an ultra-Orthodox Jewish man who stabbed six people at Jerusalem's Gay Pride Parade, with one victim – 16-year-old Shira Banki – dying of her wounds. Schlissel (who uses the Torah to justify his behavior) had stabbed three people in the same parade in 2005 and – weeks after being released from almost a decade in jail – returned to terrorize again.
The day after Schlissel's attack, a fire near Nablus in the West Bank killed a Palestinian baby and injured the parents. The fire, apparently set by Jewish settlers, has been designated "a terrorist crime" by the Israeli government.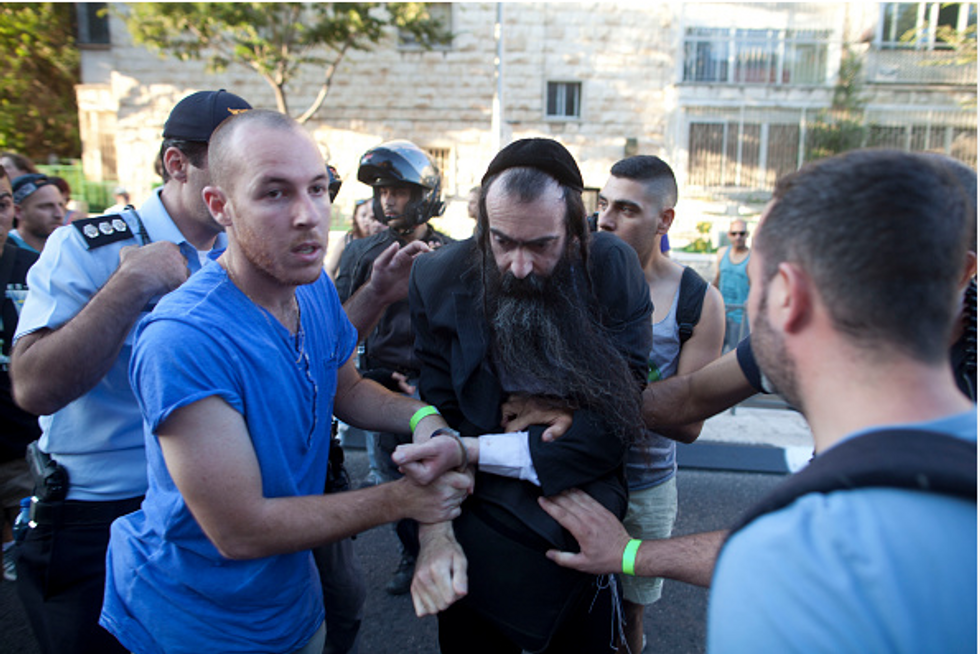 Israeli Policemen arrest an ultra-Orthodox Jewish man suspected of stabbing participants of the Gay Pride Parade on July 30, 2015 in Jerusalem, Israel. At least six people were stabbed at Jerusalem's annual Gay Pride Parade on Thursday. The assailant, an ultra-Orthodox Jew, emerged behind the marchers and began stabbing them while screaming. A police officer then managed to tackle him to the ground and arrest him. (Photo by Lior Mizrahi/Getty Images)
It will be interesting to see what Israel does now. As both a democracy and a Jewish state, it has endured a constant tug-of-war between treating people equally versus giving preferential treatment to those of the Jewish faith. This has often led to the criticism that Israel has compromised the ideals of democratic equality in favor of acts that preserve Israel as the safe house of Judaism.
For instance, the rules for immigrating to Israel are more favorable to Jews from half a world away than to Palestinians who have lived in the area all their lives. Israel has even come into conflict with liberal and reform Jews, as the government involves itself in matters such as religious conversion.
There's also been a double standard when it comes to punishing militants. It is common for the Israeli government to resort to collective punishment in dealing with Palestinian terrorists. That is, if a Palestinian commits an act of terror, their family is punished as well, often in the form of their home being demolished. The Israeli Defense Forces carried this punitive measure out just last year in response to the murder of three Israeli teens.
Meanwhile, Baruch Goldstein – who shot 29 Palestiniants dead and injured another 125, in the 1994 Cave of the Patriarchs massacre – died in his act of terror, and his family went unmolested.
This makes perfect sense: If the family had nothing to do with the crime, why should they be punished? Collective punishment might be the norm for North Korea, but not for a democracy that respects human rights.
Except that Israel has a long history of imposing collective punishment on Palestinians, though not on Jewish people guilty of the same crimes.
So, will Israel see the error of its ways?
Israeli security forces arrest a Palestinian (C) during clashes following traditional Friday prayers near the Old City in East Jerusalem on July 25, 2014. AFP PHOTO / AHMAD GHARABLI
There does seem to be some hope. Israel recently announced that, in response to the deadly arson near Nablus, it would hold suspected Jewish militants without a trial, the same way it does with Palestinian militants. There are good reasons to wonder whether and when such "administrative detentions" are justified, but at least the Israeli government is pledging to apply them more even-handedly.
At the same time, there are more Palestinians living in Jerusalem who have chosen to adopt Israeli citizenship. Choices like this will serve to push the idea of the Jewish Israeli citizen into the background, bringing the simple Israeli citizen – not sifted or relegated to second-class status by religion – to the forefront.
But that's a slow process. And Israel is still a country in which the families of Schlissel and of the murderous West Bank arsonists can rest easy in their homes, while Palestinians have to worry that they will wind up sleeping out in the street if they, too, suddenly find out that they are related to a terrorist.
–
TheBlaze contributor channel supports an open discourse on a range of views. The opinions expressed in this channel are solely those of each individual author.