Chinese strongman Xi Jinping and the rest of the communists running China hope to convince the rest of the world that the massacre at Tiananmen Square never happened, while also teaching the formerly free people of Hong Kong a thing or two.
As TheBlaze noted back in October, the regime's latest attempt to erase history — and slap around Hong Kong just to show the city who's boss — was the planned removal of the Pillar of Shame from the campus of the University of Hong Kong.
The sculpture, created and loaned to the school by Danish artist Jens Galschiot, uses dozens of twisted bodies, some of them screaming, some in skeletal form to memorialize the victims of the 1989 massacre.
Galschiot wants his stuff back and has accused the ChiComs of using "mafia" tactics. He also threatened action should authorities destroy his private property.
So, what happened last week as the rest of the world was preparing for Christmas festivities?
If you guessed the commies broke up the statue and had it quietly shipped out in pieces in the dead of night while obscuring their actions from prying eyes, give yourself a gold star.
The BBC reported that Chinese authorities fenced off the area around the statue with plastic sheeting and ordered construction workers to break the artwork into pieces.
Naturally, the government had security personnel on hand to keep reporters and students away and prevent them from documenting the live-action memory-holing.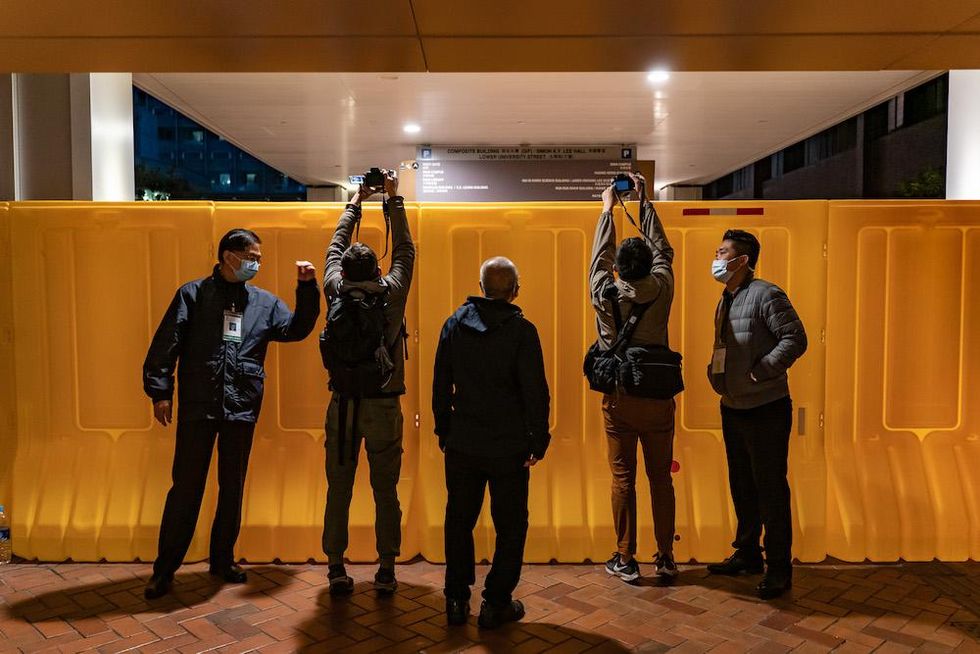 Photo by Anthony Kwan/Getty Images
Galschiot tweeted a photo of the destruction crew preparing to carry out Beijing's orders and said his artwork was being "demolished" during a "middle of the night" action. And he still wants his work returned to him — even if he has to receive it in a pile of pieces.
Hong Kong-based Twitter user Razven tried to document the statue's removal, getting some photos and video of both the attempts to hide the actions and the moving of the pillar into a container waiting to ship it to who knows where.