Human Rights Campaign press secretary and outspoken transgender advocate Charlotte Clymer caused quite a kerfuffle Thursday. Clymer set people off with this tweet (allegedly in response to recent statements by anti-vaccination advocates):
Not all opinions are equal. Not all opinions are deserving of our time and consideration. Not all opinions should… https://t.co/FtQJY2Cy3D

— Charlotte Clymer🏳️‍🌈 (@Charlotte Clymer🏳️‍🌈) 1560441255.0
Now, many people (mostly conservatives — including me) initially believed that Clymer was referring to disagreements over beliefs on LGTBQ issues.

After serious backlash, Clymer claimed to be referring to the fight over vaccines and not the typical gender shinola — though that doesn't excuse blocking free speech. Anti-vaxxers should be permitted to share their beliefs, too — and I say that as a rabidly pro-vaccination father of three.
Yes, and I can confirm that we support vaccinations. Anti-vaxx advocacy is dangerous and harmful and does not belon… https://t.co/buQJADNEJC

— Charlotte Clymer🏳️‍🌈 (@Charlotte Clymer🏳️‍🌈) 1560444580.0
Giving harmful anti-vaxx propaganda a platform that has been shown to directly lead to unnecessary deaths of childr… https://t.co/ozCBTFjJ5L

— Charlotte Clymer🏳️‍🌈 (@Charlotte Clymer🏳️‍🌈) 1560444368.0
However, NOTHING in Clymer's initial tweet said anything about vaccinations, and Clymer has a record of being an unreserved (and crude) trans advocate. So critics of the anti-free speech tweet had every reason to assume Clymer was pushing the typical left-wing propaganda.

Plus, Clymer's follow-up tweets after being called out belie an agenda that goes well beyond vaccines, including tweeting that conservatives "just want the unchecked freedom to spread hateful nonsense that directly harms others, and that bulls**t does not belong in the public square. Period" and describing conservative views on gender issues to be "hateful bulls**t."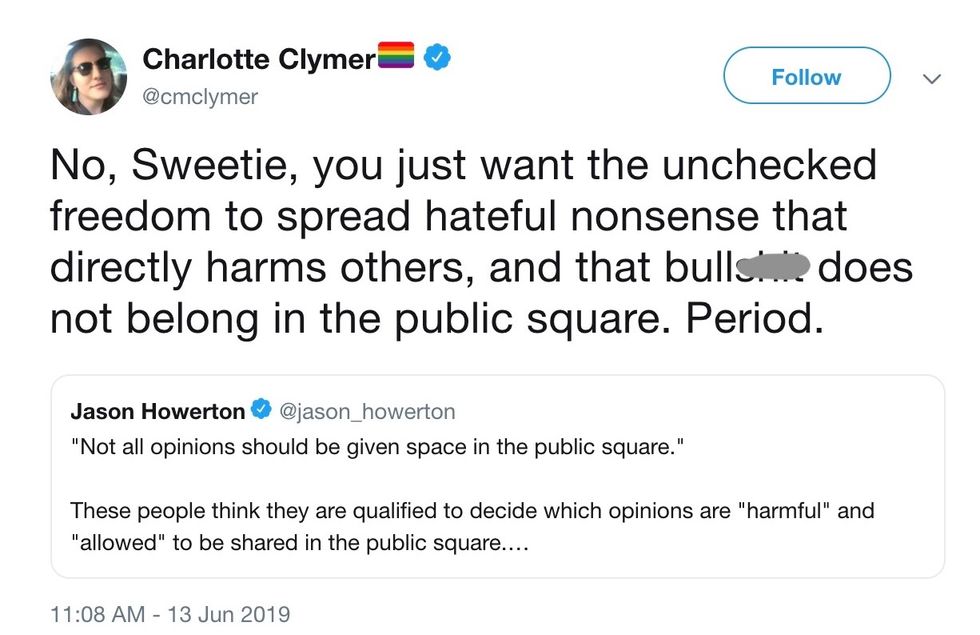 Image source: Twitter screenshot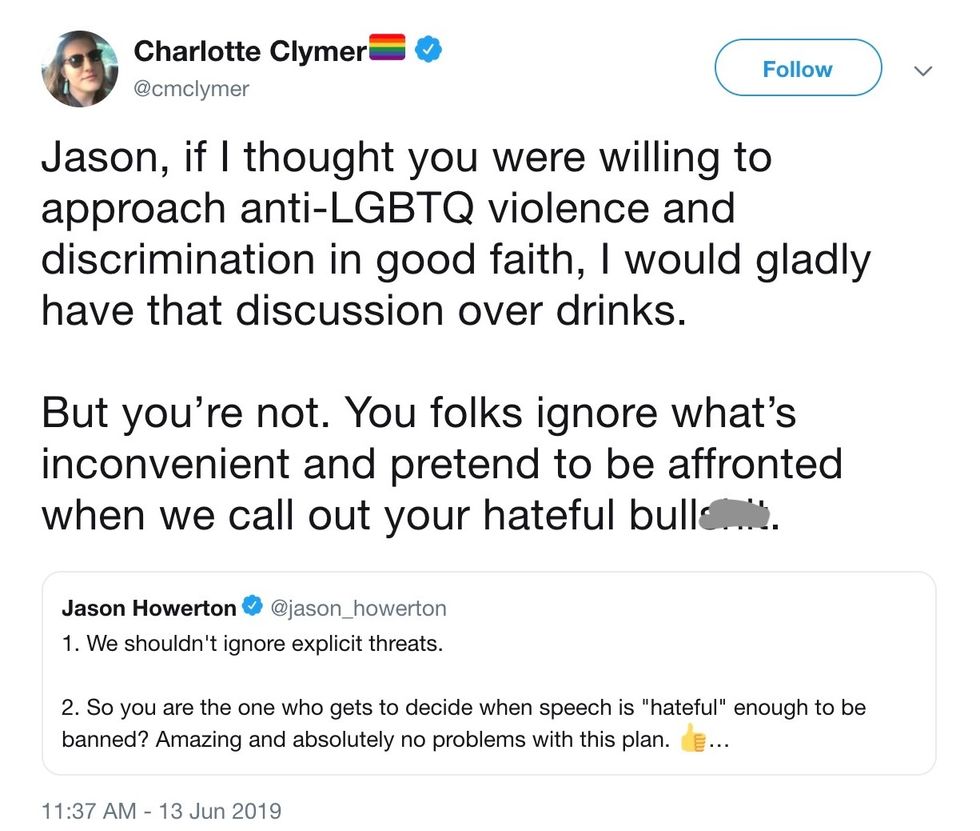 Image source: Twitter screenshot
When confronted with the fact that words are not violence and that calls to violence are already illegal, Clymer wasn't going to hear it:

Except for all those LGBTQ people who are assaulted, killed, and otherwise discriminated against because of deeply… https://t.co/Xv07xGFThp

— Charlotte Clymer🏳️‍🌈 (@Charlotte Clymer🏳️‍🌈) 1560442408.0
Once again, gotta love the bad faith framing here. A literal, explicit call for violence is not required to encoura… https://t.co/hJIpQyL60O

— Charlotte Clymer🏳️‍🌈 (@Charlotte Clymer🏳️‍🌈) 1560443484.0
And not once did Clymer explain exactly who should be making the determination of what constitutes a "threat to public safety" or what should happen when a governmental power shift changes who's calling the shots.
So it seems pretty clear that if you disagree with Clymer, there's a chance your opinions would never be allowed to been seen by the public were the Clymer cohort ever given serious power.

Actually, it's even worse than that. Not only should you be prevented from sharing your thoughts in public, you are a "threat to public safety."
What should we do with people who are such a "threat"?
Burn their books?
Imprison them?
Burn them on their books?
We've got plenty of examples in human history to see what happens when people in power consider the beliefs of a class of people to be a "threat" to the public.
It doesn't end well.