With his poll numbers flailing, President Joe Biden on Wednesday will call for Congress to suspend the federal gas and diesel taxes over the summer to provide relief for American drivers amid record-high gas prices.
If Congress acts, the 18-cent tax per gallon on gas and 24-cent tax per gallon on diesel fuel would be lifted for a three-month period that would coincide with an expected surge in demand for gas as people travel during the summer.
The White House released a fact sheet on the proposal Wednesday morning.
"A federal gas tax suspension alone won't fix the problem we face, but it will provide families a little breathing room as we continue working to bring down prices for the long haul," a senior administration official told reporters on a call before the announcement, according to The Hill.
The White House acknowledged that a gas tax suspension is only a temporary action and that in the long term, the tax is needed for the Highway Trust Fund.
"President Biden understands that a gas tax holiday alone will not, on its own, relieve the run-up in costs that we've seen. But the President believes that at this unique moment when the war in Ukraine is imposing costs on American families, Congress should do what it can to provide working families breathing room," the White House said.
State and federal gas taxes make up about 16.4% of the average retail price for a gallon of gasoline, according to the U.S. Energy Information Administration.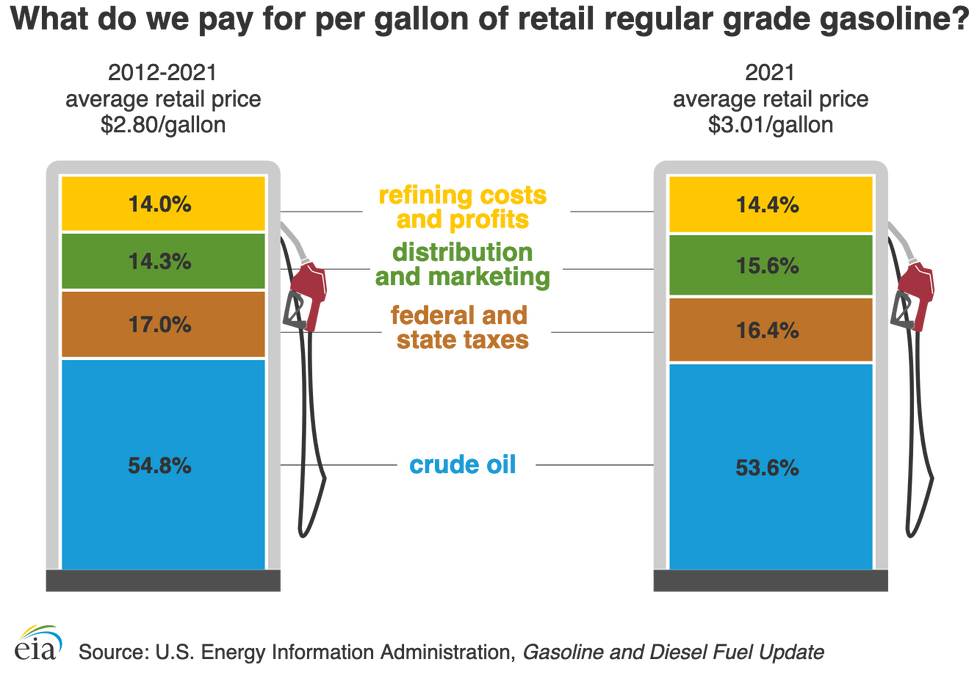 Proponents of the gas tax holiday say it's a quick and easy way to lower prices at the pump. But Republicans and energy experts criticized the president's proposal, calling it a "fake fix" and suggesting it will lead to higher prices overall.
"Joe Biden has caused gas prices to hit historic highs by killing American energy and implementing 39 new regulations and executive orders," Sen. Marsha Blackburn (R-Tenn.) tweeted. "Suspending the gas tax will not fix Biden's energy crisis. It's a fake fix."

"Biden's gas tax 'holiday' won't increase supply. Instead, it will increase demand while saving just ~6% of Biden's gas price hike," Sen. Tom Cotton (R-Ark.) said. "It's a bad idea that won't help, but it's par for the course from this incompetent White House."
The Republican National Committee resurfaced 2008 video of then-candidate Barack Obama slamming a "gas tax holiday" as a "gimmick" that wasn't real energy policy.
Daniel Turner, the executive director and founder of the nonprofit energy group Power the Future, called Biden's plan a "transparent election year gimmick."
"Amid its litany of failures, the Biden Administration has succeeded at creating record inflation, and they have done so by strangling American energy production to appease the eco-extremists. Rather than a temporary gas tax suspension, Joe Biden should permanently suspend pursuit of the green policies that have upended our way of life and sent our economy spiraling," Turner said.
President Biden will pitch his plan to the American people in a speech Wednesday afternoon. He will also call on Congress to find $10 billion in other revenues to make up the cost of the tax holiday and fund the Highway Trust Fund.