MSNBC is scarcely the be-all and end-all of journalism -- in fact, it's quite the opposite. The network has deceptively edited video and audio, misled viewers about multiple sclerosis treatments, and made more than a few questionable hiring decisions. However, for all its flaws, MSNBC has not yet sunk to the level of Current TV, and does still welcome at least a few people to provide token opposition to its overwhelmingly liberal bent, including The Blaze's own S.E. Cupp. We thus give them some credit.
Nevertheless, MSNBC has to be held to its own standards. And given the outsized, vicious criticism of the religious convictions of Mitt Romney (as well as those of several other Republicans) that MSNBC has gone through, we presume that one of those standards is refusing to affiliate with people who defend, or are connected to, extreme religious figures/movements. And perhaps no figure in American religion and public life is more extreme than the Reverend Jeremiah Wright.
So it stands to reason that, if one of MSNBC's most prominent rising stars were to defend Wright as being a heroic figure on the same level as the great anti-slavery orator Frederick Douglass, for instance, those standards would be violated. Unfortunately for MSNBC, that's exactly what has happened, in the case of their weekend anchor and self-proclaimed race expert Melissa Harris-Perry.
By now, it is fairly safe to assume that readers of The Blaze are aware of the existence of Ms. Perry. The Blaze's Benny Johnson has already reported on a few of Perry's greatest hits, summed up in an article posted on Tuesday:
According to MSNBC Host Melissa Harris-Perry

9/11 vaulted America into a "nationalist fervor" that was similar to "having post-traumatic stress disorder"
Makes racial joke about African-American men wearing NYPD hats
9/11 provided an opportunity for a new "racial enemy" in America
America "identifies who we are…through our notions of whiteness and of the racial enemies that are the non-whites"
9/11 gave America a chance to shift its racial hate from "Reagan's 'welfare Queen'" to "imagine" our enemy as "somehow Muslim, or Arab, or Sikh, or something else."
Americans an ability to "stomach a kind of horrific racial violence in the name of national security"
Those that are "activating terrorism against us" are "imagined racial enemies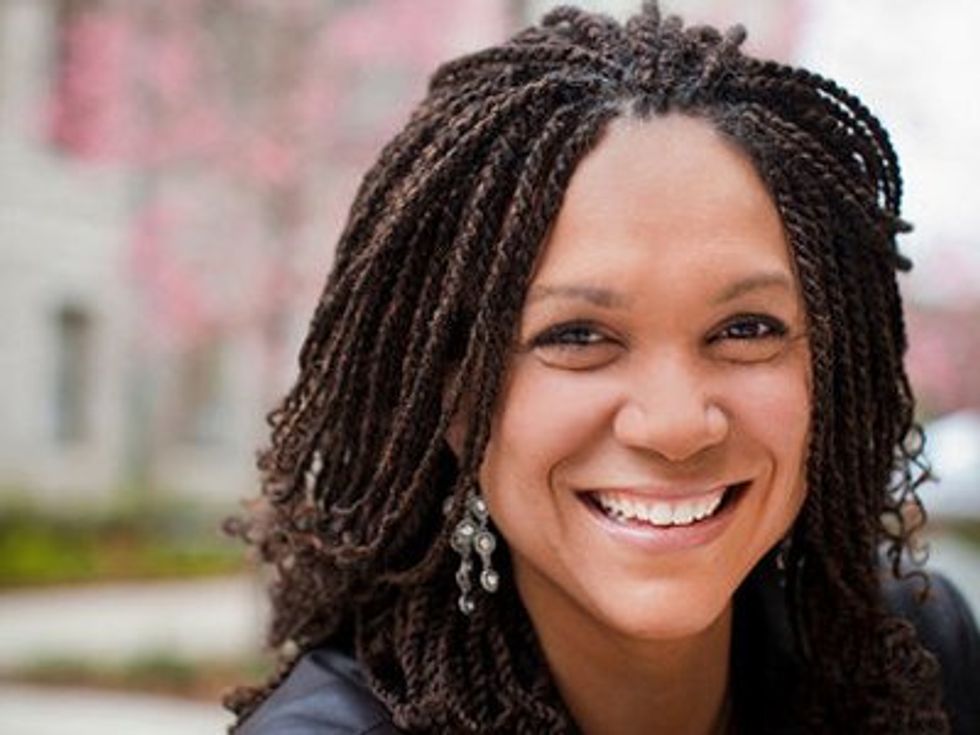 Now, even to sympathetic readers, these sentiments should sound pointlessly extreme in the absence of ironclad proof (which is nonexistent). However, they could still be mistaken for merely the usual racially sensitive assertions of a liberal anchor, unlike support for Wright, which would mark Perry as a genuine radical. As such, some context is required before we show you the "smoking gun."
Let's start by pointing out the biggest commonality between Perry and Jeremiah Wright -- namely, that the two are both connected to a school of religious thought known as black liberation theology.
And what is black liberation theology? Nothing less than a religious doctrine that racism as the equivalent of original sin -- irrefutable and inescapable. It is, in essence, a Christian mirror of the black Islam taught by Louis Farrakhan. In 2008, National Review's Stanley Kurtz explained:
From the standpoint of the black-liberation theology that informs Trinity's worship, there is a yawning gulf between authentic, liberating Christianity and conventional American Christianity. According to the black-liberation theology's founder, James Cone, Christianity as commonly practiced in the United States is actually the false Christianity of the racist Antichrist. Any Christianity not imbued with "liberating" leftist revolutionary zeal is dismissed by Cone as the work of "white devil oppressors." While that sort of radicalism may seem an outdated relic of the late Sixties, a reading of Trumpet 2007 shows that, for Wright and his followers, little has changed since then. [...] [Emphasis added]

In fact, over and above the famous "Empowerment Award" Wright bestowed on Farrakhan, Trumpet regularly features positive mentions of Farrakhan and his Nation of Islam. There is a kind of informal nexus between Wright, Farrakhan, and Pfleger, each of whom are bound by an allegiance to black-liberation theology, or to the black Muslim nationalism that inspired James Cone to create black-liberation theology to begin with.
Wright's connection to this school of thought is obvious -- according to Kurtz, the founding thinker of black liberation theology, James L. Cone, considers Wright's Trinity United Church of Christ to be the model church for his form of "Christianity."
But how do we know Harris-Perry is connected? Her MSNBC biography offers a clue.
No, really. You see, before she became a talking head, Perry was actually an accomplished academic in the realm of African American studies. Not that you'd know it from MSNBC, which devotes only this paragraph -- at the very end of her staff biography -- to Perry's educational attainments:
Professor Harris-Perry received her B.A. in English from Wake Forest University, her Ph.D. in political science from Duke University and an honorary doctorate from Meadville Lombard Theological School. And she studied theology at Union Theological Seminary in New York. She lives in New Orleans with her husband, James Perry, and is the mother of a terrific daughter, Parker.
Why bury this paragraph at the end of her biography? Probably because it mentions one of Perry's potential connections to black liberation theology -- namely, her affiliation with Union Theological Seminary.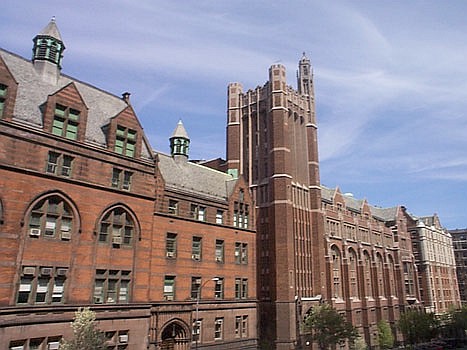 Union Theological Seminary is, as it turns out, essentially the fons et origo of black liberation theology in the United States. In fact, one of its professors is no less an eminence than James Cone himself, who has taught at Union since the late 60's, when black liberation theology first began to be created. And as it turns out, Perry's bio seriously undersells her relationship to the seminary. An article in Diverse Education about Perry's move away from Princeton University, dated February 28, 2011, includes the following information about Perry's affiliation with Union:
Several years ago, she enrolled as a Master of Divinity student at Union Theological Seminary in New York City, but is unsure if she will finish the program because of the relocation. "If anything I am a better student than anything else," she says, adding that she enrolled at Union because she wanted to better understand the role of the Black church in political movements.
A Master of Divinity degree. Granted, the degree may have been unfinished, but still, this is a fairly close association with the school. And why attend a school renowned for its affiliation with black liberation theology while studying the role of the black church unless there was a predisposition to believe in liberation theology? Suspicions abound.
So now we know why Perry would feel compelled to defend Jeremiah Wright. But what's the evidence that she did? And how do we know that just because she attended Union Theological Seminary, she also holds the views of its dominant religious school? Well, let's stare down the barrel of the smoking gun (so to speak) with regards both to her black liberation theology-influenced worldview and to her sympathies with one of America's genuine religious extremists.
We must start with the fact that Melissa Harris-Perry didn't always call herself Melissa Harris-Perry. In fact, until recently, she went by the name Melissa Harris-Lacewell, and was known publicly by that name. Here is the Huffington Post's biography for Melissa Harris-Lacewell:
Melissa Harris-Lacewell is Associate Professor of Politics and African American Studies at Princeton University. She received her B.A. in English from Wake Forest University, her Ph.D. in political science from Duke University and an honorary doctorate from Meadville Lombard Theological School. She is also a student at Union Theological Seminary in New York.

She is author Barbershops, Bibles, and BET: Everyday Talk and Black Political Thought, (Princeton 2004). This text demonstrates how African Americans develop political ideas through ordinary conversations in places like barbershops, churches, and popular culture. The work was awarded the 2005 W.E.B. DuBois book award from the National Conference of Black Political Scientists. It is also the winner of the 2005 Best Book Award from the Race and Ethnic Politics Section of the American Political Science Association. Her academic research has been published in scholarly journals and edited volumes and her interests include the study of African American political thought, black religious ideas and practice, and social and clinical psychology. She is at work on a new book: For Colored Girls Who've Considered Politics When Being Strong Wasn't Enough. It is an examination of the connections between shame, sadness, and strength in African American women's politics.

Professor Harris-Lacewell's writings have been published in the Chicago Tribune, Los Angeles Times, Crain's Chicago Business and New York Newsday. She has provided expert commentary on U.S. elections, racial issues, religious questions and gender issues for the New York Times, Boston Globe, CNN, NBC, Fox, Public Television, Showtime, Black Enterprise, National Public Radio and many other radio and print sources around the country.
This is essentially Perry's biography, albeit an out-of-date version, since she hasn't written on the Huffington Post under this name since 2010. And indeed, Google searching "Melissa Harris Lacewell" immediately brings up Perry's own website.
Why go to all this trouble to establish they're the same person? Because Melissa Harris-Perry (formerly Lacewell) was quoted on Union Theological Seminary's website defending Jeremiah Wright almost immediately after the controversial tapes of him screaming "God damn America" were released, alongside such liberation theology giants as James Cone himself. And this was not a purely secular defense - all the articles were published under the heading, "Black Liberation Theology in Media Spotlight." Here was Cone's defense:
And here's Perry's/Lacewell's, as excerpted on the site:
For those wondering if the above passage might have been out of context, never fear, we took the trouble to dig up (and screengrab) Perry's entire defense of Jeremiah Wright, courtesy of TheRoot. It's worth noting that the byline for this article now reads "Melissa Harris-Perry" rather than "Melissa Harris-Lacewell." In any case, here are the excerpts that Union left out, and the ones that prove her radical sympathies beyond a doubt (emphasis added):
Jeremiah Wright is a modern [Frederick] Douglass. Both men are like the Old Testament prophets who condemn the injustice and corruption of the rulers of their government.

Let's be clear. American democracy has always coexisted with vicious, state-sponsored racism. The nation's first presidents worked to establish an innovative, flexible, radical democratic republic while simultaneously codifying enslaved blacks as a fraction human and relegating them to intergenerational chattel bondage.

After emancipation, as blacks helped make America the greatest industrial and military power on earth, the country stripped blacks of the right to vote, segregated public accommodations, provided inferior education to black children, and allowed and promoted the terrorist rule of lynch-mob violence.[...]

I attended Trinity United Church of Christ during the seven years I lived in Chicago. Although I do not know him personally, I heard Rev. Wright preach on dozens of Sundays. His sermons soothed my broken heart while I divorced, they eased my mental anguish when my sister was ill, and they helped give me strength as I watched the destructive power of racism, sexism and homophobia within my Chicago community. In short, his words did what a pastor's words are supposed to do. I am grateful for Jeremiah Wright and for his prophetic witness.
These quotes show Perry is not only influenced by black liberation theology, but she also seems to be an apologist for it and perhaps its most vile spokesman, Jeremiah Wright.
Knowing this, we can now give greater context to Perry's claims that the response to 9/11 was motivated by racism against Arabs or her unfailing attacks on conservative ideas as being racist. Clearly, like her hero Wright, she is she is not making these attacks on the basis of the sort of bloodless factual analysis so fetishized by liberals, and so unfailingly claimed by liberal media sources. Rather, based on her academic interests and long history of theological study, her analysis seems to be motivated by religion, and a religion far more extreme and racially problematic than the others her fellow MSNBC anchors Lawrence O'Donnell and Martin Bashir routinely condemn.
Perry is free to believe what she wishes, but her network is not free to condemn supposedly extreme religious faith when it is connected to conservatives and ignore the genuinely extreme religious affiliations of its anchors. Barack Obama has already said he "strongly condemns" Wright. MSNBC should take the hint with respect to their Wright-worshipping anchor.