"The white man was a good shot and the bullet from his Winchester passed through the body of Yaholar."
This simple sentence, describing Massachusetts Democratic Senate candidate Elizabeth Warren's great-grandfather, John Crawford, may finally put a bullet not simply in the long dead corpse of Native American Louis Yaholar, but also of Warren's supposed family mythology. It comes from a turn-of-the-20th-century news story uncovered by William Jacobi at Legal Insurrection, who explains the genealogical connection between this random incident of White-on-Native-American violence and Warren's campaign:
But, while Warren thinks she has found a safe place in her family lore, it's still worth pointing out that she is not Cherokee.  The Cherokee line supposedly was through her maternal grandparents, the Crawfords.

But just to put another piece of evidence on the table, real Cherokee genealogist Twila Barnes has come up a newspaper clipping from the Muskogee Times Democrat on August 17, 1906.

The newspaper clipping relates to a story about how Warren's great grandfather, John H. Crawford, shot a real Indian and was identified in the newspaper as white.
You can view a photo of the 1906 story below. Note that the Crawfords are identified not as Cherokee (as Warren would have it), but as white: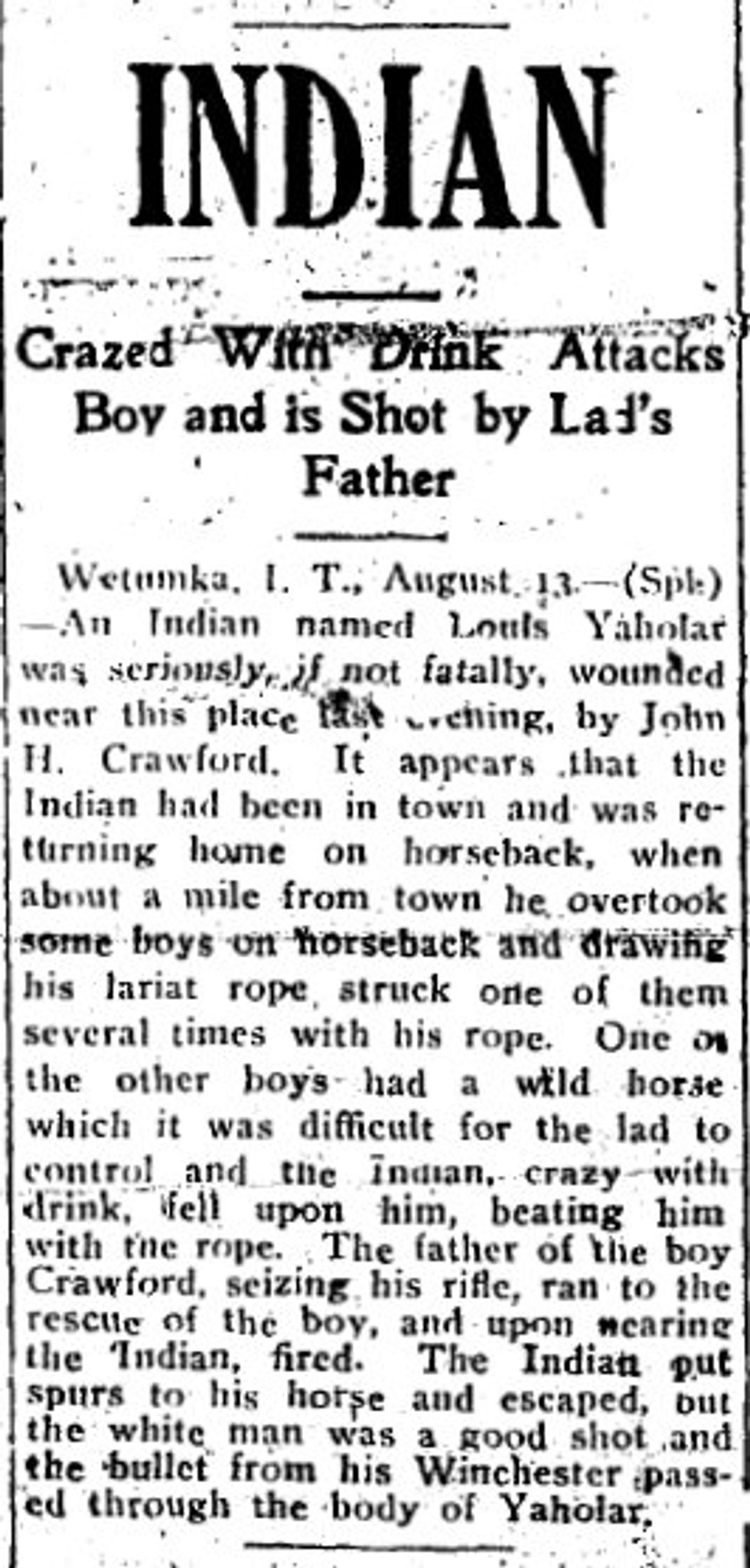 There is no evidence that anything particularly improper was involved with century plus old shooting, and indeed, it may cast Warren's great grandfather in a positive light for some people. However, what it most unequivocally does cast doubt on is Warren's reliability as a narrator of her family history. To that end, it is likely to be used by the Scott Brown campaign as another piece of evidence that Warren has been falsifying her history, and is generally untrustworthy.