Demography is destiny — and sometimes that destiny can be seen in the shape of a pyramid getting skinnier and skinnier.
A series of GIFs posted to Reddit on Wednesday demonstrated the stark reality of population pyramids — graphs that show an age breakdown of an entire country's population.
Across most of the world, countries are facing a problem: As people live longer, they're having fewer children, producing a situation in which fewer and fewer workers have to support more and more dependents.
"It's actually pretty terrifying," wrote Jim Laird, the analyst behind Laird Research who produced the GIFs using U.S. Census international data.
In the U.S., the median age is projected to creep upwards steadily between now and 2050.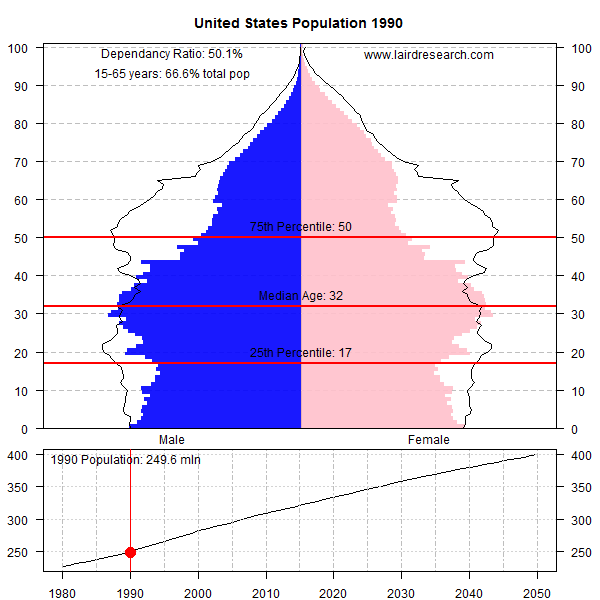 Between 1990 and 2050, the American population is projected to come to resemble the standard population pyramid less and less as birthrates stagnate and the elderly live longer. (GIF via Laird Research)
What do population pyramids say about other countries around the world?
In East Asia, populations will get dramatically older and younger cohorts will shrink as low birthrates take their toll.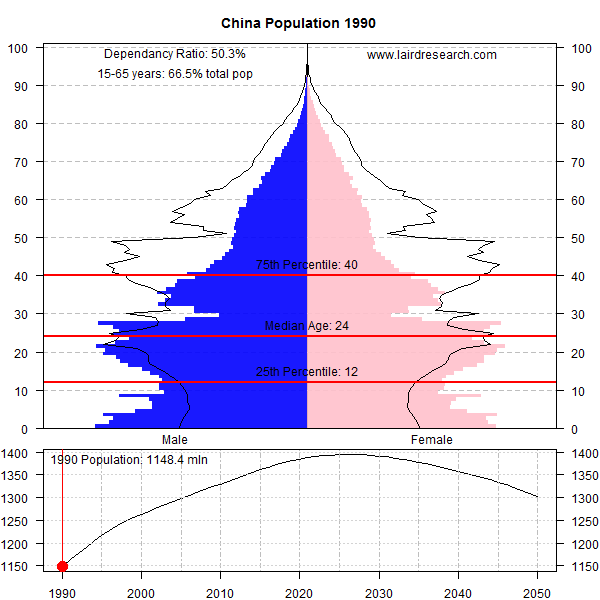 (GIF via Laird Research)
In Japan, only half of the population is expected to be between the ages of 15 and 65 by 2050 — meaning there will only be one worker for every dependent in the increasingly geriatric archipelago.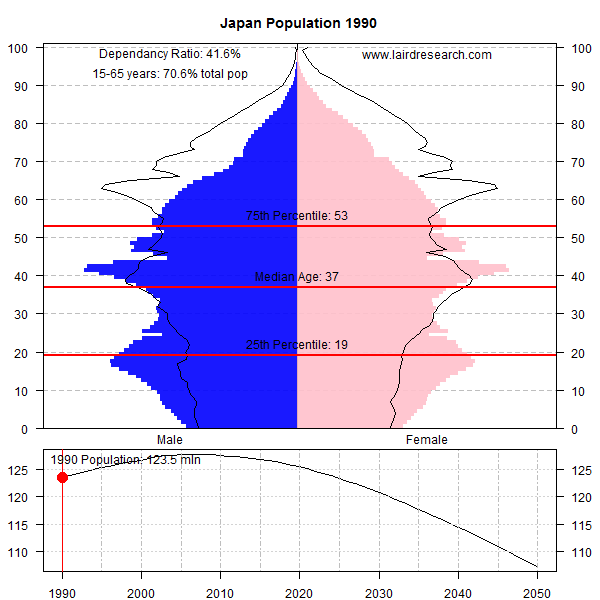 (GIF via Laird Research)
In Europe, Germany...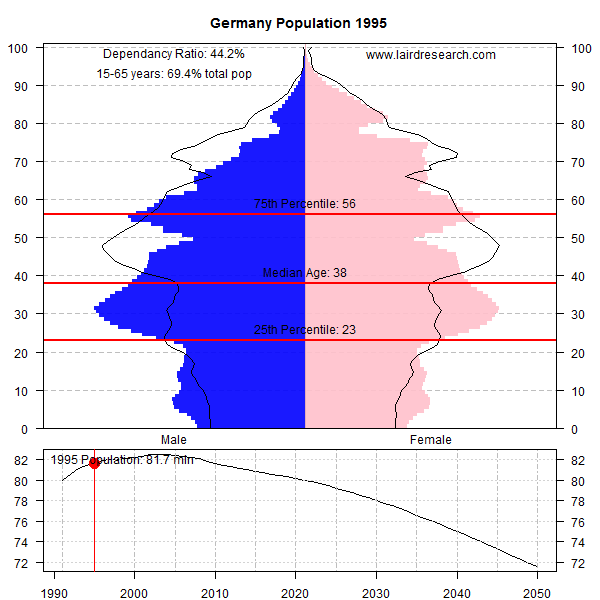 (GIF via Laird Research)
...and France will go down similar roads of demographic aging.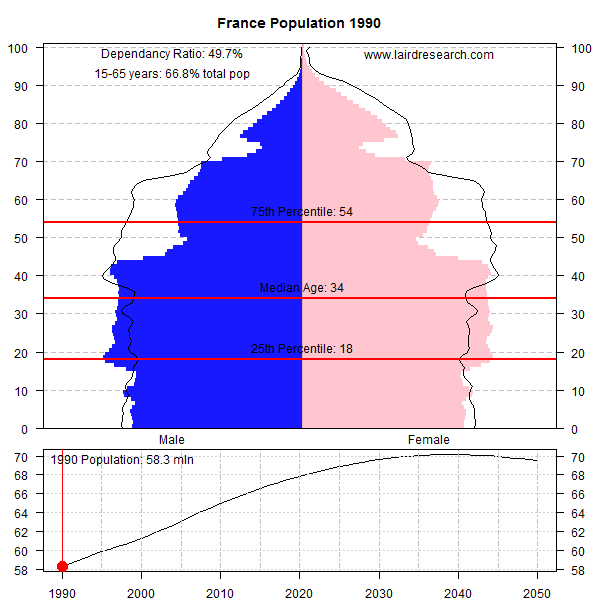 (GIF via Laird Research)
India's 1.2 billion-strong population is projected to stabilize more gradually than East Asian or European nations.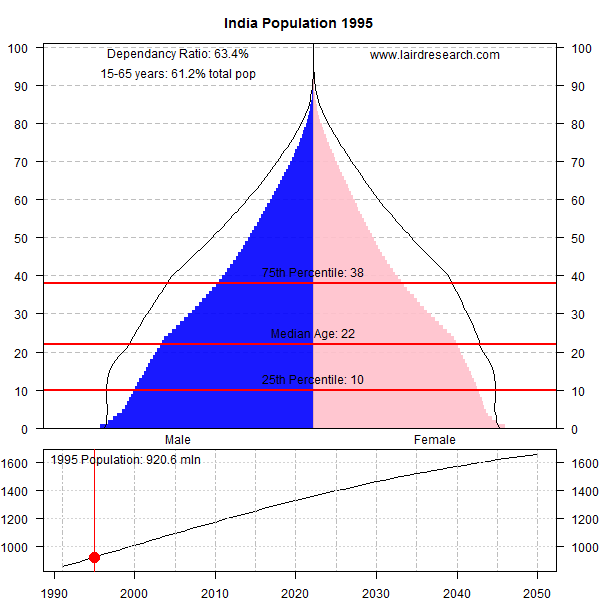 (GIF via Laird Research)
There's only one major world region that's expected to see big population gains between now and 2050: Africa.
Take a look at Nigeria's population pyramid, with its enormous base of young people and children, and it will be easy to see the demographic trajectory.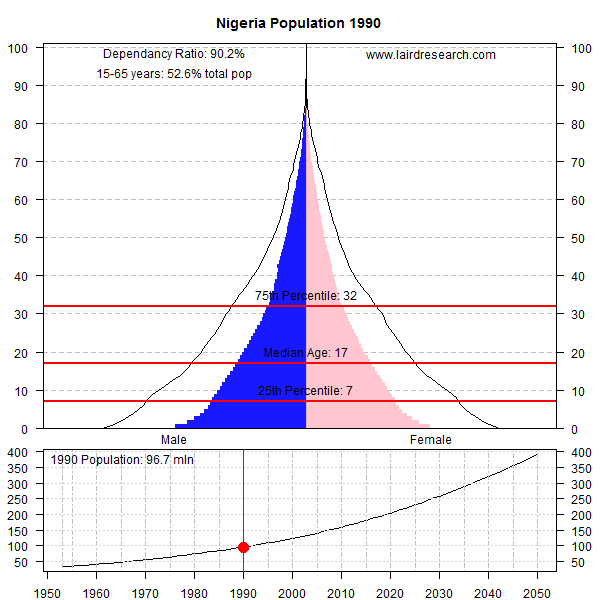 (GIF via Laird Research)
Sub-Saharan African nations have such solid population pyramids — and the rest of the world has such skinnier pyramids — that some demographers estimate that 4 in 10 human beings will be African by the end of the century.
That's amazing growth, considering that in 1950, Africans accounted for less than 1 in 10 people worldwide.
Laird offered a few pieces of advice based on the global demographic situation.
"I think that one consequence of this is that Europe better get used to more African immigration if it wants to keep its social safety net – it needs the tax base and all the young folks are coming from Africa in the future," he wrote. "But more importantly, I'm sure that policy makers have in the back of their heads these graphs as they realize that they'd better start saving today, because tomorrow looks worse."
Want to learn more about population pyramids and demographic change? Take a look at the TED-Ed video below.
—
Follow Zach Noble (@thezachnoble) on Twitter
—
Front page image via Shutterstock