House Speaker John Boehner (R-Ohio) said Wednesday that Republicans would press ahead with their plan to fight President Barack Obama's executive action on immigration, in a bill to fund the Department of Homeland Security that should be considered next week.
Boehner was asked by reporters whether the terrorist attack in Paris, France might change the GOP's plan to use the DHS bill as a way to stop Obama's immigration action. Many believe including that language could hold up the DHS bill and put its funding at risk, funding that is due to expire in late February.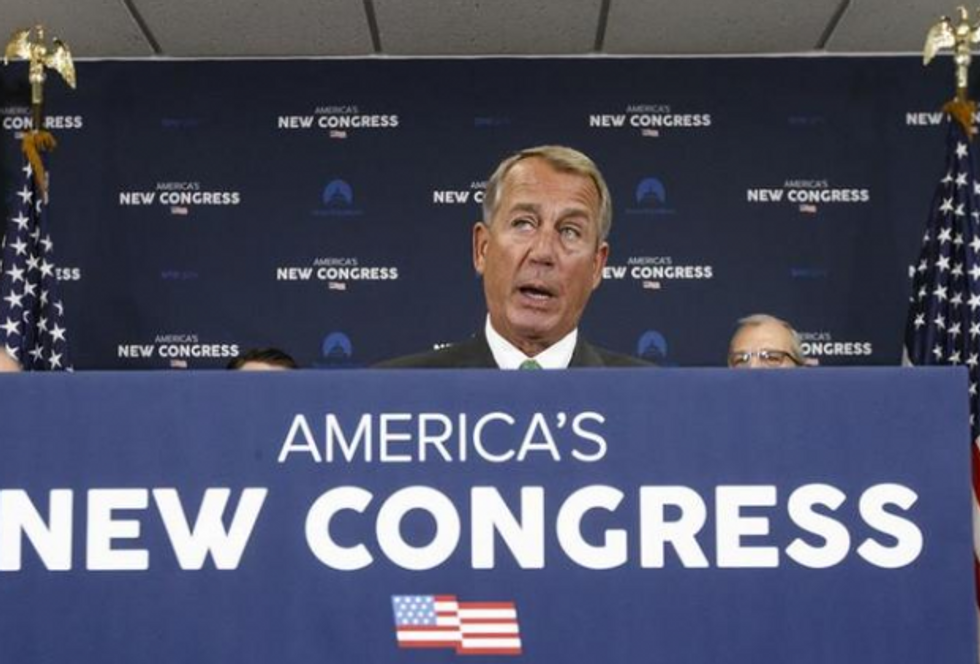 House Speaker John Boehner said Republicans still plan to use a Department of Homeland Security funding bill to attack President Barack Obama's executive action on immigration.
Image: AP Photo/J. Scott Applewhite
But Boehner said Republicans would be able to fight Obama on immigration without putting U.S. security at risk.
"I believe that the president's executive actions with regard to immigration are outside of the constitution and outside of his powers," Boehner said. "And I believe that we can deal with that issue in the Department of Homeland Security bill without jeopardizing the security of our country."
Boehner's comments are likely welcome news to many conservative Republicans who fear that Republicans may not push too hard to stop Obama's executive action, which could give legal protections to up to 5 million illegal immigrants and let them work in the country. GOP leaders refused to deal with this issue late last year, and said it would be better to fight Obama in 2015, when Republicans rule the Senate.
However, it's still unclear exactly how the GOP will propose to stop or defund Obama's action. Conservative Republicans have demanded language that completely strips the administration's ability to spend any money to implement Obama's action, but it's not certain that this firm language will be included.
As of this week, House appropriators were hoping to release a DHS funding bill for the rest of the fiscal year on Friday, and the hope is to pass that legislation next week.
But a spokesperson for the Appropriations Committee said no final decisions have been made on how to address Obama's action in the bill.
Rep. Louie Gohmert (R-Texas), who ran against Boehner for House Speaker in large part because Congress failed to defund Obama's action last year, has argued that Republicans don't have that much leverage against Obama in the context of the DHS bill. Gohmert has said Republicans would be unlikely to hold up a DHS spending bill for long, since most Republicans are strong supports of the tasks DHS performs, such as border security.
That could become an issue for the GOP if Obama warns that he cannot support a DHS spending bill that puts any limits on his immigration action, which could prompt GOP members to decide just how long to fight Obama on immigration.