Seattle police have released dashcam video of several officers being fired upon as they stood near a sidewalk during a routine call on New Year's Eve.
The gunman isn't visible in the video, as shots fired at officers came from behind the patrol car with the dashcam.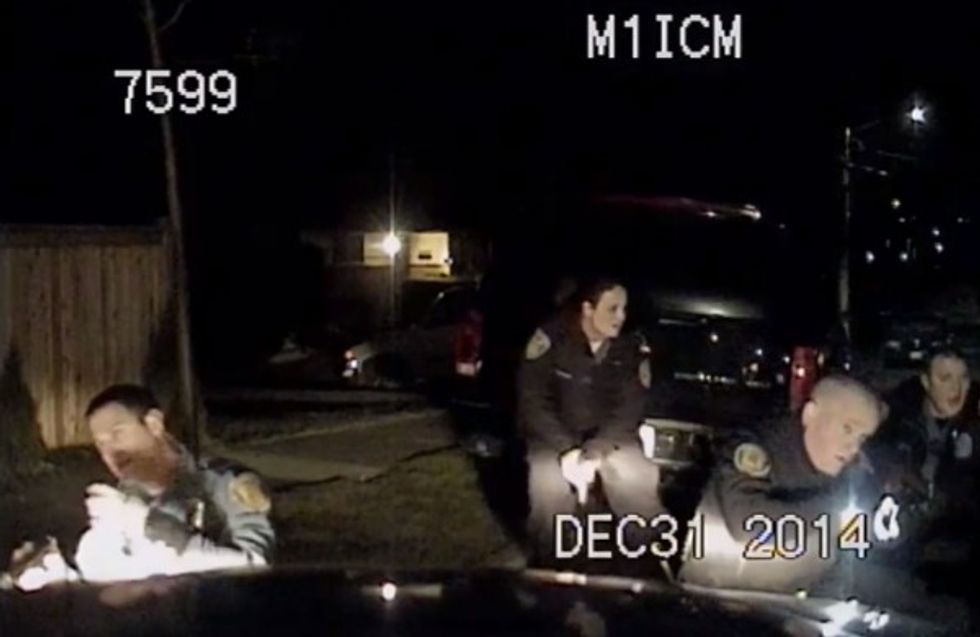 Image source: Seattle Police Department/YouTube
Officers had responded to a domestic dispute just after 10 p.m. and exited the house to complete their report, KOMO-TV reported. They returned to the address to investigate a second complaint around 10:30 p.m. and were speaking to a man outside the residence.
In the clip, the man leans on the hood of the patrol car, just in front of the dashcam, while a woman is heard off camera detailing her complaints.
Suddenly, a car pulls up near police and another car down the block also stops. The driver of the car down the block starts firing at the first car and the officers, KIRO-TV reported. Police spokesman Drew Fowler told the station bullets were fired at and above the officers but there were no injuries.
Content warning: A few unskillfully bleeped swear words. 
In the clip, five shots are fired from a distance and police shield the man leaning against the patrol car; officers then return fire about 10 times, calling out "shots fired! Shots fired!" and yell for people around them to "get on the ground!"
While the driver of the second car fled the scene, those in the first car stayed and cooperated with police, KIRO reported.
The clip showed four officers with their guns drawn; one was in a lighter-colored uniform than the other three.
According to the Seattle Police Department Blotter, three officers are on paid administrative leave, "per standard department policy. The officers include a nine-year veteran with the department, a five-year veteran, and another experienced officer, who was serving his first day on patrol in Seattle after transferring from another police agency out-of-state."