At least one person is dead Friday after a truck carrying fireworks exploded during a 150 car-pile-up along Interstate 94 in Michigan. And video of the incident is incredible.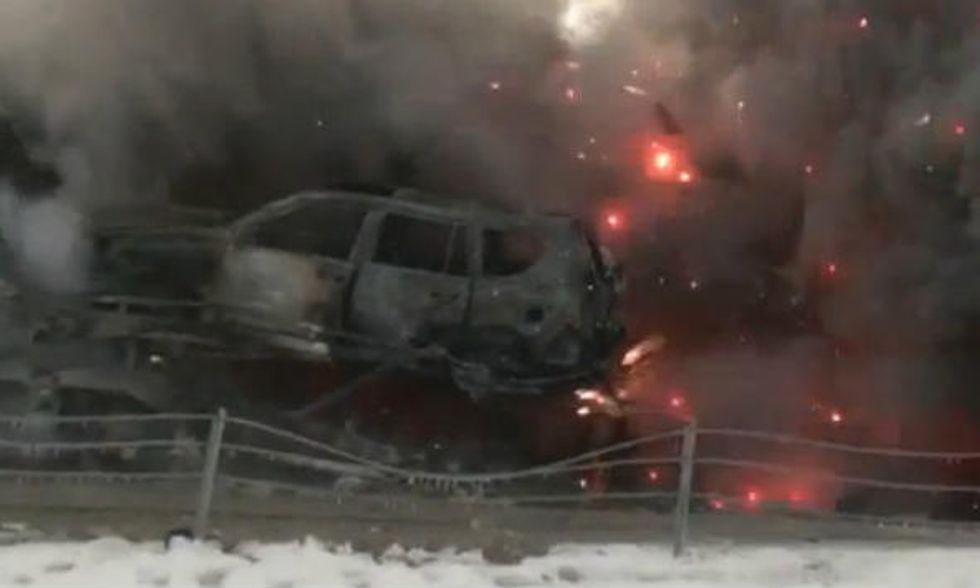 Image source: WXMI-TV
It happened near Galesburg, Michigan, which is located about 60 miles south of Grand Rapids. Lt. Rick Pazder of the Michigan State Police said many vehicles caught fire, including two tractor-trailers carrying fireworks and other hazardous items.
Video of the fireworks going off on the road is wild:
One trucker from Ottawa, Canada, whose identity has not yet been reported, died in the massive pile-up. Pazder said the number of people who were injured is unknown at this time, the Lansing State Journal reported.
Snow, wind and poor visibility is being blamed for the crash. Anyone living within a 1-mile radius of mile marker 90 is being urged to take shelter, although officials believe hazardous materials have been burned, according to WXMI-TV.
#94Crash: Highway is shut down from MM 85-92. Multiple fatalities. Semi truck is on fire. pic.twitter.com/UwsTkuwCgM via @jessicawheeler3

— Roop Raj (@rooprajfox2) January 9, 2015
Image from the fatal pile-up on I-94 near Climax. More - http://t.co/9AvovIZVMZ pic.twitter.com/0jVMj0xUqj

— WWMT-TV (@wwmtnews) January 9, 2015
More photos from the scene pic.twitter.com/l11dI4LKKd

— Alex Mitchell (@Alex_Mitchell67) January 9, 2015
Car skeletons all that's left on hwy. fire fighter trying to out out flames #woodtv pic.twitter.com/Xj5crplnkV

— Dani Carlson (@DaniCarlsonTV8) January 9, 2015
MSP: 150 vehicles involved in pileups on I-94 near Battle creek that killed 1, injured 16: http://t.co/dwKbqn1HO1 pic.twitter.com/EtMkgrQdTw

— WOOD TV (@WOODTV) January 9, 2015
ALERT: WB I-94 is closed at M-37 (Columbia Ave) Exit 92 due to fatal 90 car pile-up @MDOT_Southwest @wwmtnews pic.twitter.com/B7ovlOI8VB

— Kate Tillotson (@KateWWMT) January 9, 2015
Unbelievable image of fireworks truck exploding in I-94 pileup. #WILX has a crew on scene. Photo courtesy of @UTM16 pic.twitter.com/CmQpmXF507

— wilxTV (@wilxTV) January 9, 2015
Editor's note: This post has been updated with additional information.
–
Follow Jon Street (@JonStreet) on Twitter