(TheBlaze/AP) — For a league that already has The Catch and The Drive, this incomplete pass may go down as The Reversal.
The Cowboys' Dez Bryant appeared to make spectacular 31-yard catch on fourth down to give Dallas the ball a yard away from the go-ahead touchdown in the final minutes of Sunday's 26-21 divisional round playoff loss to the Green Bay Packers.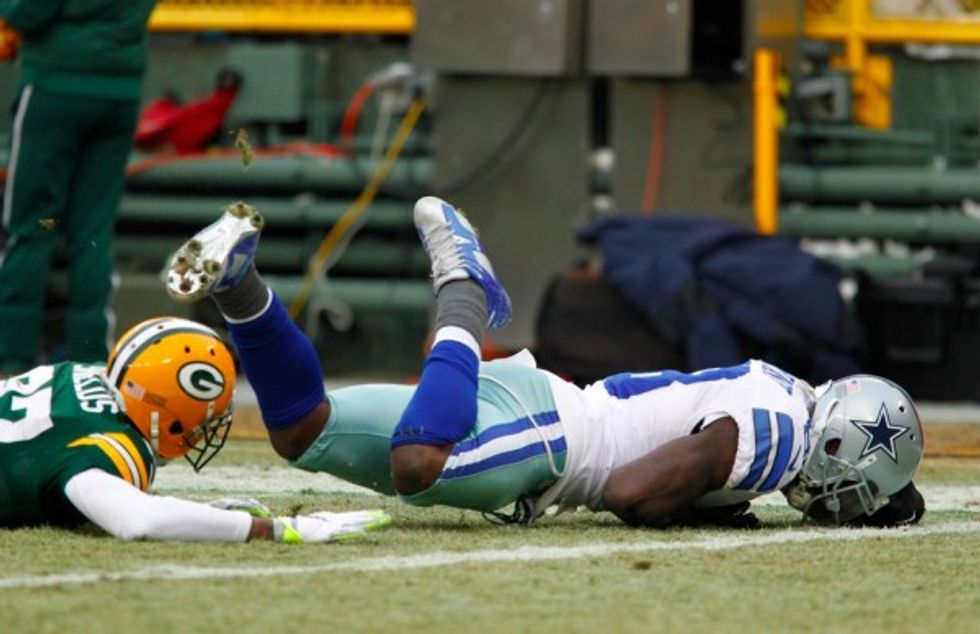 Dallas Cowboys wide receiver Dez Bryant (88) catches a pass against Green Bay Packers cornerback Sam Shields (37) during the second half of an NFL divisional playoff football game Sunday, Jan. 11, 2015, in Green Bay, Wis. The play was reversed. The Packers won 26-21. (Image source: AP/Matt Ludtke)
Replays showed that Bryant bobbled the ball as he rolled into the end zone, with part of it touching the field. After reviewing the play, officials overturned the call, saying Bryant didn't maintain control all the way to the ground.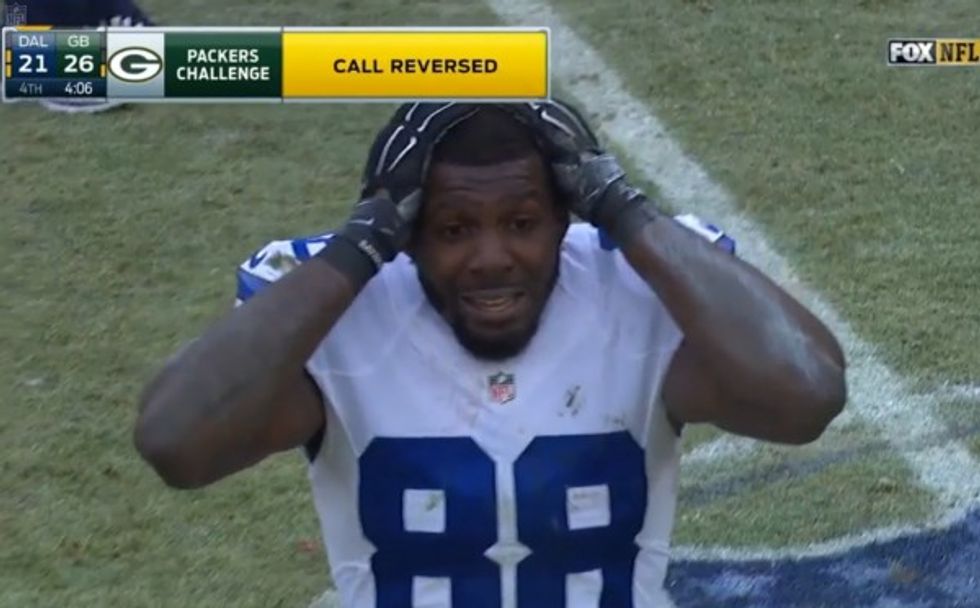 Image source: Fox Sports
The rule states:
"If a player goes to the ground in the act of catching a pass (with or without contact by an opponent), he must maintain control of the ball throughout the process of contacting the ground, whether in the field of play or the end zone. If he loses control of the ball, and the ball touches the ground before he regains control, the pass is incomplete. If he regains control prior to the ball touching the ground, the pass is complete."
Bryant told NFL.com after the game, "I think it was a catch. They took it away."
Athletes, celebrities and others quickly weighed in on the ruling.
Odell Beckham Jr., the receiver for the rival Giants who made his share of dazzling catches as a rookie, tweeted: "I by no means cheer for Dallas but I have no idea what or how thts not called a catch . Thts a joke."
The Detroit Lions also chimed in. Their star receiver, Calvin Johnson, once had a similar catch reversed, and they also were stung last week in the wild-card round against the Cowboys when the officials picked up a flag that would have given them a critical fourth-quarter first down.
They tweeted: "Sorry @dallascowboys. We know the feeling," with a link to the Megatron play and the hashtag "CompletingTheProcess."