House Speaker John Boehner (R-Ohio) went to the White House Tuesday to tell President Barack Obama that the House would vote to defund Obama's executive action on immigration, and wouldn't waver in the face of Obama's threat to veto the bill.
Boehner and other congressional leaders met with Obama and Vice President Joe Biden on Tuesday, in a meeting that covered immigration, cybersecurity and U.S. military action against the Islamic State. The meeting took place just a day before the House was expected to pass a Homeland Security funding bill that defunds Obama's immigration move.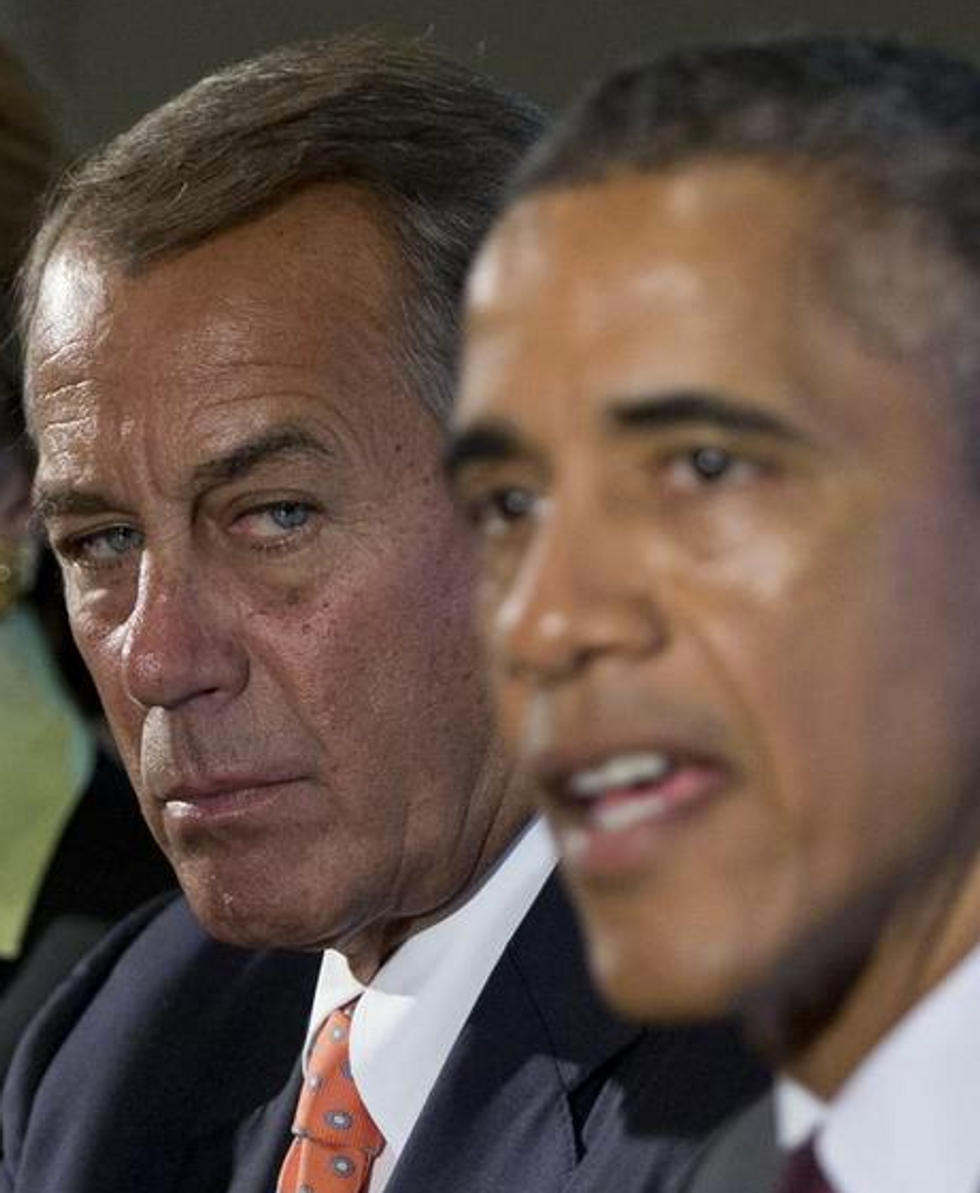 House Speaker John Boehner (R-Ohio) told President Barack Obama that the House would vote to defund his immigration action, despite Obama's veto threat against the legislation.
Image: AP Photo/Carolyn Kaster
"The Speaker made clear that the House would push forward in consideration of the Appropriations Committee's 2015 Department of Homeland Security appropriations bill, which takes a number of steps to bolster border security and law enforcement efforts," Boehner's office said after the meeting ended. "The bill will include amendments to stop the president's unilateral actions on immigration, and the speaker reminded the president that he himself had stated publicly many times in the past that he did not have the power to rewrite immigration law through executive action."
House Republicans have teed up five GOP amendments to the bill, including one from Rep. Bob Aderholt (R-Ala.) that would defund Obama's action to give legal protection to millions of illegal immigrants. Another from Rep. Marsha Blackburn (R-Tenn.) would defund Obama's Deferred Action for Childhood Arrivals policy is also scheduled, as are others aimed at treating sex offenders as priorities for deportation — the Obama administration has not put those immigrants on the highest level of priority for removal.
Boehner's statement is likely to fuel more discussion about whether the GOP's stance on immigration will lead to a partial shutdown of the Department of Homeland Security. The House should easily be able to pass the bill, but there are still enough Democrats in the Senate to stop progress in that chamber.
And even if the Senate can pass it, Obama has said he would veto any DHS bill that impedes on his right to take steps on immigration.
"The administration strongly opposes the addition of any amendments to the legislation
that would place restrictions on the Department's ability to set smart enforcement priorities focused on criminals, national security threats, and recent border crossers, hold undocumented immigrants accountable, and modernize the legal immigration system," the White House said Monday.
Republicans are eager to return to "regular order," normally seen as the Senate tweaking bills passed by the House until the bill can be passed. But Democrats are clearly opposed to the GOP effort to defund Obama's immigration effort, which has raised the question of what would happen if no deal can be reached.
DHS funding expires in late February, so there is no immediate funding problem. But delays in the Senate would likely put more pressure on Republicans to separate its fight on immigration from the funding bill.
As of Tuesday, however, Boehner gave no indication that Republicans would give in.
"We're voting to block the president's overreach, his executive overreach, which I believe is beyond his constitutional duty and frankly, violates the Constitution itself," he told reporters. "This is not about, actually, the issue of immigration. What it is, it's about the president acting lawlessly."
On another key issue, Boehner has said repeatedly that Obama must send Congress a request to use force against the Islamic State. Boehner asked Obama to make that request again, and said it has traditionally been the White House that puts a request in writing and presents it to Congress, something Obama has yet to do.
"The Speaker said that if the President takes these steps, Republicans will work with him to build bipartisan support for its enactment."