President Barack Obama warned congressional Republicans Tuesday against defunding his immigration executive actions, amid a showdown to tie Homeland Security funding to unraveling Obama's unilateral action on immigration.
"The president underscored there are priorities that rise above politics – including keeping Americans safe by promptly and fully funding the Department of Homeland Security without delay so the men and women working there can operate with the confidence they need," a White House readout of Obama's meeting with congressional leaders.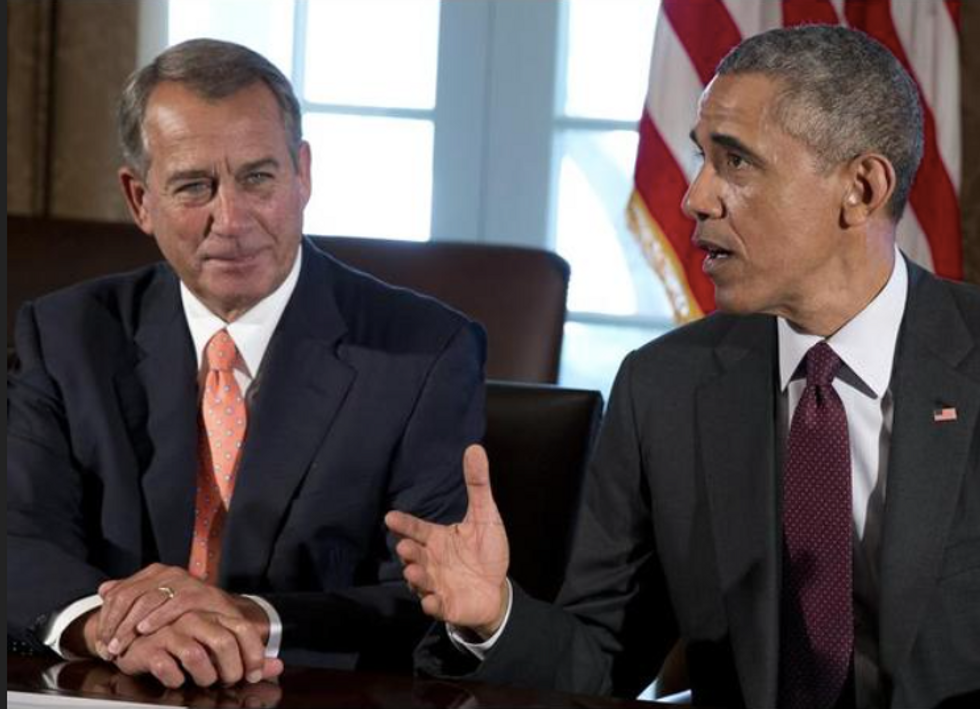 House Speaker John Boehner of Ohio listens at left as President Barack Obama speaks to media as he meets with bipartisan, bicameral leadership of Congress to discuss a wide range of issues, Tuesday, Jan. 13, 2015, in the Cabinet Room of the White House in Washington. (AP Photo/Carolyn Kaster)
House Speaker John Boehner (R-Ohio) reminded Obama about what he previously said on taking executive action on illegal immigration.
"The bill will include amendments to stop the president's unilateral actions on immigration, and the speaker reminded the president that he himself had stated publicly many times in the past that he did not have the power to rewrite immigration law through executive action," said a summary of the meeting issued by Boehner's office.
Boehner was referring to the numerous times that Obama during his presidency has said he could not act on immigration without authorization from Congress. Obama took executive action in November to shield about 5 million illegal immigrants from deportation.
Ahead of Obama's speech on cybersecurity that comes after hacking attacks on Sony and U.S. Central Command, the White House statement said Obama stressed the importantce of "working together to pass legislation to combat the cybersecurity threats we face."
Boehner faulted the formerly Democratic-led Senate for blocking previous cybersecurity bills.
"The leaders also discussed how stopping cyber-attacks is critical to keeping our homeland safe and protecting American jobs," said the readout from the speaker's office. "The speaker said the House has passed a number of measures to help stop cyber-attacks by arming private-sector companies with government intelligence on cyber threats, while protecting the American people's privacy. Unfortunately, some of those measures never went anywhere in the Democratic-controlled Senate. The speaker said Republicans are ready to work with both parties to address this important issue and put some common-sense measures on the president's desk."
Obama also asked the congressional party leaders to pass the Authorization for Use of Military Force against the Islamic State, saying it would show a united voice against the Sunni militant group.
Though Republicans and many Democrats support increasing economic sanctions on Iran, Obama discouraged this, saying it would wreck continuing negotiations for the country to give up its nuclear ambitions.
"The president also underscored the importance of our diplomatic efforts aimed at preventing Iran from obtaining a nuclear weapon, reiterating his strong opposition to additional sanctions legislation that could derail the negotiations and isolate the United States from our international coalition," the White House readout said.
Among the White House meeting attendees were Vice President Joe Biden, Senate Majority Leader Mitch McConnell (R-Ky.), House Minority Leader Nancy Pelosi (D-Calif.), Sen. Dick Durbin (D-Ill.) and Rep. Kevin McCarthy (R-Calif.).