Several House and Senate Democrats will travel to Cuba this weekend in order to discuss ways to enhance the U.S.-Cuba relationship, just hours after the Obama administration formally eased some trade and travel rules.
Sen. Pat Leahy (D-Vt.) is heading the delegation — Leahy was the one who arranged for sperm from a Cuban spy that the U.S. was holding to be exported to Panama to impregnate the spy's wife. That spy was later released in a controversial deal that allowed the return of one U.S. intelligence agent from Cuba, plus Alan Gross, who was held for five years in Cuba.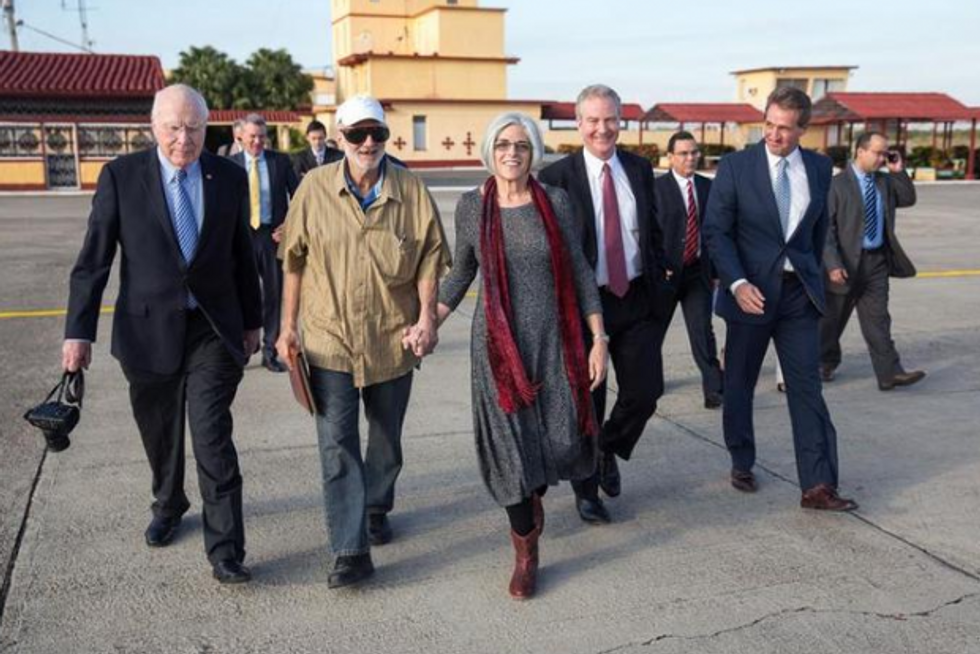 Sen. Patrick Leahy (D-Vt.), left, is seen here with Alan Gross and other members of Congress as Gross returned home from 5 years in prison in Cuba. Leahy will return to Cuba this weekend to explore ways to boost U.S.-Cuba cooperation.
Image: Handout/Getty Images
Sens. Dick Durbin (D-Ill.), Debbie Stabenow (D-Mich.) and Sheldon Whitehouse (D-R.I.) will also be on the trip, as will Reps. Chris Van Hollen (D-Md.) and Peter Welch (D-Vt.).
"We want to explore opportunities for greater cooperation," Leahy said Friday.
"We have all been to Cuba before, and we strongly support the President's new direction for our policy toward Cuba," Leahy said. "We are going this time to discuss our expectations, and the Cubans' expectations, for the normalization of relations."
Leahy's office added that the delegation will try to "seek clarity" on what Cuba things normalization could look like, and to stress the need for Cuban leaders to develop "concrete results and positive momentum."
The Obama administration's effort to reach out to Cuba is once again leading some to believe a full restoration of diplomatic and economic relations is possible. But these efforts have fizzled before, as Cuba has refused to take any steps to respect political dissidents on the island, undergo democratic reforms, or agree to compensate U.S. property holders for the confiscation of more than $1 billion worth of U.S. property more than 50 years ago.
Supporters of the embargo against Cuba have said economic restrictions should remain until Cuba agrees to these sorts of reforms, and have criticized the Obama deal for giving too much away without any real concessions from Cuba.
To date, Cuba appears to have made just two concessions, including the spy swap that many criticized because it seemed to trade Cuban spies for Gross, a U.S. humanitarian worker that Cuba arrested. Critics said that swap will encourage hostile countries around the world to hold U.S. aid workers hostage to win the return of their intelligence assets.
The other concession was Cuba's release of 53 political prisoners. But even here, critics have predicted that Cuba could easily decide to re-arrest those prisoners.
According to one report from an independent reporter in Cuba, two of those dissidents were re-arrested this week. That reporter said Rolando Reyes Rabanal and Luis Enrique Labrador were re-arrested — they were the 48th and 24th prisoners on the list that the Obama administration released to Congress earlier this week.
While Obama has played up his policy shift as a major attempt to restore bilateral relations, it mostly keeps the travel rules in place and only slightly expands the ability to trade goods.
To do much more, Obama will need help from Congress that he is unlikley to get. GOP leaders seem unlikely to lift the embargo as he as asked, and many key Democrats, such as Sen. Bob Menendez (D-N.J.), also oppose Obama's efforts.