For Tuesday's State of the Union address, President Barack Obama will make proposals such as a tax hike for the wealthy, free community college and other ideas that will have little chance of passing a Republican-led Congress. But the president didn't even have a very good record from last year's speech, when at least the Senate was held by the Democrats.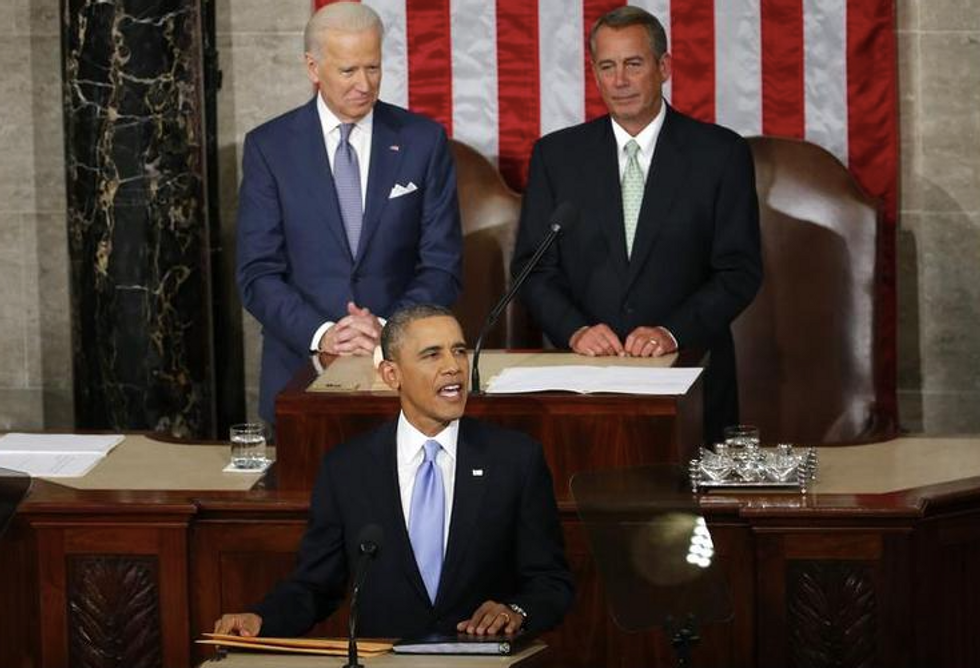 In this Jan. 28, 2014 file photo, President Barack Obama takes the podium to give his State of the Union address on Capitol Hill in Washington. (AP Photo/Charles Dharapak)
Of more than 20 proposals President Obama asked Congress to pass during his 2014 State of the Union address, the House and Senate approved two. But Obama, not surprisingly, made good on his pledge to take sweeping executive action on several fronts. During last year's speech, Obama asked Congress to pass a bill on manufacturing hubs and to fund a federal jobs training program. Congress passed both fairly noncontroversial measures, but Obama's other goals were less than successful.
Here are the 10 biggest failures from the 2014 address that was themed, "Year of Action."
1. Mixed on Minimum Wage
The minimum wage was a key part of the the 2014 speech. Obama was true to his promise in issuing an executive order requiring federal contractors to pay workers $10.10 per hour, but said that would't be enough.
"Of course, to reach millions more, Congress needs to get on board," Obama said. Congress did not raise the minimum wage, and the Congressional Budget Office warned it would cost jobs.
2. Equal Pay
Among the more memorable lines from the 2014 State of the Union was, "It's time to do away with workplace policies that belong in a 'Mad Men' episode."
That was followed by: "This year, let's all come together – Congress, the White House, and businesses from Wall Street to Main Street – to give every woman the opportunity she deserves. Because I firmly believe when women succeed, America succeeds."
But the White House-backed Paycheck Fairness Act, which made it easier for women to sue their employer for alleged gender discrimination, failed even to pass a Democrat-controlled Senate.
3. Immigration
Obama told Congress: "If we are serious about economic growth, it is time to heed the call of business leaders, labor leaders, faith leaders, and law enforcement – and fix our broken immigration system.… So let's get immigration reform done this year."
Congress did not act on a bill providing a "pathway to citizenship" for 11 million illegals, so after the midterm elections, Obama took executive actions to shield 5 million illegals from deportation.
The immigration actions were not among the laundry list of executive actions he promised in the 2014 address.
4. Obama Asked Congress for Tax Reform Last Year
Obama is pitching a tax reform package in his State of the Union Tuesday, asking Congress to do away with certain tax loopholes and raise taxes on the wealthy. Last year, he also called for Congress to make a more modest move.
"Both Democrats and Republicans have argued that our tax code is riddled with wasteful, complicated loopholes that punish businesses investing here, and reward companies that keep profits abroad. Let's flip that equation," he said. "Let's work together to close those loopholes, end those incentives to ship jobs overseas, and lower tax rates for businesses that create jobs here at home."
He went on to say, "Let's continue that progress with a smarter tax policy that stops giving $4 billion a year to fossil fuel industries that don't need it, so that we can invest more in fuels of the future that do."
Obama's Treasury Department took actions against companies that were incorporating abroad to avoid the high U.S. corporate tax rate. But Congress didn't pass any law on tax reform.
5. Another Call for Universal Pre-K
"Research shows that one of the best investments we can make in a child's life is high-quality early education," Obama said in 2014. "Last year, I asked this Congress to help states make high-quality pre-K available to every four year-old. As a parent as well as a president, I repeat that request tonight."
No congressional action on universal pre-school, but the administration did take executive action to promote more state spending on pre-K.
6. EITC for Single People
Obama asked Congress to expand the Earned Income Tax Credit, created for poor families, to single individuals as well.
"Right now, it helps about half of all parents at some point. But I agree with Republicans like Senator Rubio that it doesn't do enough for single workers who don't have kids," Obama said. "So let's work together to strengthen the credit, reward work, and help more Americans get ahead."
Congress didn't take action, and the credit remains only for families.
7. Retirement Savings
Obama told Congress to "Offer every American access to an automatic IRA on the job, so they can save at work just like everyone in this chamber can." Congress didn't.
But the Treasury Department did establish the MyRA program to help people without a 401k plan start retirement savings through new savings bond that Obama said last year, "guarantees a decent return with no risk of losing what you put in."
8. Gun Regulations
Obama told Congress last year, "I intend to keep trying, with or without Congress, to help stop more tragedies from visiting innocent Americans in our movie theaters, shopping malls, or schools like Sandy Hook."
Congress stayed away from the gun issue. But Obama issued some executive actions.
He directed the Department of Justice to clarify rules on who is prohibited from buying a gun under existing federal law.
Meanwhile, the Department of Health and Human Services required states to submit more information on individuals through the National Instant Criminal Background Check System, which was previously withheld under the Health Insurance Portability and Accountability Act, or HIPPA, which protects medical privacy.
In October Obama issued an executive order making it more difficult to fire employees of the Bureau of Alcohol, Tobacco, Firearms and Explosives, by allowing more ATF employees to be converted to career-employees classifications and eligible for civil service protections.
9. Voting Rights
Obama said the Supreme Court undermined the Voting Rights Act, but called on Congress pass proposals of his bipartisan commission. "I appointed last year has offered reforms so that no one has to wait more than a half hour to vote. Let's support these efforts."
But no congressional authorization came for his commission's plan.
10. Surveillance Reform
"That's why, working with this Congress, I will reform our surveillance programs – because the vital work of our intelligence community depends on public confidence, here and abroad, that the privacy of ordinary people is not being violated," Obama said.
The White House released a detailed plan on surveillance reform, but Congress did not pass new laws.
Obama yet again called on Congress to close the Guantanamo prison for terror suspects, and for more infrastructure funding, requests he has made since becoming president. He also asked Congress for more research and development funding, to expand unemployment insurance, for housing incentives, for trade agreements, for funding for alternative energy fueling stations, and for patent reform. None of these proposals went anywhere in Congress.
However, he did keep his promise to take other executive actions to raise fuel efficiency standards, impose new requirements on power plants, capped student loan repayments, and expanded broadband for schools and rural areas.