Astronomers happened upon "fast radio burst" phenomena in 2007 while reviewing data from the Parkes Radio Telescope. There was only one problem: they were only able to see the newly discovered occurrences long after they had occurred.
The mystery led scientists to begin looking for ways by which to watch the spectacle in real time. And now, astronomers in Australia have done just that.
Scientists say they've witnessed six such occurrences using the Parkes Radio Telescope and a seventh using the Arecibo telescope in Puerto Rico. They estimated that the source of the bursts is located more than 5.5 billion lightyears from Earth and given the approximate location of the bursts, they were able to watch as they actually happened.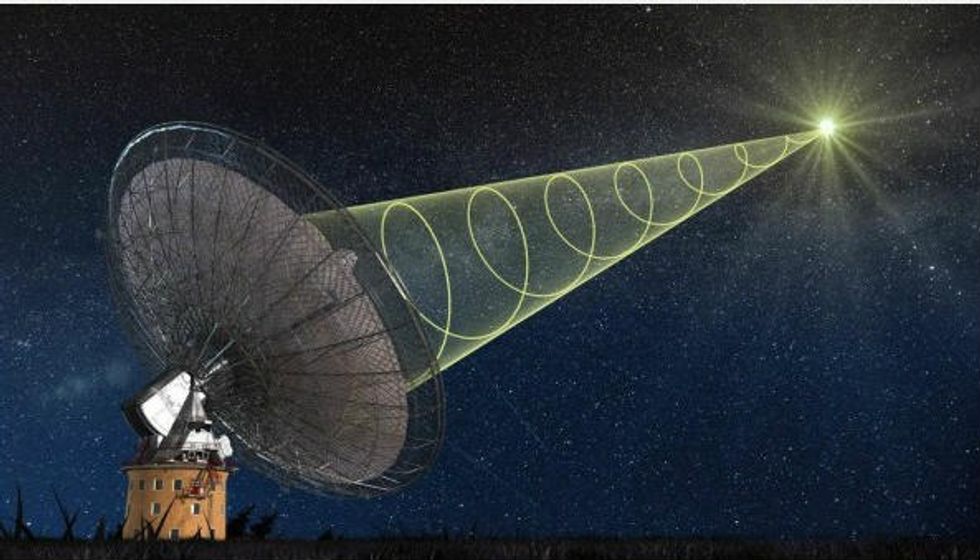 An illustration shows the Parkes Radio Telescope receiving a signal from the "fast radio burst." (Image source: Swinburne Astronomy Productions via EurekAlert.org)
According to  University of Copenhagan astrophysicist Daniele Malesani, it could have produced as much energy in just a few milliseconds as the sun produces in an entire day. But because the light was not visible in other wavelengths led Malesani to doubt that its source was anything usually associated with these types of events, such as gamma-ray bursts.
"The theories are now that the radio wave burst might be linked to a very compact type of object - such as neutron stars or black holes and the bursts could be connected to collisions or 'star quakes,'" Malesani asserted.
While astronomers still haven't discovered the exact source of the rare sightings but the fact they even know the phenomena exist in the first place is perhaps a telling sign that there's more they'll soon discover.
(H/T: EurekAlert)
–
Follow Jon Street (@JonStreet) on Twitter