James Cvengros lived with the horrific memory for nearly a year — and then a few days ago in an Idaho courtroom he watched it unfold all over again...on video...for the very first time.
Cvengros, 29, had started to document the alarming behavior of his 54-year-old neighbor Twain Thomas — in case something goes wrong, he figured, visual evidence might help him out.
After all, one time Thomas reportedly kicked in Cvengros' door over loud music. What could be next?
One day last February, Cvengros found out. Things were much worse in their Pocatello apartment building — windows breaking, other neighbors screaming — so he hit "record" and pointed his camera at his front door.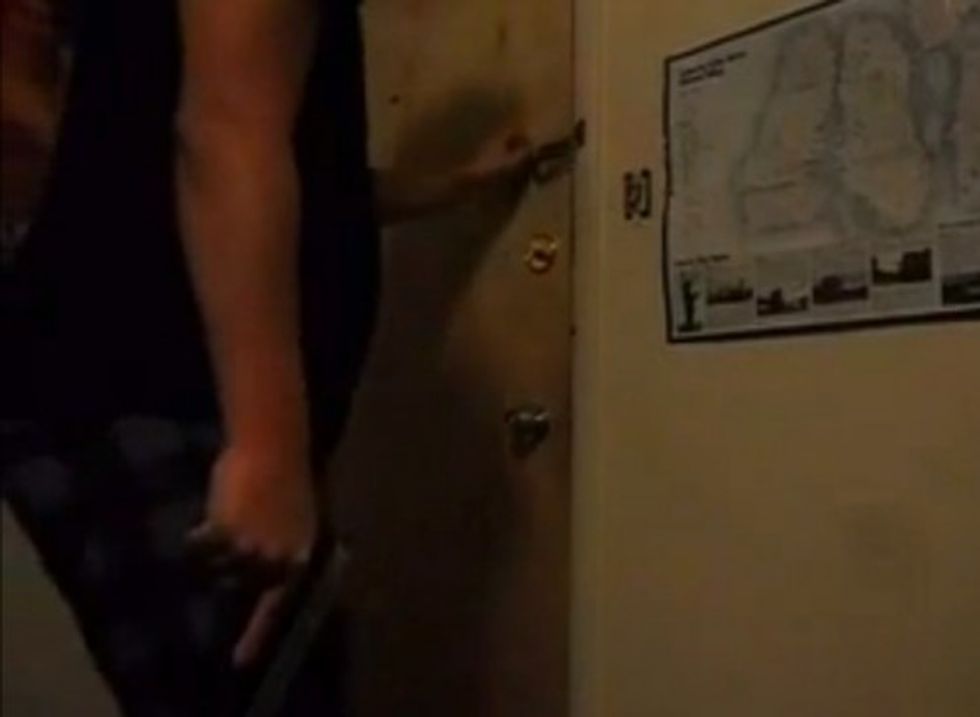 Cvengros checking his door while armed. (Image source: YouTube)
Suddenly Thomas starting beating on Cvengros' apartment door, and Cvengros can be heard on the video telling Thomas he's armed.
Undeterred Thomas kicked a hole right through the door.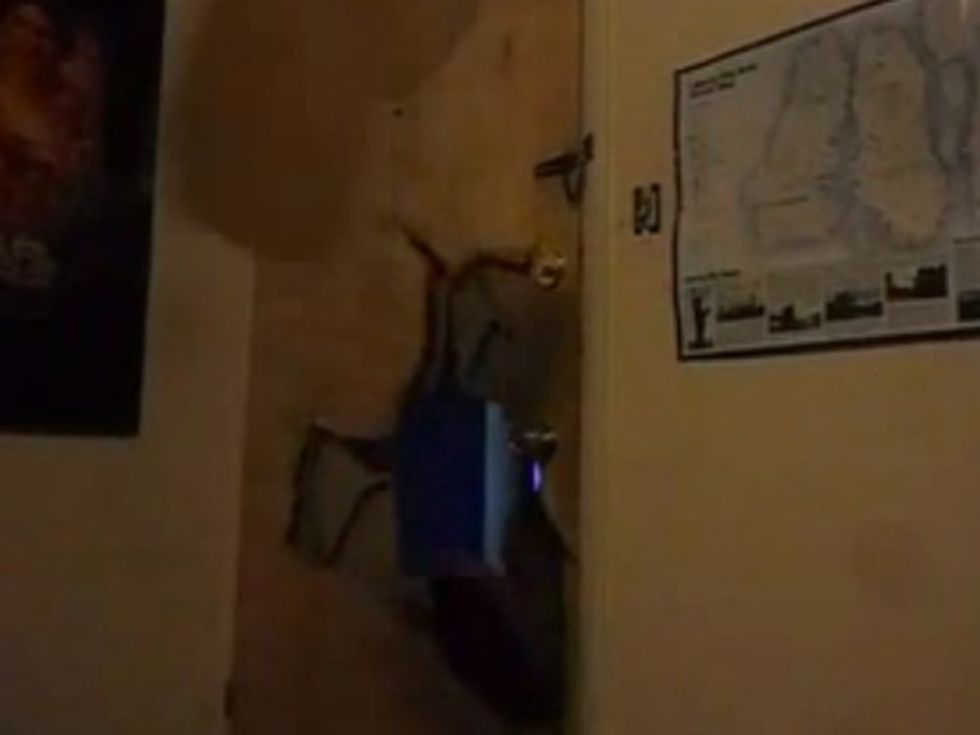 Image source: YouTube
Then he bashed down the rest of it with his hands and strolled on through holding a machete and threatening Cvengros and his girlfriend.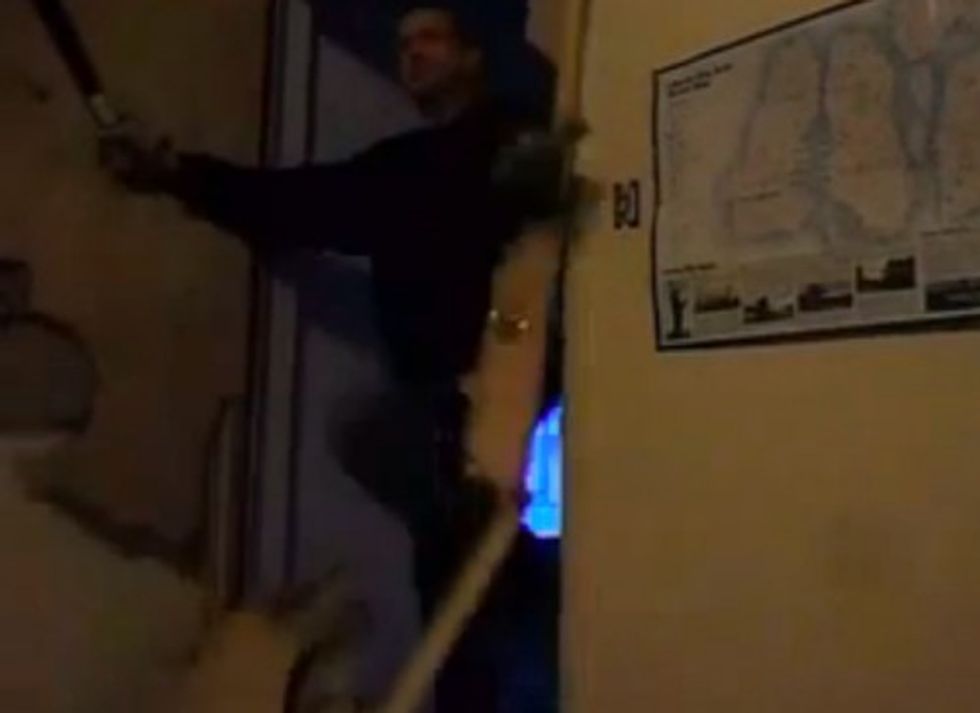 Image source: YouTube
"I just remember the look in his eye," Cvengros told the Idaho State Journal. "It was like 'The Shining.'"
The video — which Cvengros immediately turned over to police without having watched it — includes the sound of three shots fired at Thomas. He was hit by all three. Cvengros told the State Journal that Thomas went down only after the third shot; he's heard moaning through the rest of the clip, which goes black shortly after the shots and then includes audio only.
"Seeing the video kind of brought it all back," Cvengros told the paper. "But there's not a doubt in my mind that I did the right thing."
While Cvengros waited for police to arrive, the State Journal reported that Thomas admitted he had intended to kill the couple.
Thomas pleaded guilty to attempted murder and aggravated assault and was handed a combined prison sentence of 10 years fixed and 10 years indeterminate for both charges, the State Journal reported.
Here's the video. (Content warning: The clip may be disturbing to watch for some readers):
During the trial, defense attorney Dave Martinez said Thomas' neuro-psychologist found he suffered from PTSD and frontal-lobe damage to his brain after a car accident.
"His fight-or-flight is constantly on overdrive," the psychologist said, KDIK-TV reported.
Martinez said Thomas wasn't aware of what he was doing and came to after being shot.
"I have never had anything like this happen before in my life," Thomas told the court, KDIK noted.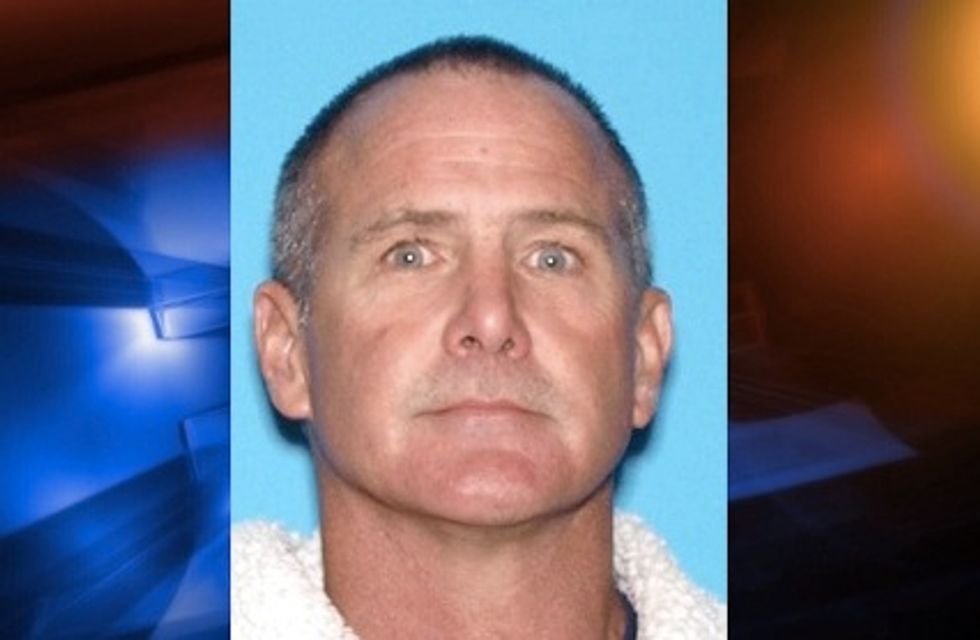 Twain Thomas (Image source: KDIK-TV)
After the first time Thomas kicked-in his door, Cvengros started doing research on handguns. "I decided that it was my responsibility to protect myself and my girlfriend," he told the State Journal.
"I chose a 9mm because it's popular with police and the military," Cvengros told the paper. "And I wanted something that wouldn't be so big I couldn't handle the recoil."
Since the February shooting, Cvengros bought two more handguns, and his girlfriend upgraded her .22 pistol to a higher caliber, the State Journal reported. Cvengros also said he wants to get a concealed weapons permit.
[sharequote align="center"]"Before this, my mom was absolutely anti-gun. Not anymore."[/sharequote]
"Before this, my mom was absolutely anti-gun," he told the paper. "Not anymore."
Far from cold or numb, Cvengros sounded on the video quite upset over the shooting — and the issue is an important one to him.
"As good Christian people, we know it's wrong to kill," Cvengros told the paper. "But we all have the right to defend ourselves."
Bannock County Prosecutor Steve Herzog agreed.
"You have the right to defend yourself and your home, and you can use deadly force," Herzog said. "The fact that (Cvengros) had the forethought to record the event and the way it all unfolded, I couldn't imagine a better outcome."