Israeli soldiers sealed the entrance to a building in Hebron Monday following reports that Palestinians had used the site to throw Molotov cocktails at the homes of Jews, but a media circus playing out during the sealing caught the eye of some pro-Israel media who have offered it as an example of photo staging aimed at gaining sympathy for the Palestinian cause.
While a military crew welded the door shut, dozens of Palestinians, press photographers and pro-Palestinian Western activists videotaped them, capturing images of the soldiers working, Palestinians arguing with the soldiers, and then the key shot – an elderly woman crying.
But despite initial appearances, an Israeli man captured video of the moment a photographer and a Palestinian woman seemed to prompt her mother to cry for the cameras.
While the elder woman cries, the younger Palestinian woman stands to the side and appears to laugh at the display.
Ofer Ohana, the Israeli photographer, gave this running commentary: "Did you see? He [a photographer] tells her to cry for the picture. I can't believe this!"
"'Ivky, Ivky' [cry in Arabic]. And even her daughter is laughing and she's telling her to cry," he says.
"Look at what a strong scene! Her daughter is laughing and is telling her to cry!" the man exclaims.
It apparently worked: The organization Christian Peacemaker Teams-Palestine, whose Facebook page is filled with accusations of Israeli "apartheid" and "ethnic cleansing," presented the photos of the woman in tears, cropping out her smiling daughter on the side. It posted several close-up shots, including this one: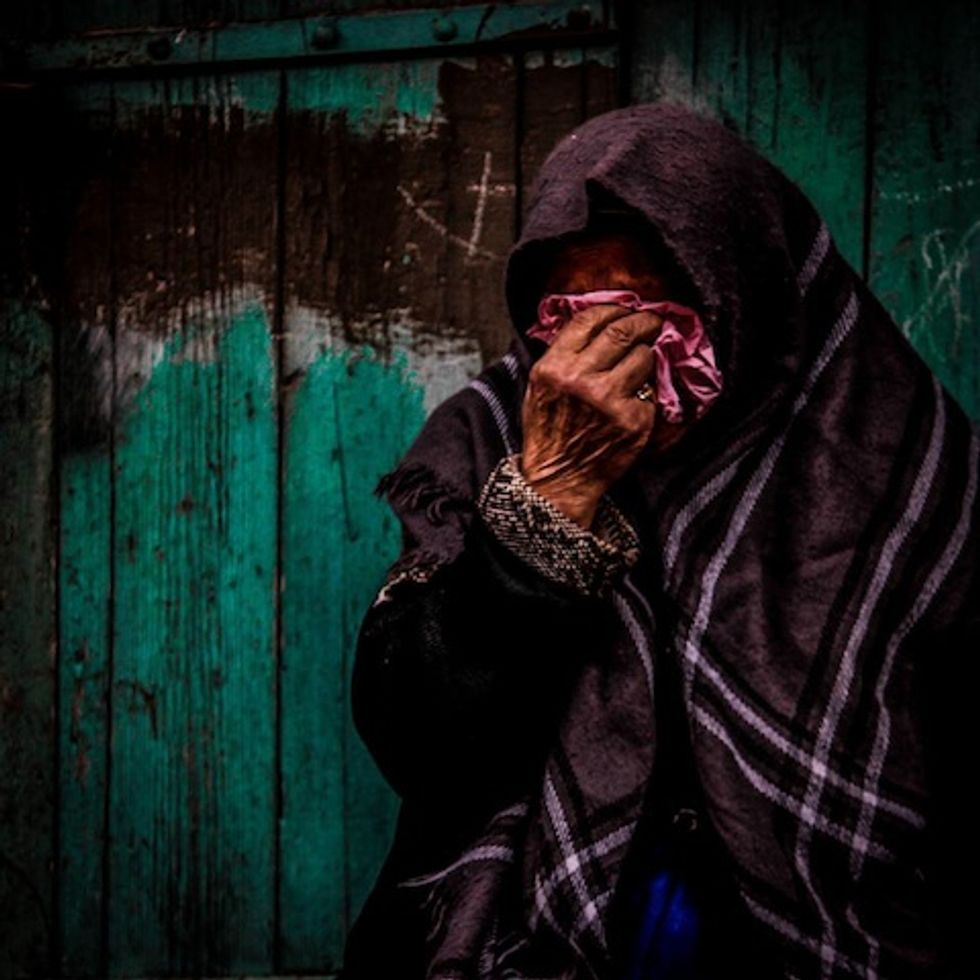 A close-up shot of the crying woman was posted on Facebook by Christian Peacemaker Teams-Palestine.
Christian Peacemaker Teams-Palestine identified the woman as Aamal Hashem Dundes and wrote, "Aamal sat on a chair, at times crying, as she, her daughter, Palestinian residents, activists and journalists, and internationals from CPT and ISM questioned the soldiers who were carrying out the illegal act."
TheBlaze is unable to independently authenticate the report, but the independent Palestinian news agency Ma'an reported that the daughter's name is Aamal, while the mother is Zuheira Oweida Dandis, 80.
CPT said that the elder Palestinian woman suffers from high blood pressure and diabetes and "after fainting was taken to the hospital in an ambulance."
Israel National News, a right-wing media outlet, said of the incident: "The staging of scenes for the purpose of delegitimizing Israel is such a common tactic in the Palestinian Authority, that the industry has come to be known as "Pallywood." The Algemeiner, which covers Israel and Jewish news, called the scene "fauxtography."
Pro-Israel observers offered their comments on Twitter, using the hashtag #Pallywood:
Lights! Camera! Action!! It's #Pallywood! http://t.co/AFj73CUtGc The old lady gets the #Oscar !

— Haya Eytan (@TeachESL) January 20, 2015
"Cry for the Camera" Another shameless #Pallywood production for foreign journalists to "report". VIDEO https://t.co/Ff0pWAbub3 @StandWithUs

— Dan Hamburger (@DanielHamburger) January 20, 2015
Shameless Palestinian propaganda. We all know it happens but it's so blatant it's ridiculous! #Pallywood http://t.co/9gKN6VYCap

— I Support Israel (@isupportisrael_) January 20, 2015