The number of planets in Earth's solar may change again – only this time Pluto will remain an actual planet.
A series of space rocks known as the "extreme trans-Neptunion objects" could actually be two more Earth-sized planets, according to a new scientific report published in by Monthly Notices of the Royal Astronomical Society Letters.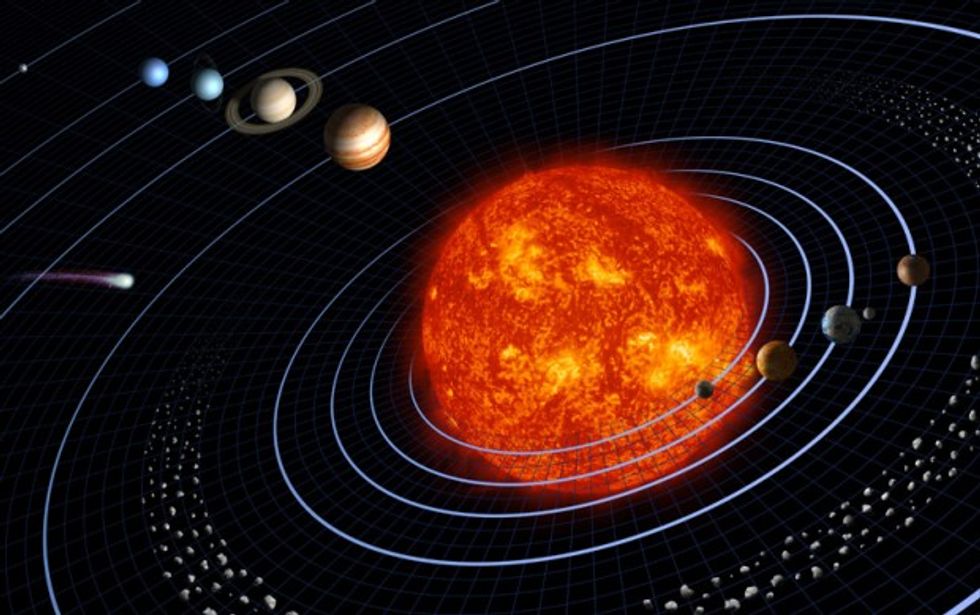 Earth's solar system (Image source: University of Maine)
Astronomy researchers said they noticed the objects' orbits don't appear to be moving as they would have expected. The cause, they theorize, could be two more planets blocking their orbit, the Independent reported.
"This excess of objects with unexpected orbital parameters makes us believe that some invisible forces are altering the distribution of the orbital elements of the Etno, and we consider that the most probable explanation is that other unknown planets exist beyond Neptune and Pluto," Complutense University of Madrid professor Carlos de la Fuente Marcos said.
What is more, Marcos speculated that the potentially newly discovered planets could actually be larger than Earth and, in fact, there might even be more than two more planets in the known solar system.
"In this scenario, a population of stable asteroids may be shepherded by a distant, undiscovered planet larger than the Earth," Marcos said. "The exact number is uncertain, given that the data that we have is limited, but our calculations suggest that there are at least two planets, and probably more, within the confines of our solar system," he added.
Based on one of the team's models used to predict just far the possible two planets could be, they estimated one to be nearly 200 astronomical units (about 93 million miles) from the star HL Tauri and the other at about 250 astronomical units from the same star. HL Tauri is about 450 lightyears from Earth.
Scientists' hesitation to declare the existence of two additional planets is based on the scientific rule that states no other planets exist beyond Neptune, or about 2.9 billion miles from Earth, according to space.com.
The theory is anything but confirmed and more results from a larger study are expected to be published within months. However, if the theory is correct, Marcos notes, the findings could be "truly revolutionary." 
(H/T: The Independent)
–
Follow Jon Street (@JonStreet) on Twitter