The Justice Department is moving to clear former Ferguson police officer Darren Wilson of civil rights charges, law enforcement officials said, according to the New York Times.
The federal agency has started work on a legal memo recommending that no civil rights charges be filed against him.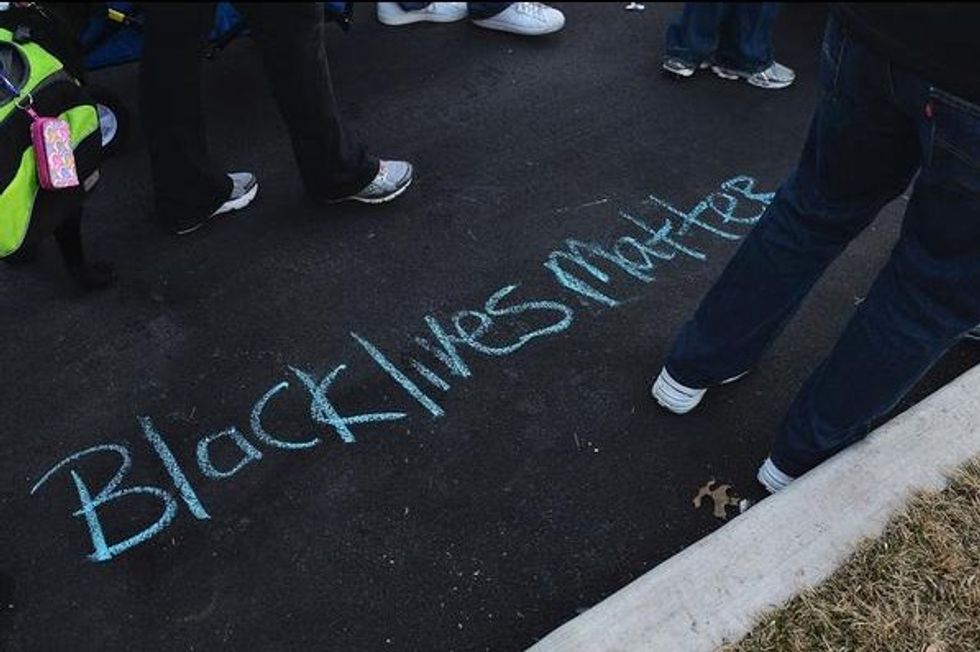 'Black Lives Matter' is drawn on the ground in chalk as protesters demonstrate against racism in the 'Reclaim MLK' march January 19, 2015 in outside the Ferguson Police Department in Ferguson, Missouri. (MICHAEL B. THOMAS/AFP/Getty Images)
The move would follow a grand jury's November decision not to indict Wilson in the August shooting death of Michael Brown. That decision ignited riots in the Missouri suburb that led the governor to deploy the National Guard to restore order.
According to the Times, the Justice Department plans to release a report explaining how they came to their decision.
Michael Brown family attorney releases statement about status of Justice Dept. investigation into Ofc. Wilson - @KMOV pic.twitter.com/7JgU1aednT

— TheBlazeNOW (@TheBlazeNOW) January 21, 2015
Federal investigators conducted a thorough review of the evidence, interviewing more than 200 individuals and analyzing cellphone video and audio, the Times reported.
This story has been updated with more information.
—
Follow Oliver Darcy (@oliverdarcy) on Twitter