Paris Mayor Anne Hidalgo said Monday that the city will be suing Fox News over commentator Steve Emerson's discussion of "no-go zones" in the city. Emerson appeared on Glenn Beck's radio program Wednesday to discuss why he spoke about "no-go zones," and said some have reacted to his comments as though he was "guilty of murder."
"Governments don't recognize that term," Emerson began. "It's an informal reference in which policemen or firemen or government agencies won't go in to areas where there are dense Muslim concentrations for fear of their lives. And it's been reported on since 2002 in of all places, the New York Times."
Though Hidalgo said Emerson's comments "insulted" the image of Paris, Beck and his co-hosts said Emerson's description was how they understood the term. They never thought it was an "official edict."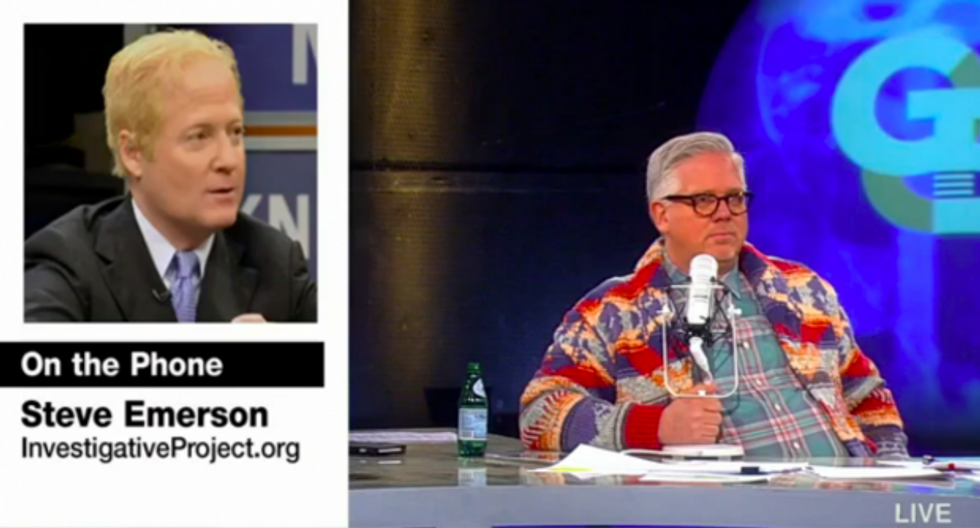 Steve Emerson appears on Glenn Beck's radio program Jan. 21, 2015. (Photo: TheBlaze TV)
But Emerson was quick to note that he did make a false statement when he referred to Birmingham, England as "totally Muslim where non-Muslims just simply don't go."
"I made a total error," he said. "I was totally wrong. Within hours of making that statement, I issued a declarative, unmitigated, unreserved, unambiguous apology."
When Beck asked how Emerson's statements on Fox News became an international controversy, Emerson said he believes a "hatred of Fox" and a hatred of his work in exposing radical Islam "combined to spiral out of control to the point where it seems like I was guilty of murder."
"The irony of course is that the mayor of Paris -- Paris being symbolically now the top city in the world ... of free speech, having seen the massacre of people trying to exercise free speech -- is now going to sue Fox for emphasizing free speech?" Emerson said.
Emerson apologized for his comments about Birmingham, but took offense to being called a "complete idiot" by U.K. Prime Minister David Cameron.
"Mr. Cameron himself said ISIS and ISIL, all these groups have nothing to do with Islam and they're just monsters," Emerson said. "That statement is more idiotic than any statement I've ever made."
More from the interview, below.
[mlbvideo content_id=37156107]
The full episode of The Glenn Beck Program, along with many other live-streaming shows and thousands of hours of on-demand content, is available on just about any digital device. Click here to watch every Glenn Beck episode from the past 30 days for just $1!