After movement already from 10 states in the early weeks of legislative sessions this year, one conservative group believes an Article 5 convention to amend the Constitution can be achieved by the end 2015.
Resolutions have been introduced in Arizona, Massachusetts, Missouri, Montana, New Hampshire, New Jersey, North Dakota, South Carolina, Virginia and Wyoming to support fiscal restraint and limit the scope of federal power.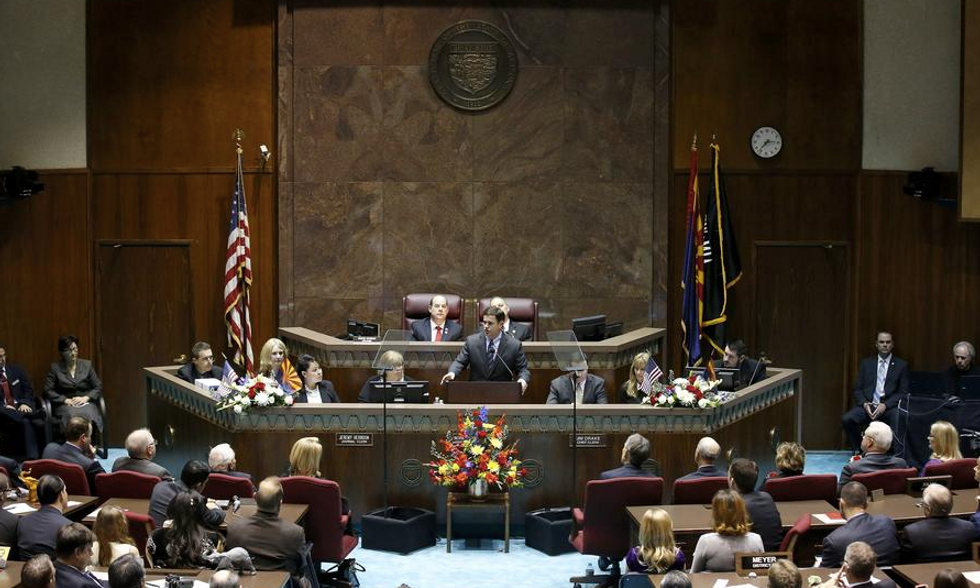 Arizona Gov. Doug Ducey gives his state-of-the-state address in the House of Representatives at the Arizona Capitol, Monday, Jan. 12, 2015, in Phoenix. (AP Photo/Ross D. Franklin)
Still, this particular Article 5 movement would need 31 additional states to pass resolutions – joining Alaska, Florida and Georgia, which passed resolutions last year calling for a convention of the states to address broad issues on restraining the federal government.
The Republican wave in state legislatures in the last election could help, said Mark Meckler, co-founder of the Convention of States Project.
"It's an ambitious goal that if you asked me last year I wouldn't have been as certain, but that was before November 2014," Meckler told TheBlaze. "Now, Republicans control 31 state legislatures. There has been a radical sea change at the state level."
The Convention of the States Project is a separate effort from one to call a convention specifically to pass a balanced budget amendment. Though 24 states have passed resolutions to approve a balanced budget amendment, the resolutions – some of which date back to the 1980s – are not identical, Meckler said.
"Our strategy is to prevent litigation," Meckler said. "The language is not identical for the [balanced budget amendment] resolutions. If it gets to 34, someone will question, do we really have 34 state? I hate litigation."
Under Article 5 of the U.S. Constitution, it takes two-thirds, or 34, of the state legislatures to call a convention of the states to consider amendments. If the amendments are approved, three-fourths, or 38, of the states would have to ratify them.
"There is loose cooperation," Meckler said of his group and the balanced budget amendment movement. "There is certainly not antagonism, but it is a race to the finish line."
The Convention of the States Project is working with state legislatures to pass resolutions on broad principles of fiscal restraint, limiting the scope and jurisdiction of the federal government and term limits for members of Congress, with identical language.
Meckler said that he thinks even blue state legislatures could be convinced, based on a desire for greater control of their own states.
Though the bulk of support thus far is from Republicans.
Former Oklahoma Sen. Tom Coburn and likely 2016 presidential contenders Louisiana Gov. Bobby Jindal, and former Arkansas Gov. Mike Huckabee have endorsed the Convention of the States Project. Mark Levin, who wrote the "Liberty Amendments," about an Article 5 convention, has also backed the organization.
Similarly, another potential 2016 candidate, Ohio Gov. John Kasich is traveling to several states to promote a convention for a balanced budget amendment.
As opposed to a single subject, Meckler said the convention appeals to a broad coalition of concerns.
"I have nothing against a balanced budget amendment," he said. "You would get a balanced budget amendment under our approach. But we have a big tent approach."