At least four men posing as police officers tried to kidnap a woman then stole a car Thursday in South Africa in a terrifying encounter captured on eyewitness video.
Police near Johannesburg, South Africa, later found an abandoned getaway vehicle containing police bulletproof vests, reflector jackets, a blue light and two R5 rifles. The assailants apparently stopped the BMW SUV the woman and a male driver were in by acting as police officers, the Pretoria East Rekord reported. But when the driver pulled over, they revealed their true identities.
At least two shots were fired as the men pulled the driver and the woman from the SUV and tried to put them into their getaway vehicle. The driver was able to escape first, but the woman was forced to put up a fight to try to stop the men from putting her into the SUV's backseat.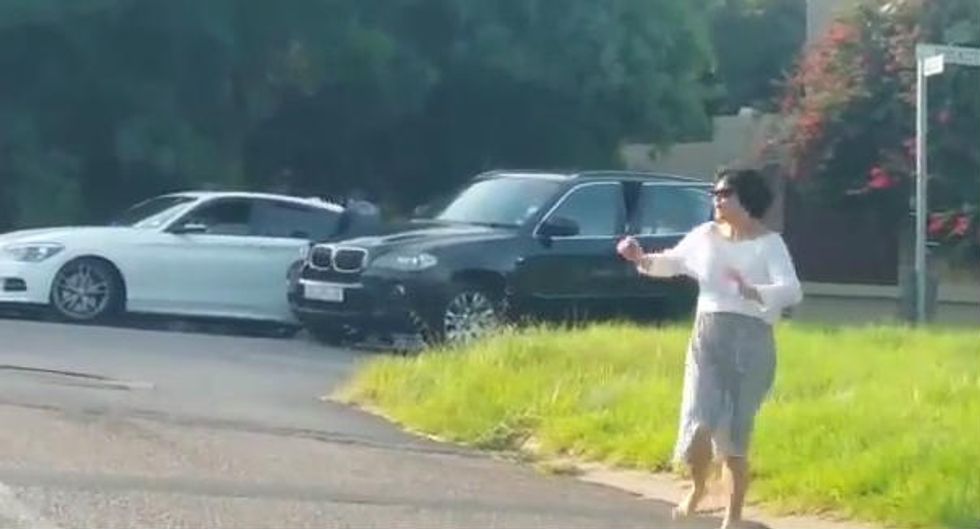 Image source: YouTube
She was able to escape and ran to the car where the eyewitness recording it all was sitting. By that time, the eyewitness was already on the phone with police, the Rekord reported.
"There [are] these Chinese people and these cars and this lady is running and the police have their gun out but I don't know if they're real police," the eyewitness said as the second victim ran toward her vehicle.
"They're taking the car and the Chinese lady is trying to get in my car. The police have guns. You have to send someone right away. Please," the eyewitness pleaded.
The woman was being treated for shock, an emergency services representative said. No one was injured during the incident.
The South African Police Service posted photos of what they recovered from the getaway vehicle, including police vests and weapons:
Watch as the horrific incident unfolds on camera:
It's unclear whether the alleged hijackers have been arrested.
–
Follow Jon Street (@JonStreet) on Twitter