In the face of protests over its use of the term "illegals" to describe illegal immigrants — even vandalism of its office — a California newspaper is refusing to bow to pressure against it and won't cease printing the word.
"We don't believe in capitulating to people who are going to tell us how to run our newspaper," Scott Steepleton, city editor of the Santa Barbara News-Press, told Fox News on Saturday. "We don't ask people what we should write beforehand and we're not going to ask people what we should write beforehand going forward."
Protesters have targeted the paper after a pair of headlines included the term "illegals" this month: "Illegals Line Up for Driver's Licenses" on Jan. 3 and "Driving Legal Opens Door to Illegals' Past" on Friday. Days after the first headline hit the streets, the front of the News-Press office was spray painted red with the messages, "Fight back" and "The border is illegal not the people who cross it."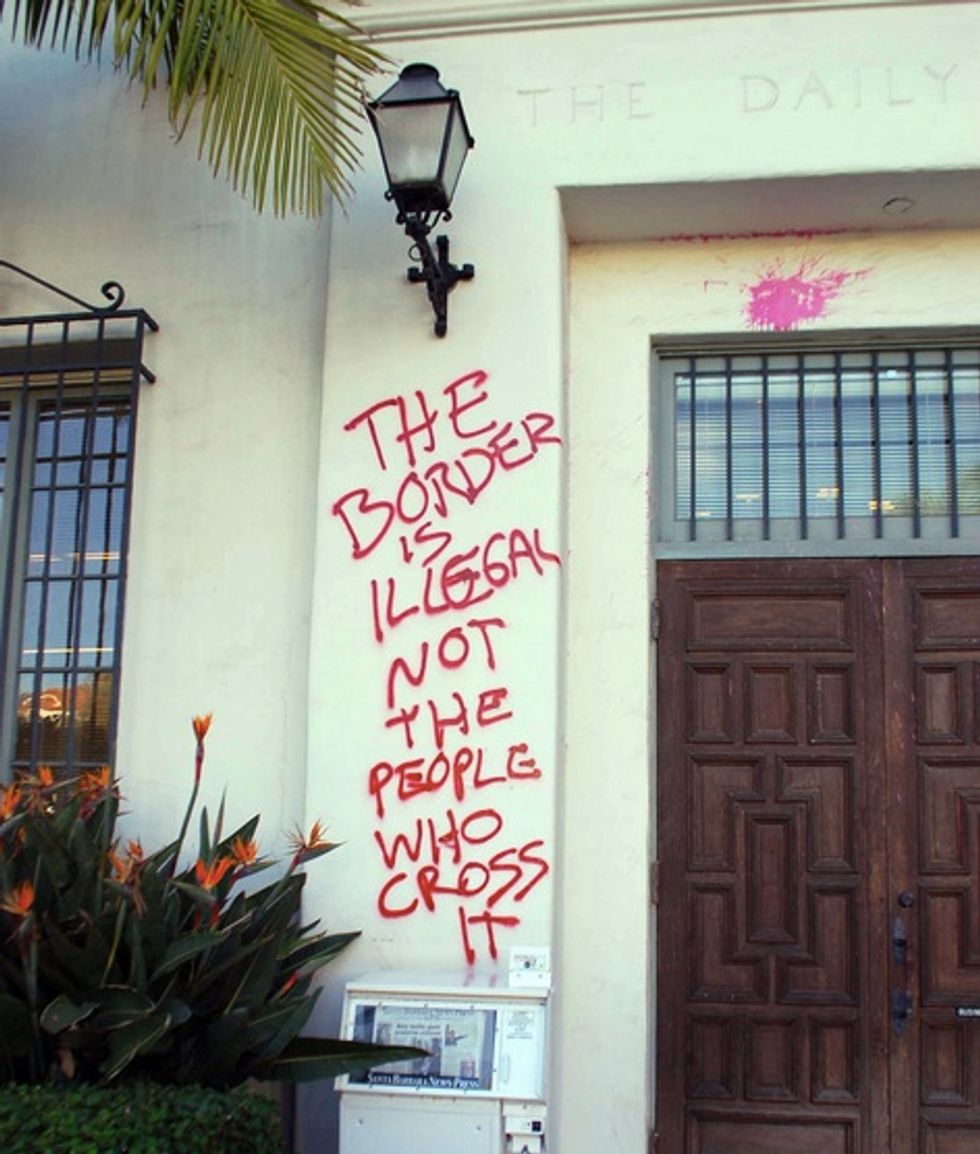 Graffiti and paint are splattered on the entrance to the Santa Barbara News-Press building Thursday, Jan. 8, 2015, in Santa Barbara, Calif. (Image source: AP/Santa Barbara News-Press, Scott Steepleton)
"They have a racist perspective and they don't seem very apologetic about it," Savanah Maya, a college student and activist, told the Los Angeles Times.
Santa Barbara City Councilwoman Cathy Murillo seemed to agree. "I respect their right to free speech but they don't have to be hateful," she told the Times. "It's like the 'N-word' for blacks."
But Steepleton told Fox News that the attention seems to have worked in the paper's favor: "I think the fact that people across the country have subscribed to our paper online, through NewsPress.com after this thing has erupted, shows that we are touching a nerve across this country, that people are sick and tired of a lawlessness everywhere in the United States."
He added that many news outlets have caved to such pressure.
News-Press co-publisher Arthur von Wiesenberger stood firm as well. "We will not give in to the thugs who are attempting to use political correctness as a tool of censorship and a weapon to shut down this newspaper," he wrote on the website of the Minuteman Project, an outfit that opposes illegal immigration.
—
Follow Dave Urbanski (@DaveVUrbanski) on Twitter