Vice President Joe Biden on Monday said more "community policing" was the key to bridging the gap between police and minority communities, and managed to correct a gaffe along the way.
"It's the responsibility of every officer and deputy here who takes the oath to respect the dignity of every person they encounter, whether red or yellow, black or white, Hispasian, excuse me, Hispanic or Asian," Biden said when speaking to the Major Counties Sheriff's Association/Major Cities Sheriff's Association Joint Conference in Washington.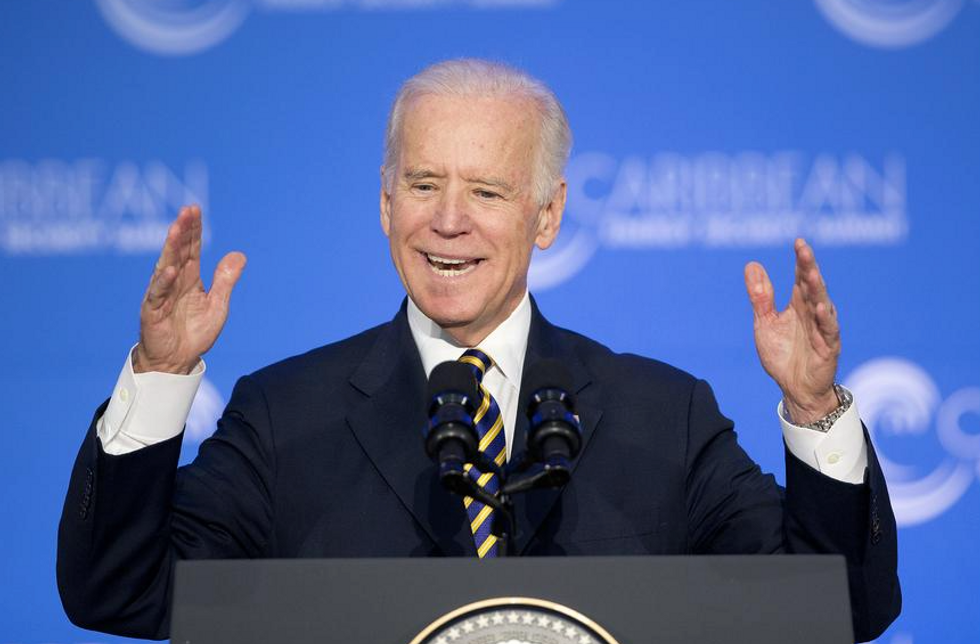 Vice President Joe Biden speaks at the Caribbean Energy Security Summit, Monday, Jan. 26, 2015, at the State Department in Washington. (AP Photo/Pablo Martinez Monsivais)
Biden did not bring up specific instances of police altercations with black individuals in Ferguson, Missouri and New York, but he pointed out: "The irony is, you know, the New York Police Department is now majority minority. Remember back in the '60s the answer was all we need is minority police forces? That would solve everything. It was a good thing. But it was not the core. "
The two most important points, Biden said, is that every police officer "has the absolute right" to come home safe to their family, which received applause, and that "everyone, regardless of their race, ethnicity, immigration status, has the right to be treated with dignity and with respect."
Biden even described how the rift hits him from a personal standpoint.
"The truth is, I wouldn't be a United States senator in the first place if it weren't for the unusual combination of support from law enforcement community in my state and the black community in my state," Biden said. "It's kind of ironic that we are talking about the widening split between the communities."
He blamed part of the rift in the lack of community policing, reminding the sheriffs that the Biden Crime Bill in the 1990s, signed by President Bill Clinton, provided federal funding for 100,000 additional local police officers.
He blamed President George W. Bush for undermining this, but said he wasn't criticizing.
"This is not a criticism, because of a change of philosophy in the Bush administration -- remember we were going to eliminate community policing because it wasn't a federal responsibility -- the result was between '99 and now, federal help for community policing was eviscerated," Biden said.
Biden identified 1999 through the president, which would be the final years of the Clinton administration and every year of the Bush and Obama administrations for the lack of funding.
Without naming names, Biden, a potential 2016 presidential contender, said other Democrats had discouraged more cops funding while he advocated for it.
"The idea that you can put significant resources toward crime, drop a hammer on it, and say its fixed and walk away, is bizarre, but that's how we've been operating, including my own team," Biden said. "When I was a senator it was: Why is Biden still on this rant about funding law enforcement? When it works you don't stop. But the pressure became strong across the board because we had budget problems."
—