UPDATE: Libyan security officials have reported that at least five foreigners have been killed in the Tuesday attack on Tripoli's luxury Corinthian Hotel, bringing the total death toll to nine.
Agence France-Presse reported that two of the five slain foreigners were women.
The nationalities of those slain by suspected Islamic State gunmen was not immediately available.
—
TRIPOLI, Libya (TheBlaze/AP) — A Libyan security official says gunmen have stormed a luxury Libyan hotel popular with foreigners and have taken hostages after killing at least three guards.
Malta Today reported that the attackers may be associated with the Islamic State — and that they may have targeted the hotel because it frequently hosts diplomatic personnel.
#Libya Pictures from Tripoli's Corinthia hotel attacked earlier by a local Islamic State affiliate pic.twitter.com/KQEPgWNTnf

— Michael Horowitz (@michaelh992) January 27, 2015
Essam Al-Naas, a spokesman for a Tripoli security agency, said the standoff is continuing Tuesday at the Corinthia Hotel.
#CorinthiaHotel: Suicide bombers & 5 masked gunmen attack hotel, hostages on top floor http://t.co/5TK7TsFd6P #Lybia pic.twitter.com/jszG3pU6Bx

— RT (@RT_com) January 27, 2015
Hassan al-Abey, a corporate sales manager at the hotel, said five masked attackers wearing bulletproof vests stormed the hotel, shooting in the air. He said the hotel was evacuated before the attackers clashed with the guards and blew up a car bomb in the parking lot of the seaside hotel.
Al-Abey was among those evacuated. He said the hotel had Europeans and Turkish guests.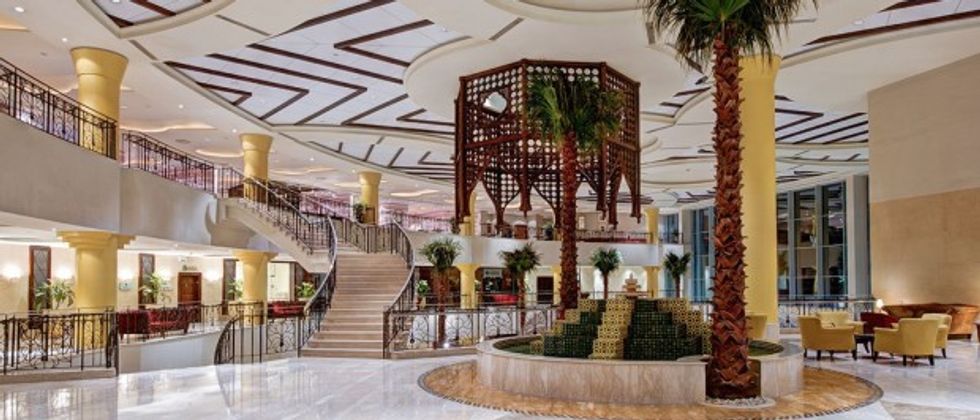 A view inside the luxury Corinthia Hotel in Tripoli. (Image via corinthia.com)
Tripoli has been hit with series of car bombs and shootings amid turmoil following the country's 2011 civil war.
This is a developing story and will be updated.
—